The Brown Girl Bakes began their operations in 2019, with Leann Eleena Jayawardena taking the reins of the home-based baking business. The 19-year-old home-baker is known for her DIY cookie kit collections inspired by a variety of themes, from the hit-game 'Among Us' to astronomy to ocean life. Also popular for her Father's Day goodie boxes and scrumptious and flavourful cookies, Leann's creativity distinguishes her from her competitors. Proudly embracing her Sri Lankan heritage and incorporating it into the identity of her brand, Leann's 'The Brown Girl Bakes' is a hit among the crowd as her baked goods keep the community coming back for more!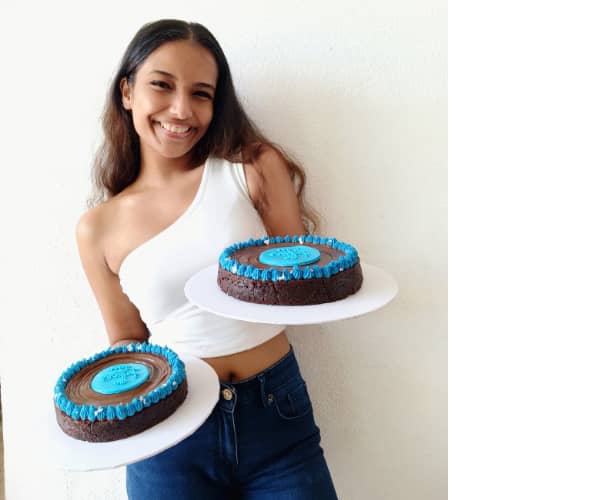 What kind of baked goods do you offer?
We make cakes, cupcakes, brownies, and cookies. We also make some cracking DIY cookie decorating kits!
What inspired you to start The Brown Girl Bakes?
I've loved baking and cooking since I was a kid and it all started with me making a cake for my grandmother's birthday which really impressed everyone. I took a few orders from there on for fun and it developed from there.
What kind of an impact has Covid-19 made on your business?
Covid-19 has surprisingly increased my orders. People get more 'snacky' when they are at home, I guess. I have been getting steady orders so that has been great.
What would you say makes you different from other home-bakers?
I experiment a lot. So I have a menu that's always improving and growing because I'm constantly adding new items to it. I think my passion for cooking drives my curiosity and I'm so grateful for it because it often gives me an edge in the highly competitive home-baker market.
How have you utilised social media to get The Brown Girl Bakes known among its customer base and the public?
The Brown Girl Bakes is by definition an online business. Social media has a great way of allowing entrepreneurs to give potential clients a visual of what they can expect from a business. This is very helpful where something like baking is concerned because we all know; you eat with your eyes too! This way, my customers eat with their eyes first!
What is the most fulfilling thing you have felt during the operations of your business?
I absolutely love getting pictures from our customers who celebrate special occasions. Being able to be a part of their joy and laughter somewhere feels great, especially right now.
What is the product you are most proud of?
I am most proud of my DIY Cookie decorating kits. I hand-cut all the shapes and it takes a lot of effort to get that precision but the satisfaction is so worth it.
What kind of orders do you take? Are they often customised or do you have a standard menu?
I take both kinds. I can customise an item you want me to make. But people can order from my set menu and even request their own spins on the Brown Girl Baked regulars!
What has been the biggest challenge you've faced as a home-baker?
I invest a lot of time into research and creating new products, but since the market is so saturated it doesn't take much longer for other businesses to start copying you. This means that you have a limited window of opportunity to establish yourself as the creator of a product and including the fact that high-quality ingredients mean more expensive products, which can be a competitive disadvantage unless your customers are aware that you use high-quality ingredients.
What are the future plans for your business?
This is a pretty exciting question to answer especially right now. I'm going to start cookie decorating workshops for little children because it has had such high demand. I also want to expand my DIY cookie decorating kit collection. I also have some exciting new themes lined up. The long-term goal is to open up the Brown Girl Bakes Cafe in Sri Lanka.
You can find The Brown Girl Bakes on Instagram (@thebrowngirlbakes.lk)
text Tiranya Ranasinghe