How do our food experts cook and eat? This week, food blogger Aruni of @slumptious takes our Q&A!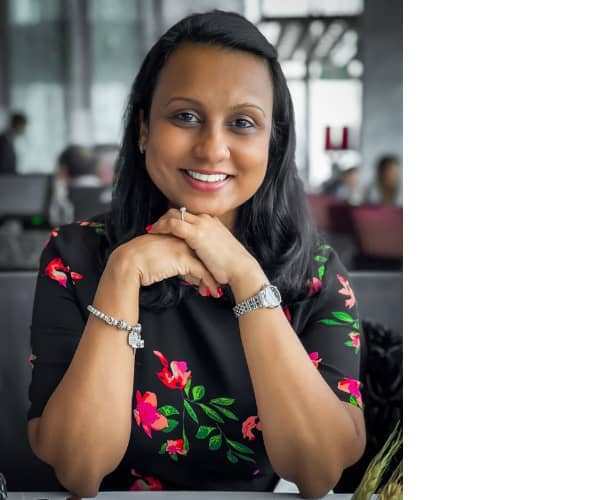 - My own determination and passion got me hooked on cooking. My family was not into cooking and as a child I was not allowed to go to the kitchen as much as I wanted to. However, I knew deep down that I had a passion for cooking but something held me back. I started cooking and baking only after I moved to Hong Kong simply because I started missing Sri Lankan food. Every dish I made came out so good and the encouragement I got from my family made me do more and more, and here I am today. Also, I loved the idea of blogging and that too encouraged me to try out new recipes and share my experience.
2.

What's your cooking habit?
- A lot of prepping before I start cooking. I write down the ingredients I need, make sure everything is cut and chopped and ready to be cooked.
3.

An underrated cuisine?
- Sri Lankan cuisine is heavily underrated. Any non-Sri Lankan who tastes Sri Lankan food simply loves it. But we hardly see any Sri Lankan restaurant here in Hong Kong and I feel there is so much more to share.
4.

Your favourite childhood meal?
- Maggi Noodles. Even though it's technically not a meal, as a child I used to eat Maggi noodles with egg mixed for lunch once in a while and YES! I still love it!
5.

What's the one dish you've tried and tested but can't master?
- Pavlova. I loved making it and tasting it too. But the right consistency is so hard to get and it's something I'm still working on. Never give up is my motto, and one day I will master it.
6.

What do you love to eat but never to cook?
- I love Japanese food but I don't think I will ever try it on my own – although, I did attempt once making sushi roll which turned out ok.
7.

Living in Hong Kong, how do you find the right ingredients to make Sri Lankan?
- Living in Hong Kong, it's not easy to get the right ingredients to make Sri Lankan food. Luckily, we do have a Sri Lankan store where I buy most of my groceries. The store is not within close proximity to where I live hence there are some instances I have to substitute with Indian spices.
8.

It's your last day on earth, where are you?
- I want to be home with my family and enjoy a nice Sri Lankan meal. Specifically, String Hoppers, Potato and egg curry, Black pork and spicy Pol Sambol.
9.

What is the most overrated food that's served right now?
- Korean Fried Chicken. The chicken lacks flavour and is heavily crumb fried but it's a massive hit in east Asian countries. I just don't see why?
10.

Easiest meal to impress someone?
- Oh, a good Biriyani. It's a comparatively easy meal as it's one-pot cooking with the addition of a Raita. Even though Biriyani is not my first choice to make for guests, I'd say it's definitely an easy option if you are looking to impress.
11.

What's one thing you miss the most about Sri Lanka that you can't get in Hong Kong?
- Buffets in Sri Lanka! Buffets in HK are good but heavily skewed towards local cuisine with a very limited variety as opposed to Sri Lanka where options span across the globe with quantity to feed an entire village.
12.

What's the most adventurous food you've eaten?
- Okonomiyaki. This is a Japanese savoury pancake dish mixed with other ingredients like Cabbage, meat and seafood as toppings cooked on a flat griddle, placed in the middle of your table. The best part is a YouTube video is provided for reference to help make your own okonomiyaki and I thought that was such a different experience
13.

Your favourite odd food pairing?
- Waffles and Pol Sambol. I can literally eat anything with Pol Sambol!
14.

If you could dis-invent a food, what would it be?
- Processed food. I see so many processed foods in supermarkets now. Pasta, pizza, cakes etc. These are quick wins however it restricts your imagination and cooking abilities. Most people settle for processed food rather than making it on their own and I feel like they are missing out a lot - it's also unhealthy.
15.

Your proudest food invention?
- I think it's my Prawn curry. I am super proud of how it turned out on the first day I made and the feedback I got from my family was out of this world. I continued making it for my friends whenever they visited my place, and everyone loves it.
16.

What's a dish you'd love to relive for the first time?
- Sushi and Sashimi. I still remember the first time I had raw salmon with soya sauce and wasabi. I was ready to throw up, but when it hit my tongue it just gave that irresistible, subtle flavour that I LOVED.
17.

What are your favourite leftovers?
- Hands down, rice and curry. Any Sri Lankan curry is always better when it's kept overnight.
18.

Do the cooking or have someone cook for you?
- Definitely do the cooking…but, if you asked this question from me a few years back the answer would have been different!!
19.

What's your favourite food movie?
- Julie and Julia. A very inspiring movie.
20.

The first thing I want to eat when I come to Sri Lanka is _______
- Saw Dodol. This is something I will never make in HK as I can't find all ingredients.