Located in the heart of Colombo, Tea Avenue is definitely the place you're looking for, whether it's a business meeting, casual meet-up with friends or just a place to relax and unwind, Tea Avenue's welcoming staff and cozy interior makes it the ideal place to be at! By constantly innovating and introducing new dishes such as the charcoal waffle, charcoal latte and vegan burger, they make sure to spoil you for choice, while ensuring value for money.
Ambience: 5/5 stars
Tea Avenue provides both indoor and outdoor seating options, but you can also have a private booth indoors by spending a total of Rs.6000-Rs.8000.Their mix of tables and chairs gives customers the choice of either sitting back comfortably or working on their laptops, whilst the light music playing in the background sets you at ease without being disturbed. Overall Tea Avenue radiates a very chilled out and cozy vibe.
Drinks: 5/5 stars
Tea Avenue has developed a highly respected reputation for its range of tea, as one would guess based on their name. Their range of ice teas, coffees and juices may seem a tad overpriced, but are definitely justified as they serve rather large and filling portions.

Soursop & lychee ice tea (Rs.450)
Served in their signature mason jar, this is the perfect drink to quench your thirst on a typical sunny day. This unusual pairing is perfect for you if you have a sweet tooth. We found this to be very helpful in cleansing and refreshing our palates in between bites of our main meals. Somehow, the paper straw given was the frosting on the cake!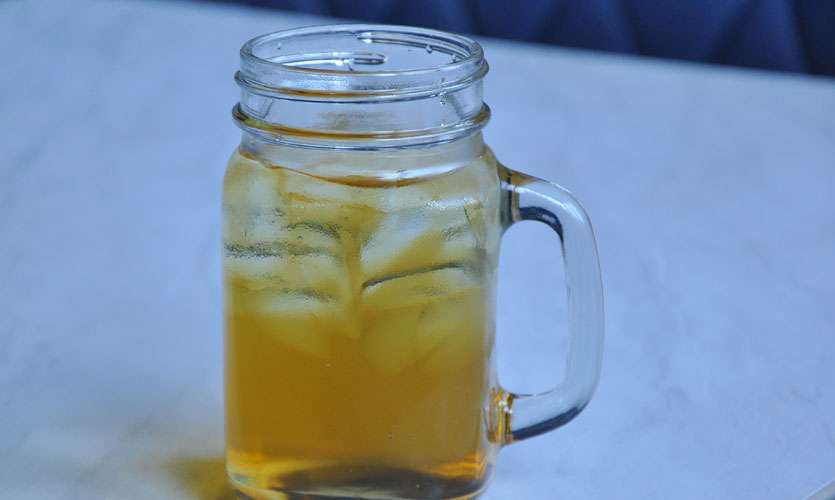 Hot chocolate with cream (Rs.650)
This is served with a rather generous serving of whipped cream and chocolate chips, making it look so very tempting! The hot chocolate alone was not too rich with cocoa, and was just sweet enough. When combined, the whipped cream, chocolate chips and hot chocolate works wonders in your mouth!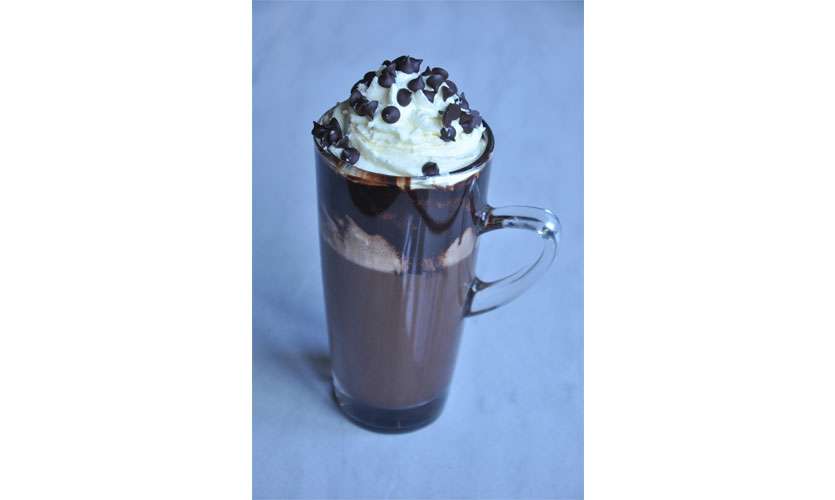 Food: 5/5 stars
Tea Avenue offers a wide variety of sandwiches, burgers, pastas, waffles, pancakes, salads and lasagnas. Their most recent additions include the vegan burger, churros and the charcoal waffle. A notable feature is that, prices are all given as net prices (including tax and service charges) therefore you won't be baffled with a different price on your final bill.
Chicken and cheese omelette (Rs.640)
An absolutely fluffy omelette, stuffed with chicken ham, was served with two sliced of toasted bread and baked beans. This would make a delightful and filling breakfast.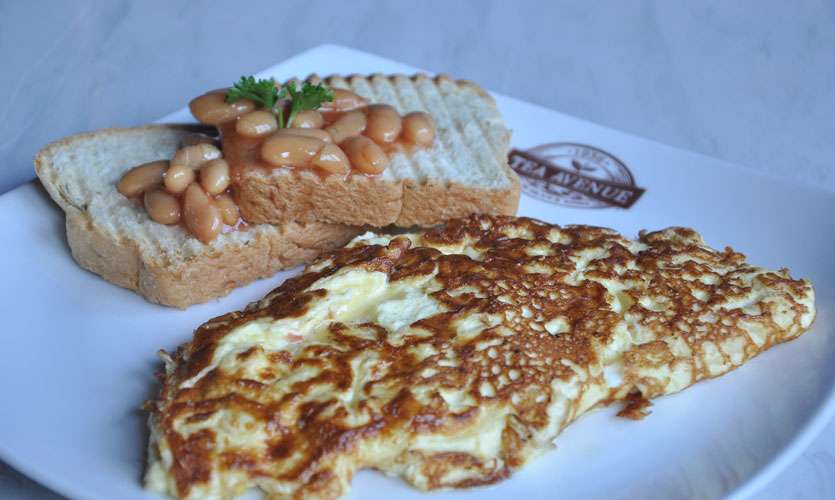 Crispy chicken charcoal waffle (Rs.850) 1
This was a dish which we found intriguing because of its unusual color, and learnt that it's actually great for your health! The use of activated charcoal has a number of benefits such as its anti-aging properties, ability to remove toxins, whiten teeth and reduce high cholesterol levels. Between the charcoal waffles was a chunky layer of crispy chicken, slathered in a rich cheese sauce, served with a side of coleslaw. The waffles were perfectly soft with a slightly crunchy coating and paired incredibly well with the crispy chicken and richness of the cheese sauce. The coleslaw gave a light and fresh element to the dish, making the textures and flavours complement each other beautifully!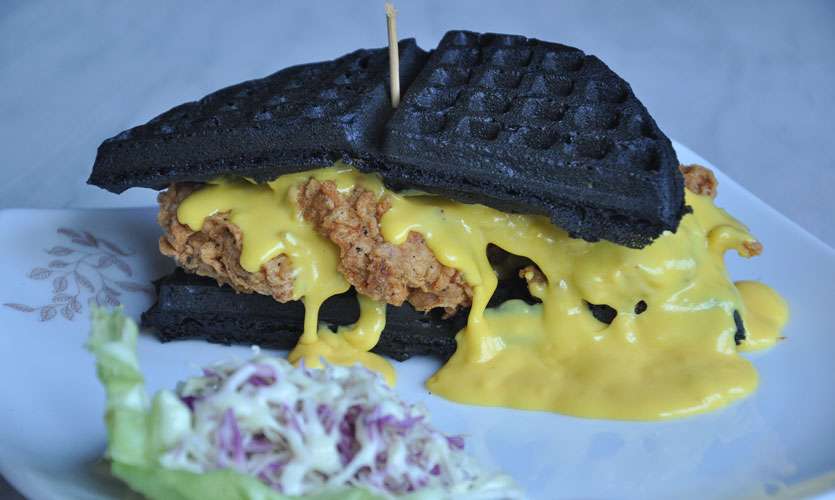 Prawn toast (Rs.650)
Five slices of thick, crusty bread was served with a fairly curry-like preparation of prawn, topped with mozzarella. The toasty bread worked well with the creamy prawns and is a very convenient dish to eat if you're a little preoccupied. However this was slightly spicy, but would be just right if you're accustomed to the Sri Lankan palate.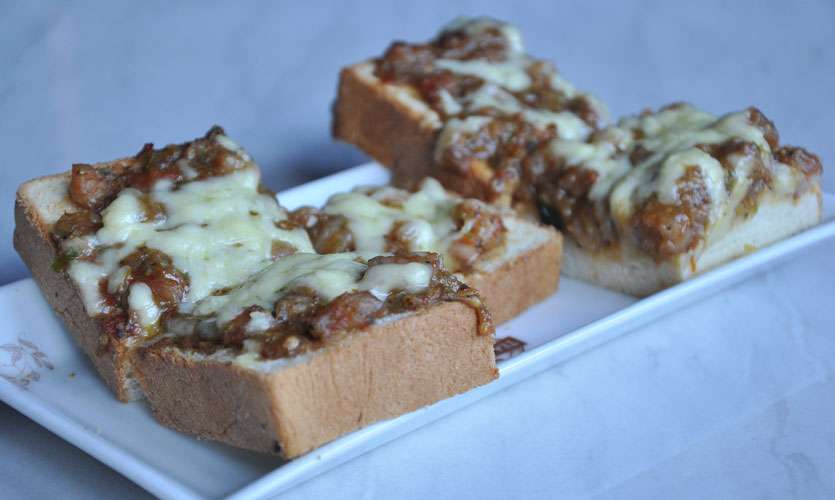 Tiramisu (Rs.680)
The Tiramisu, with its cake and cream layers, looked scrumptious and was the perfect ending to this cozy affair. The mascarpone cheese, cream, coffee and cake flavours each stand out without being overpowering, while the biscuits surrounding the cake were just the right amount of soggy and crumbly.
What we recommend: The crispy chicken charcoal waffle and the soursop and lychee ice tea.
Service: 4/5 stars
A highly appreciated feature of Tea Avenue is the friendly staff. They enthusiastically greet every guest at the door and never give the cold shoulder to anyone who spends a while longer than usual there. The service during our visit took a lot longer than usual but the wait was definitely worth it!
Parking facilities: 4/5 stars
Ample parking is provided. The outlet in Barnes place is at a junction and is slightly difficult to pull out of, but the parking attendant is very cooperative and friendly.
*Tea Avenue has branches at The World Trade Center - Level 3 East Tower, Colombo 1 and no.16, Sellamuttu Avenue, Colombo 3. (Marine Drive), while their flagship store is located in no.55, Barnes Place, Colombo 07.
Further, they will open a new outlet in Thalawathugoda Road, Kotte by mid-November.
Toilets: 5/5 stars
Would we go back? Absolutely! The overall experience was just delightful!
Text by: Dinali Gunasekara
Pics by: Nisal Baduge