Our interview with Nayantara Fonseka (a.k.a 'Taru' as she's more fondly known), the Founder and Chairman of Taru Villas and now of Table by Taru, is full of little pauses and breaks as she stops mid-sentence to instruct her staff. "Hold the cutlery correctly", she says, "doesn't this come with extra sauce on the side?" she reminds, "I think it's better if we change it this way" she directs.
Table by Taru at Lake Lodge Villa in Colombo 03 is just shy of a month since its opening and our initial thoughts were that there are bound to be a few kinks and mistakes to be worked out here and there that can be forgiven. But Taru's sharp-eyed observations and the staff's ready willingness to correct and perfect allows for none and we realized that it is this strict ethic that would set Table by Taru apart from the rest.
Table by Taru is a reflection of Taru's love for good food. Coming from a family of great cooks, it seemed almost prophetic that Taru would follow suit. Her first dabble in cooking was by no means a 'beginners' start – grilled scallops, green beans with a raspberry vinaigrette and sundried tomatoes – a recipe plucked off from a page of the San Francisco Chronicle that used to publish recipes from all the top restaurants back in the day. From then, it all unravelled naturally.
"Cooking for me, is therapy. I love good food; I love fresh ingredients but what is most important for me is a clean workbench." It is also a priority she expects from all her staff – at the villa and in the kitchens. "Clean tools, clean workspace – that's the importance of any chef."
The new restaurant, however, isn't Taru's first venture into the dining scene in Colombo. Table by Taru actually follows the legacy of No.18 – a fine dining restaurant that operated back in 2006 that was 'ahead of its time' according to Taru. "At that time, people weren't as exposed to food as they are now. I never actually intended to open another restaurant." But running a catering operation under the name of 'Taru's Kitchen' during the April lockdown gave Taru inspiration to venture into a new but familiar business. Many trial runs and taste tests later, Table by Taru was opened to the public in late December 2020. A few weeks since its opening, we hunkered down for Saturday morning brunch - here's everything we loved about it!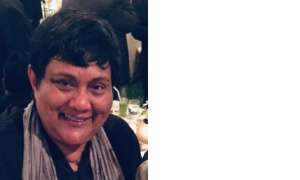 The Tranquil Ambience
Despite being based in the very heart of Colombo – Table by Taru at Lake Lodge Villas somehow seems to have escaped from the noise and crowds of the city. At the very end of Alvis Terrace, the Lake Lodge Villas stands in seclusion with a history of many firsts to its name. Established in 1967 by Taru's mother, it was the first-ever tourist guest house in Sri Lanka and was also the first-ever to get a liquor license save for the big five hotels in Colombo at that time. "My mother is the reason hospitality runs in the blood. We grew up at Lake Lodge and we watched how diligently she ran this place."
Table by Taru extends the tranquillity and equanimity of Lake Lodge at its rooftop dining space. In the mornings – it's sun-kissed and breezy and, in the evenings, it converts itself into an intimate space illuminated by soft lighting and candlelight.
Our brunch was accompanied by soft breeze and sunshine - all pulled together by a curated playlist of jazzy songs – a few Taru stopped mid-conversation to belt out to!
The Good Food, The Bold Flavours
"I like simple food" shared Taru, who curated the menu with in-house Executive Chef, Roshan Wijewardana. "I think the simpler the dish, the better the flavours. It's important to experiment with flavours but it's more important to not mix flavours that don't complement each other." This is a sentiment shared by Chef Roshan who was, at one point, the youngest consultant chef in Sri Lanka and whose culinary experience of 41 years stretches to every nook and corner of the world. Together both Taru and Chef Roshan has curated menus ideal for day and night dining.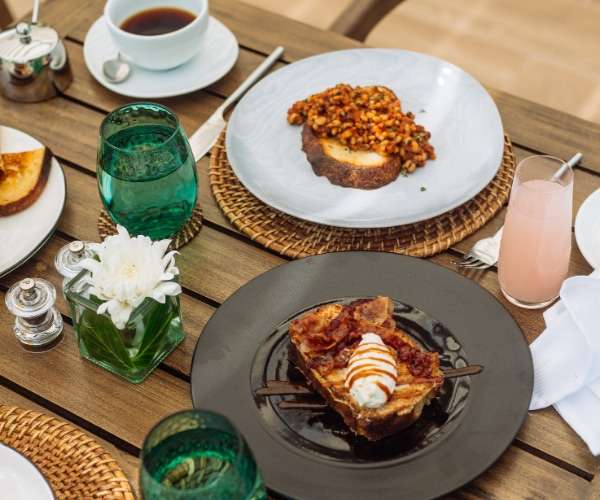 The brunch menu promises brunch classic breakfast dishes like Eggs Benedict, Pancakes with Kithul Treacle, Butterscotch and Cinnamon Cream or a full English Breakfast alongside dishes like hearty Turkish Menemen, savoury Waffles with Pol Sambol, Masala Potato and Tomato Curry and the TBT special Breakfast. The menu extends a boozy beverage selection, coffee and juices, add-on sides like assortments of bread, croissants, bacon, sausages and curries, a few lunch options the likes of salads, fish 'n' chips, Hainanese Chicken Rice and Gruyere and Tenderloin Burgers as well as a few desserts for the sweet tooth. The slightly more refined dinner menu offers a 3-course meal with entrees, mains and dessert.
For brunch, we ordered a Banana Bread French Toast with Chili Labneh and Tamarind Caramel (Rs. 1250). For the indecisive, it offered the best of both worlds – the sweet and the sour. The dish itself is simple with 3 components; a thick slice of banana bread grilled in butter, a dollop of homemade chilli labneh and a tamarind caramel to pour-over. It is the combination of all three components however that truly made us fall in love. The moist and sweet banana bread crisped on the outside with butter was beautifully married with the tangy tamarind caramel – the sweet and the sour melting and melding in our mouth, followed by the chilli labneh that offered a cooling and spicy aftertaste.
The Classic Eggs Benedict with a side of crispy bacon was perfectly executed – poached egg with a runny yolk and a generous pour of creamy hollandaise sauce on soft, fluffy, aerated halves of an English muffin. A few cleaned plates later, Taru shares that this is what she wants Table by Taru to be - a hidden gem with good, simple food – 'no frills, no fuss.'
Above all, The Impeccable Service
Stepping into Table by Taru – we anticipated the good food in advance and as expected – good food was executed and delivered. What elevated our lunch was the service that was provided throughout it all and the first-hand experience we got in seeing how meticulous Taru and the staff are in dealing with guests.
Taru has a personal relationship with every single staff that she employs; she knows them by name and she would ask after their families and their lives. And through it all – she guides, reminds and teaches the staff how any employee of hers should serve. Her supervision on small things like how to hold cutlery, where to place the dishes and who to serve first seems trivial at first glance but it is the very thing that transcends into good service and ensures a seamless dining experience.
Overall
Taru herself was a highlight of our brunch – a natural conversationalist and a vivacious storyteller. Couple it with excellent food and good service? All our boxes are ticked and we leave with no complaints. With brunch gradually becoming more popular in Colombo, Table by Taru is not to be missed!
Join Table by Taru this valentine for a Valentine's Day Brunch with all-you-can-eat mussels inspired by Taru with love or dine alfresco with a delectable three-course menu for you and your significant other. For more information call 0761377650 or visit www.tablebytaru.com.

Address: No. 20, Alwis Terrace, Colombo 03
Reservations: 0761377650
Website: www.tablebytaru.com.
Hours: Open daily – 8am:3pm & 7pm:11pm