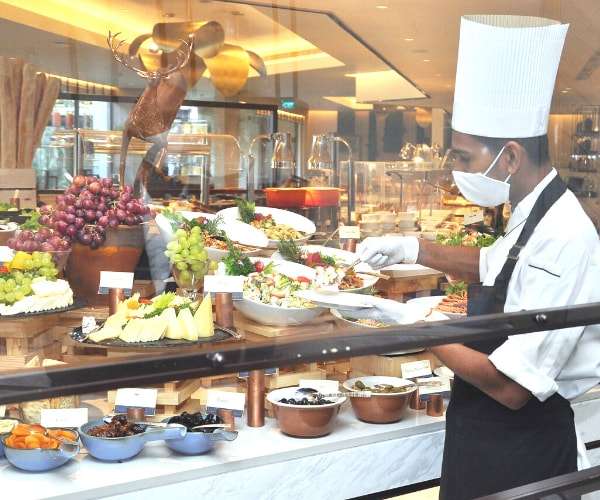 If there is one thing we love – it's a good buffet. There is just something so good about having the opportunity to enjoy all your favourite cuisines in one place. Of course, while many establishments offer buffets readily these days, finding a good one – one that prizes both quality and quantity – is a rare feat. Cinnamon Grand's newest 24-hour gourmet dining restaurant 'PLATES' stepped up to the task by offering a dining venue with an unparalleled collection of flavours from around the world. The restaurant offers both buffet and a la carte dining.
PLATES was just recently opened to the public, perhaps a month or so at most, yet the place is already bustling with crowds on a weekday afternoon. Dinner, we were told, was far busier. The idea behind PLATES is about experiences; the experience of dining with friends and family while enjoying multi-country, multi-cuisine dishes and having a gastronomical tour of global flavours in a single venue.

Ambience
Taking over the old Taprobane restaurant space, the all-new PLATES adopts a modern contemporary design with a colour palette of white, blue and gold. The dining space offers both indoor and outdoor seating. The indoor allows
for air-conditioned comfort while the alfresco dining space right outside offers natural ventilation and overlooks the
pool and brings with it the experience of the tropics. The seating plans are varied and distanced – cluttered across the space to cater for both small and large groups.
Food
The lunch buffet at PLATES offers around 5 cuisines; Western, Japanese, Asian, Indian and Sri Lankan, with an
impressive salad spread and a mouthwatering dessert display. The PLATES dinner buffet is far more extensive with a greater range of dishes and cuisines. No complaints from us, however, as one observing around the restaurant, told us that this buffet is one to be savoured for
hours on end (which is exactly what we did).
Salads & Appetisers
PLATES has a large selection of salads and appetisers. Guests can build their own salads from scratch or serve from some of their existing combinations. They also offer a range of cured meats and cold cuts as well as a cross selection of cheeses. If you are a soup fan, they always offer two soup options and an assortment of bread.
Japanese
If you are skipping past the appetisers, then the Japanese corner is everyone's start to the buffet. When we dined, there were no sashimi or nigiri on offer but we were told that they do serve it on certain
days. What we did have was a range of sushi rolls – some with vegetables, some with cream cheese, some with salmon and some with prawns, most topped with tobiko caviar.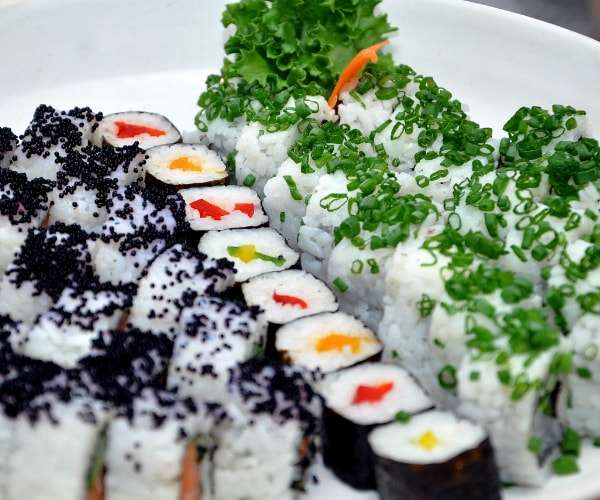 Western
The Western station offered a few mouth-watering roasts, side dishes and a pizza and pasta action station. On our
visit they had Herb Roasted Chicken and Herb Roasted Leg of Lamb with herb jus as well as Grilled Beef with Red Wine Sauce and Char-Grilled Pork Chop with Fruit Chutney and Spicy BBQ Sauce. The side dishes included grilled vegetables, herb roasted potatoes, cauliflower mornay and tempura prawns. The Pizza action station offered Chicken Pizza and Pizza Margherita but they were willing to make other toppings on request. There is also a Pasta action station. We were big fans of the roasts – the leg of lamb was roasted crisp on the outside and
juicy on the inside while the pork chop was tender and packed with flavours.
Asian
A smaller variety in the Asian nook but we enjoyed every single dish available. The Asian station had Yang Chow Fried Rice, Fried Sea Crab in Hot Chillie Sauce, Stir-Fried Oyster Mushrooms, sauces and prawn crackers. The combination of the three simple dishes was divine as the soft-shelled crab offered plenty of meat that has
soaked in all the flavours of the chillie sauce and the oyster mushrooms had a rich umami flavour.
Indian and Sri Lankan
We always leave these two cuisines for last as they tend to fill us up so quickly and we believe it's best left towards
the end so as to allow ourselves the opportunity to enjoy the other cuisines. PLATES offered Local Mutton Biriyani,
Malai Chicken Tikka, Baingan Masala, Classic Masoor Dhal Tadka from India and Ghee Rice, Pork Mustard Curry, Tuna Red Curry and Pineapple Red Curry from Sri Lanka. The rich ingredients and the bold flavours of both cuisines made a perfect finish for our meal.
Dessert
By the time we are done with our mains, we rarely have space for dessert. The trick, we've learned, is to allow oneself a 10-minute grace period and spend it staring longingly at the desserts and the brain will trick itself into thinking we can squeeze in something sweet just to end our meal on a satisfactory note. Dessert at PLATES
is a colourful affair with a variety of decadent desserts lined up for tasting such as Love Cake, Passion Cream
Delight, Blueberry Parfait, Pineapple Jelly, Coffee Meringue, Orea Cake and an assortment of French Pastries. We
indulged in most of the dishes and absolutely loved their Coffee Meringue and Paris Breast from their French
Pastries selection.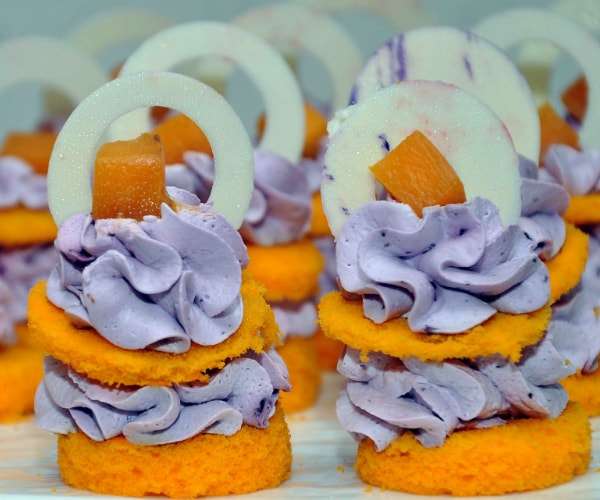 Service
We received excellent service on our visit despite the restaurant being packed. The staff works around the clock and plates are cleared up fast and water is topped up frequently. The staff at the food stations are polite, patiently
guides guests through the dishes and is very generous with their servings. They also ensure that there is social distancing at all times and we were glad to see the establishment enforce it so diligently.
Covid-19 safety measures
PLATES follows a number of strict guidelines in order to create a safe dining environment. Each buffet station has precautions to minimise contact between servers and the guest and is covered by a glass screen for maximum distancing. At each cuisine station, there are disposable gloves that guests are expected to wear should they prefer to serve themselves or they could hand over their plate to the servers who will then serve according to instructions.
Overall
We genuinely enjoyed our lunch at PLATES. The new restaurant not only offers a very comforting and relaxing ambience, the staff and the service is commendable. Above all, the food is excellent and we were happy to see both quality and quantity being prioritised. So, go ahead, grab a PLATE. The lunch buffet at PLATES offers around 5 cuisines; Western, Japanese, Asian, Indian and Sri Lankan, with an impressive salad spread and
a mouthwatering dessert display.
PLATES is a 24-hour restaurant at Cinnamon Grand Colombo with lunch and dinner buffet and an a la carte menu. For more details and reservations call +94 (0) 11 249 7361/62.
PHOTOS NISAL BADUGE