Located in the heart of Colombo, within the Dutch Hospital precinct, "Ikoi Tei" is a Japanese restaurant that will take you on an authentic culinary journey to the streets of Japan. An absolute culinary genius, Chef Hikaru Takahashi and his team recently introduced a new menu that is bound to stand out in the face of all it's competition.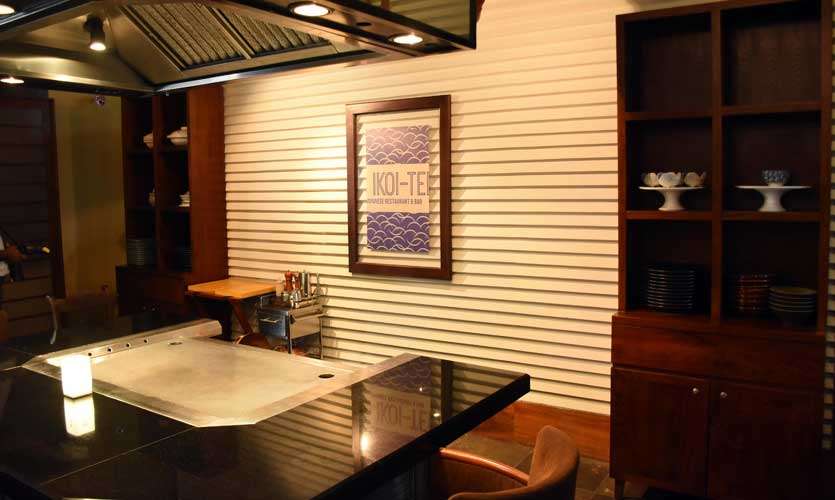 Ikoi Tei has a very casual and laid back atmosphere. They have an all inclusive bar, a Teppanyaki table and the main restaurant which can host nearly 40 customers. They also have a private dining area which can host a maximum of 12 people with enough room to spare. It's the perfect place to enjoy a fancy dinner date or grab a quick Bento lunch box on your way to work.
Appetizers
We were first given Tuna Tartare, Spicy Edamame beans and a Cheese Potato Mochi with Wasabi Sweet Sauce. I absolutely loved the Potato Mochi. It was crunchy on the outside and very tender and soft on the inside and the wasabi sauce elevated the mochi to perfection. The Tartare had just the right amount of spice and it was quite a delicate dish. The beans however were very spicy and the chef commented saying he specially made it that way to suit the Sri Lankan palate.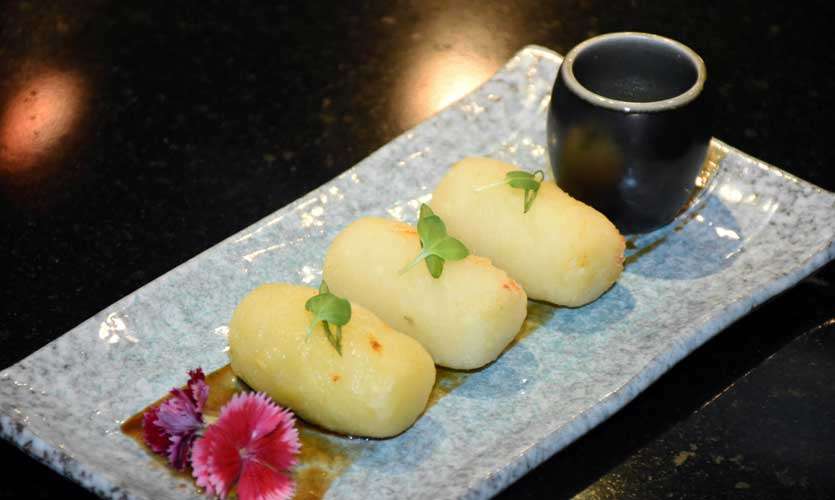 Combo Platters
Combo platters come in a large box divided into six separate segments with different types of Sushi or Nigiri packed neatly in each compartment. We tried both combos. The Sushi combo had tuna, salmon, prawn tempura, caviar and spicy tuna sushi roll. Although the entire combo is meant for a single person it is sufficient for at least 3 people with a small appetite. It was quite a commendable dish.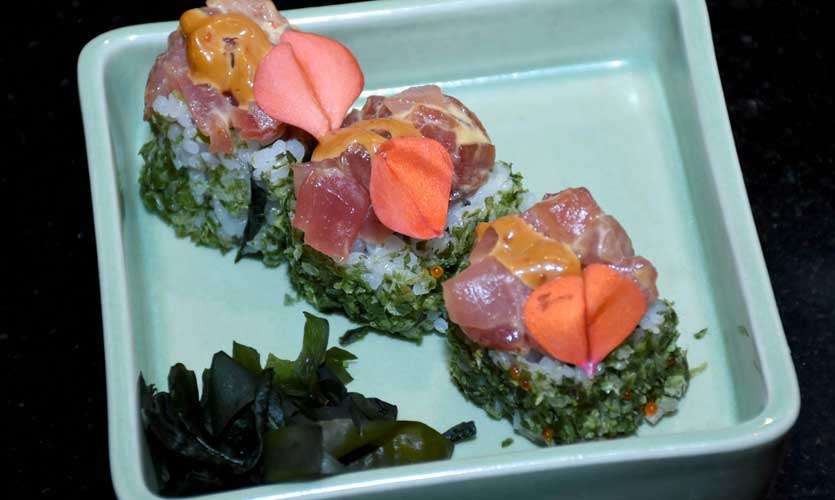 However, I prefered the Nigiri Combo with its prawn, scallops , aburi salmon, spicy salmon and avocado and tuna nigiri. Each dish was oozing with its own unique flavour and the fish tasted exceptionally fresh. Everything we tasted truly had an authentic Japanese taste and upheld the grandeur of Japanese cuisine.
Sushi rolls
We tried the Ebbi Fried, Soft Shell Crab and Hot Night Sushi Rolls. All three were absolutely marvellous. The Hot Night Roll had a strong taste of tempura prawn and the spicy mango left a distinguishing tang even after I was done. The Soft Shell Crab Roll too had great flavour and perfect texture. It was an absolute mouthwatering delight.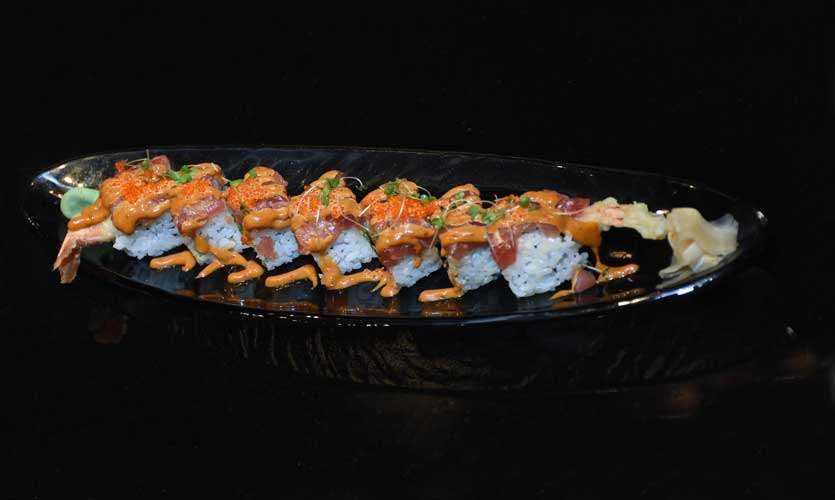 The Mains
I definitely recommend The Teriyaki Chicken served with Soy Sauce as it was a delicious dish. The chicken was tender and quite spicy and the sauce complemented it well. It was everything one would expect from a good protein dish.
Then there was the Tuna served with an onion, salt and sesame sauce which once again exceeded our expectations. The tuna was half cooked and the seasoning was great, and the sesame sauce complemented the dish to perfection.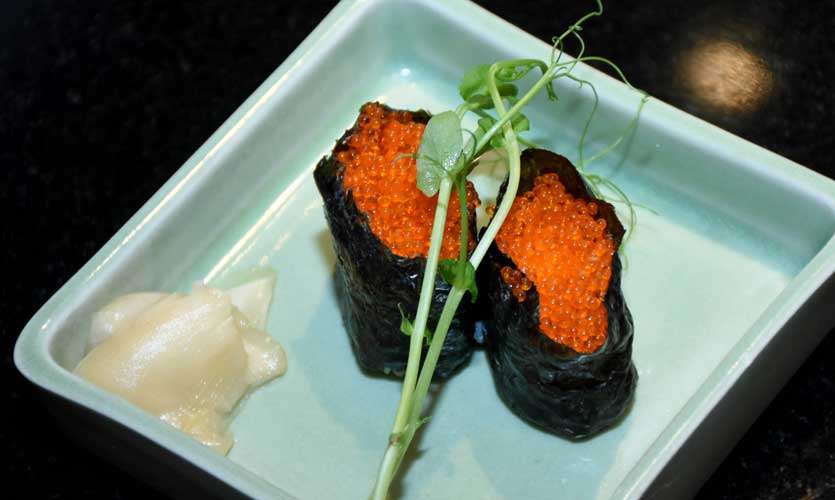 Although I was close to bursting, I couldn't refuse the Yakisoba Fried noodles with omelette and seafood. I'm generally not a huge noodle fan but the two bites I had made me a convert. The noodles were an absolute delight. It had a perfect texture, quite a strong seafood flavour and the seasoning was amazing. The omelette just melted in my mouth and I savoured every second of it. If you do visit Ikoi Tei then this is an absolute must have.

Ikoi Tei even had a wide range of burghers and we were given a Soft Shell Crab Burger and a Chicken Burger. Evidently, they saved the best for last and the burghers did not fail to impress. It's quite unusual to recommend a Japanese restaurant for good burghers but they were truly indescribable. The soft shell crab is definitely one of the best burgers in Colombo.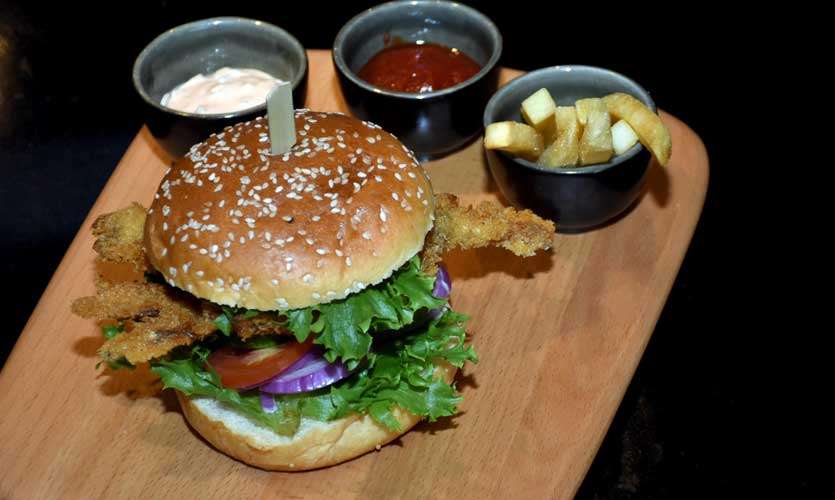 Dessert
After a refreshing cup of Green Tea, we tried the Pineapple Tempura with ice cream and Sesami, Avocado and Mango Mochi. I loved the Sesame mochi. It was soft and there was an overwhelming flavor of sesame which honestly, was quite nice.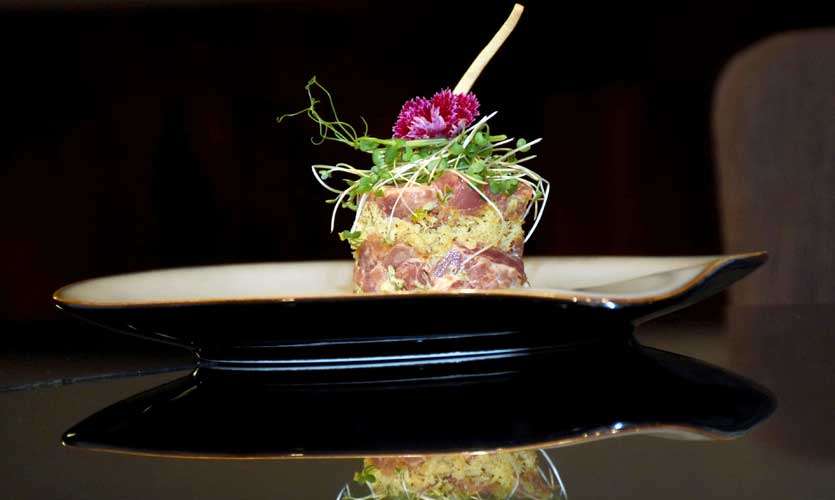 For anyone who is an ardent fan of Japanese cuisine, Ikoi Tei is a must go. It was a wonderful and unique experience having the opportunity to taste a range of cuisine that was new to my palate. I would highly recommend Ikoi Tei as one of the top Japanese restaurants to try out in Colombo.
Pics by: Kushan Pathiraja