Fit Meals started in the latter half of 2018 by two brothers Zimar and Zabith Kaleel and their friend Rahman Fareed. "We couldn't really find a place for meal plans here in Sri Lanka" explains Zimar, "so we thought of starting Fit Meals where we give our customers a meal plan where they get 3 meals a day that are microwavable and healthy at a reasonable price that is delivered to them".
A niche idea that worked, Fit Meals quickly gained popularity in Colombo with more and more people growing health conscious by the day and was a popular service used not only by those who gym and workout but also customers just wishing to eat clean.
"And then our customers wanted a place to dine in and we thought we'll extend our Fit Meals service to a dine in location and that's how the Health House opened up just last month!"
The Health House offers a dine in space for those wishing for a healthy meal. Just a couple of weeks after their opening, we visited to check out the Health House ourselves and here's what we thought!

The Health House has both an indoor and outdoor dining area. The indoor dining area is quite small with a few tables placed strategically to make the optimum use of the small space while simultaneously giving diners their privacy. The outdoor area is a lot bigger and is ideal for large groups. A collective green theme runs through the restaurant from the very entrance to the outdoor area.
DRINKS – 4.5/5
All their drinks are sugar free and has been replaced with honey. From their fresh juices we tried their Mango juice (Rs. 350) and their Avo – Banana (Rs. 550) from their Smoothies. The Avo – Banana is a blend of avocado, banana, honey, milk and dates and is a heavy drink with a bit of sweetness.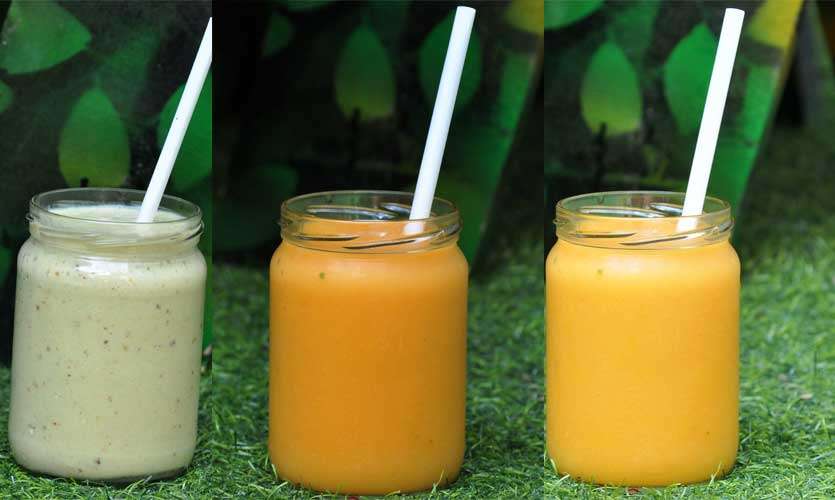 What we were most impressed with was the size of their drinks. We thought the drinks are value for money as the quantity they give is enough for one to consider it as a standalone meal as we were quite full after our respective drinks.
They also have Post Workout Smoothies that acts as a meal replacement such as the Gym Junkie (strawberries, banana, milk, vanilla yogurt with strawberry Whey protein) and the Rambo's Mass Gainer (banana, oats, peanut butter, milk and strawberry whey protein).
FOOD – 3.5/5
The menu is divided into appetizers, greens, wraps, pastas, fit bowls, main courses and even cheat meals as well as a kid's menu. They also offer a few vegan choices and platters for sharing. The menu also offers a breakdown of the protein, carbs and fats of each dish so that those who wish to consciously eat their food can do so.
For appetizers we tried their Roasted Pumpkin Dip with flat bread (Rs. 300). It was a dish that sounded great on the menu but unfortunately the pumpkin dip fell short of what we expected as the texture of the dip was too clumpy. The flat bread however was a delicious even on its own.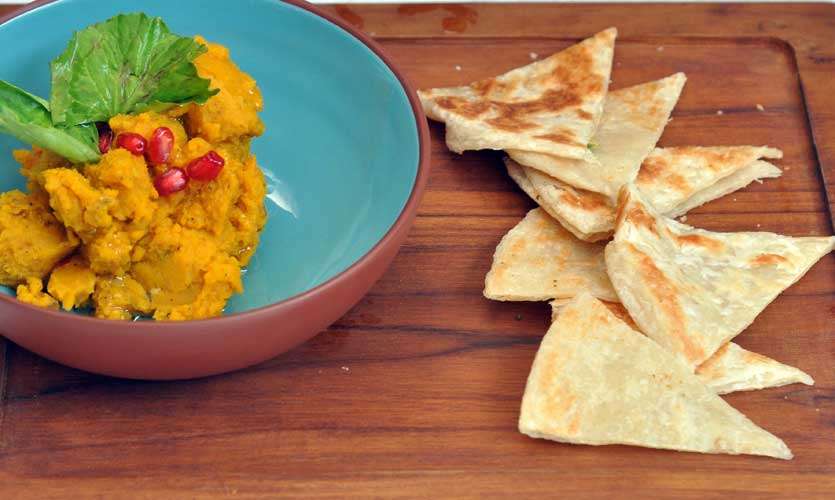 Their Yakitori Bowl (Rs. 800) (Protein >32g, Carbs <46g, Fat <7g) had basmati rice, mushrooms, broccoli and orange infused grilled chicken. The orange infusion in chicken was a nice touch as the bitterness of the orange wasn't so dominant in the dish and added a unique flavour to the chicken. They serve a small quantity of rice with a generous portion of chicken.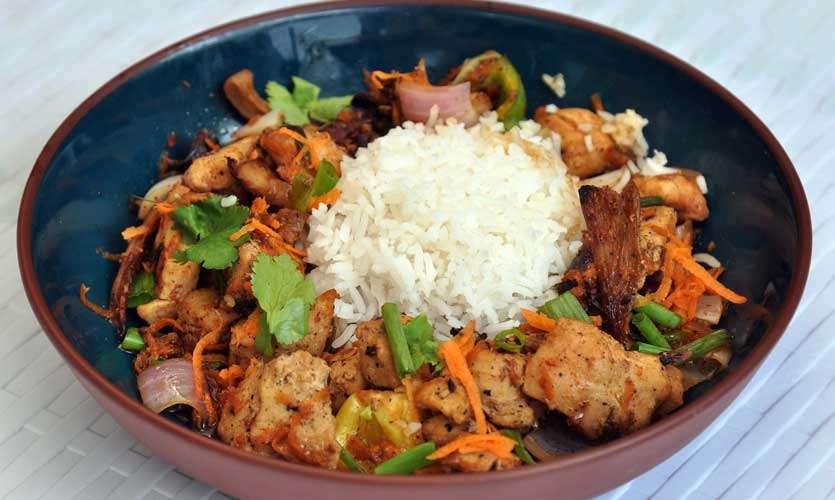 Our favourite however was the Pesto Con-Funghi Pasta (Rs. 650) which is a penne pasta dish tossed in pesto sauce, cherry tomatoes and healthy green leaves. We chose to add on Grilled Prawns (Rs. 300) on top and the overall result was amazing. The Pesto Pasta as a stand alone dish itself would have tasted great as the pasta was full of flavour but topped off with lightly grilled juicy prawns and parmesan – we cleaned the plate in seconds! It's a must try dish off their menu.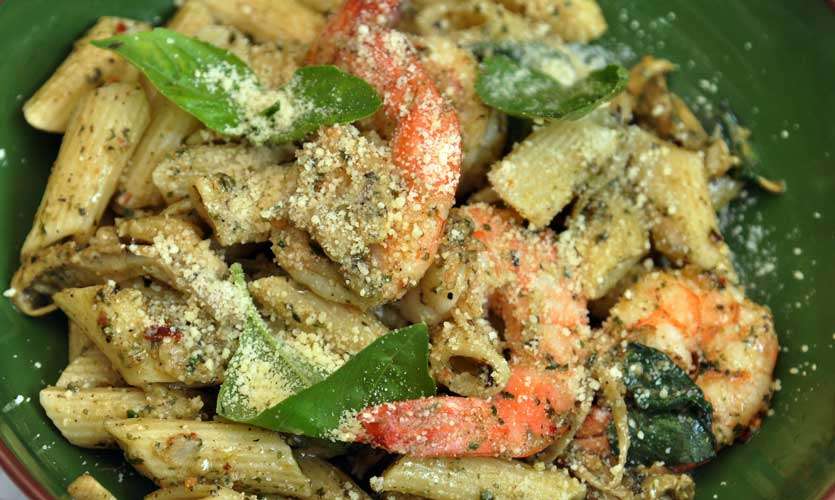 We really appreciated the effort they put into the presentation of their dishes as our food looked amazing when it was served to us.
SERVICE – 5/5
The Health House is manned by a small staff but they are very helpful and friendly. They were quick to find us our seats and help us order.
OVERALL – 3.5/5
Overall the Health House is a great addition to Colombo's chain of healthy restaurants. We really enjoyed some of their dishes and loved that we were eating clean but we were also eating food with plenty of flavour and taste!
Parking Facilities – Available
Would we go again? Yes
Tips – Definitely try the Pesto pasta and spend a little bit extra for their grilled prawns!
Pictures by: Nisal Baduge