It is an uncontested opinion that the only home an elephant should have is in the wild. But with a number of elephants being domesticated and held in captivity as pets, paraded in religious ceremonies and overworked for the tourism industry, the recent years have seen numerous complaints of ill-treatment and cruelty on the rise in Sri Lanka.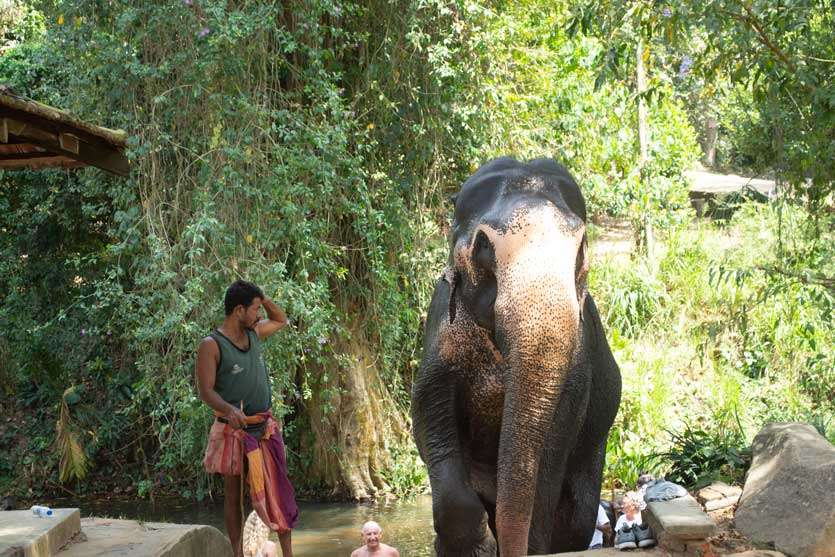 The Millennium Elephant Foundation (MEF) aims to provide a safe home for the captive and the ill-treated. Founded in 1999 in memory of late Mr. Sam Samarasinghe, MEF operates on a 15-acre estate in Kegalle owned by the Samarasinghe family for generations. Today, the Foundation is one of the few certified non-profit organizations working with captive elephants in Sri Lanka.
"We created the Foundation because we wanted to give a safe space to captive elephants. Over the years we've cared, rescued and rehabilitated over 100 elephants – most of whom has sustained injuries from being worked in the logging or tourism industry or can no longer be cared for by their owners," shares Mrs. Samarasinghe who is the Founder and President of MEF. "Looking after an elephant is an expensive affair, they need over 400kg of food a day and constant care. Decades ago, owning and caring for elephants was passed down through generations but today the practice is slowly dying and now elephant owners neither have the wealth nor the experience or knowledge to maintain a domestic elephant."
It is at this stage that the MEF steps in to relocate the elephant into the Foundation's care. In addition to paying for the upkeep of the elephant including all food and medical bills, the Foundation also pays and maintains the elephant's mahout (his handler) and provides a monthly wage.
As an NGO, MEF relies heavily on donations and tourism income to fund the care and upkeep of their elephants. Spending 8000 rupees per elephant each day, the maintenance alone costs a staggering amount and any and all income is divided for a vast number of expenses such as the daily vitamins and medications, vet bills, 400kg of food a day, owners fee, mahouts salaries as well as to the cost of running their Mobile Veterinary Unit that travels around the island treating sick and injured elephants in need.
Visitors to MEF is given a guided tour through the estate and a chance to interact and get close to the elephants. The Foundation was the first to introduce the Elephant Walk Experience, an alternative to elephant riding, where visitors can take an hour long walk with an elephant through the estate together with a guide and wrap up the experience by bathing the elephant down at the river.
Despite offering an alternative, bareback elephant riding is still an option offered at MEF, though it is one that is 'heavily discouraged' says Director and GM, Saravanan Kanapthy. "We believe and practice responsible tourism and was the first to introduce the elephant walk as an alternative to riding an elephant. Unfortunately, until the elephant walk experience sustains the upkeep of the elephants by itself, we are compelled to offer elephant rides as a means of funding. However, it is not something we actively promote and we constantly advice our visitors to make a conscious choice when selecting their experience at MEF. In several years, we aim to become a non-riding venue." MEF condems the use of howdah and only offers bareback riding with a maximum of two passengers and only allows a small 100m walk on the elephant.
The Elephant Walk Experience does seem to be the better deal of the two options as it's a wonderful chance to interact and get up close with these gentle giants.
The elephants at MEF, as we observed, was relaxed and care-free. They'd lazily stroll around the estate with their mahouts, setting their own pace and stopping here and there for a small snack mid-way. Some like Rani who we met along the way, are thrilled to be in the company of people. We were told that she loves the camera and is a bit of diva – a fact we found to be true as she paused near us and offered her trunk for a shake before striking a pose for the camera. Rani's best friend Pooja we found playing by herself at the river, constantly swaying her body and bobbing her head to a song only she could hear – a habit she's had from her very small days.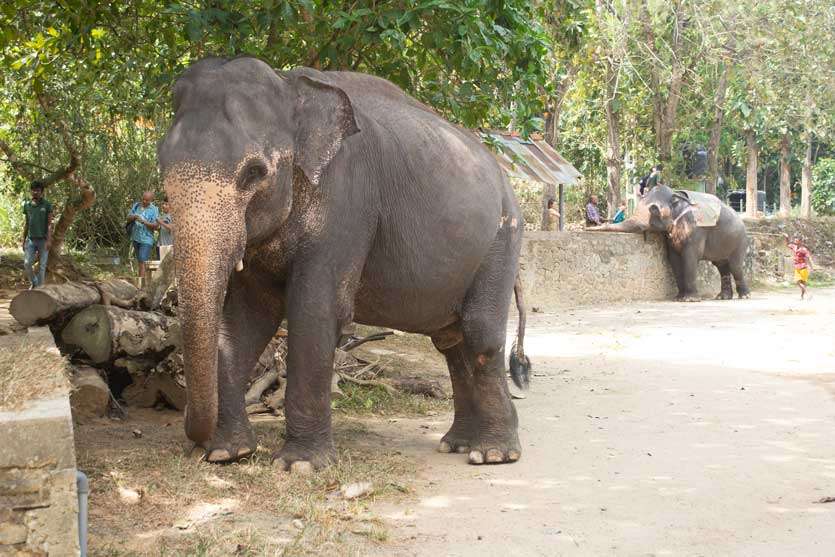 Others like Kavari Raja, an Indian tusker elephant who is receiving treatment at MEF for his dislocated left front leg and Saliya, who is from the Mahiyangana temple, are found in the back, restrained to a tree in their allocated sleep beds, as they are currently in 'Musth' – which is a period of excessive hormones in male elephants that causes them to display highly aggressive behaviours that's dangerous to all around them.
"Elephants in musth are uncontrollable; they have terrible pressure headaches and have no idea what they are doing so they tend to be very aggressive. Saliya comes to us every year because he goes into musth for nearly 6 months and the temple cannot handle him during that period. Elephants in musth are a big danger, they have to be separated from other elephants and even their own mahouts won't go too close during this time, so we have to restrain them for their own safety and ours."
Information about the musth period, the mahouts, the ankus, the chains, their diet and their behaviours are all lined up at the entrance in a little walk through museum. Beyond that, the guides and the mahouts are very open and readily answer any probing questions.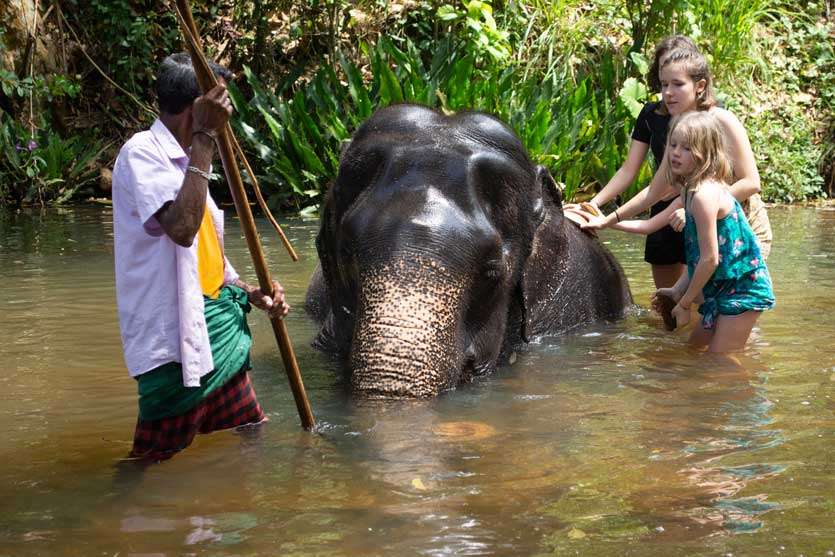 MEF also has a great volunteer programme starting from half a day to lasting for several months. Volunteers from around the world come and work with MEF for extended periods of time – even for several years.
The Foundation does good work. They've become a respite for elephants with injury or in musth and a forever home to the ones who can no longer work in the industry. Beyond that, their efforts to remove elephant riding as a tourism activity is commendable. While riding is still an option, it is not the only option offered at MEF and places the burden of making a conscious decision on the visitors themselves to practice responsible tourism.
Visitors at MEF can enjoy the elephant walk, bathe and feed the elephants, enjoy lunch at the main colonial house and spend the day roaming the estate watching the elephants go about their day. Entry to MEF also allows free entry to the Maximus Elephant Dung paper factory right next door with a tour on how dung paper is made and crafted by hand.
For more information on MEF, visit http://millenniumelephantfoundation.com
Pics By Nimalsiri Edirisinghe