In this series, we talk to people who turned their passion for food and baking into a business idea amidst lockdown and COVID-19 fears. Some have been in the market for years and others saw the new opportunity and took it! These home businesses are changing the game and have overcome the odds of running a business during the quarantine. Here's how they did it.
MEI MEI'S BAKE HOUSE
Baking was always a big part of Minoli Weerasinghe's life since her childhood. Having moved to China at 19 to live with her sister, Minoli found comfort in an unfamiliar environment through baking. "My sister and I used to bake together for bake sales and fundraisers in church and campus and whenever people praised our goodies, my sister would jump in and say that her Mei Mei (which means 'little sister' in Mandarin) made them!". Returning back to Sri Lanka after 3 years of Culinary School, Minoli decided to share her cooking with the world and set up Mei Mei's Bake House in May 2020.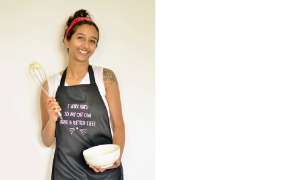 We offer a wide range of fully customizable desserts from cakes to delicate pastries made using locally sourced finest quality ingredients. We also offer several vegan and gluten-free dessert options. My best sellers are the Chocolate OD brownie which is a triple chocolate fudge brownie and my incredibly rich and moist Chocolate mud cake. My favourite cake to date is my vanilla layer cake with strawberry compote and lemon curd filling because this combination has an amazing balance of flavours. I'm also particularly fond of a cake I created for fathers' day this year, a stout beer cake with vanilla buttercream, salted caramel, candied bacon and walnuts.
2.

When did you start operations?
I started my operation in early May, while we were in lockdown! Starting my own bakery had been my dream, and I had just finished my studies at William Angliss Culinary Institute. The timing made perfect sense and we were able to figure out delivery during curfew with the help of a few local couriers who were functional during the lockdown.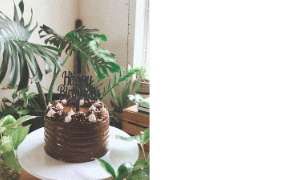 3.

What was it like running your operations during curfew?
It was challenging. But at the same time, it gave us a unique opportunity to experiment and grow. The market demand was quite high but the supply was not adequate. We started off with my Chocolate OD brownies and then introduced more products slowly.
4.

What was the most challenging part of operating during the curfew?
Sourcing ingredients was the most challenging part. I didn't want compromise on quality by substituting ingredients so I had to limit the number of items on the menu due to the unavailability of certain ingredients. I also had to source the same ingredient from multiple suppliers due to limited stocks. This actually helped me to get in touch with more suppliers and build good relationships with them.
5.

What do you enjoy about baking and operating your own home baking business?
Baking has always been my way of expressing myself. Experimenting with flavours, recipe development, the trials and errors are all things that I do with so much love and passion and the end results are always rewarding. Operating my own home bakery has given me the freedom to innovate and grow, a chance to challenge myself and test my potential.
6.

How are you ensuring the proper hygiene measures are taken in preparation and delivery?
Given my culinary background, food safety and hygiene has always been the top priority. I made sure to take extra precautions during the pandemic to ensure the safety of my customers following the guidelines issued by WHO such as using PPE (personal protection equipment), sanitizing the workspace, supplies, maintaining good respiratory hygiene etc. We are also taking steps to ensure that the delivery partners are taking extra precautions, use proper PPE, regular temperature checks and practice social distancing. We also encourage customers to pay with bank deposits/transfers, to avoid the usage of cash.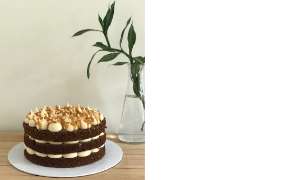 7.

How has COVID-19 and the current state of the world changed your business and your baking?
It has helped me realize the need for small local businesses to support each other, the importance of engaging with my customers offering more personalized services and the need for more unique and high-quality products.
8.

How do you Home Bakers going forward post-COVID?
With the increase in demand for baked goods during quarantine it is refreshing to see many new home bakers bringing their creations out into the industry as this means more and more bakers like myself are getting the opportunity to share what they're most passionate about. I believe during this pandemic one of the most important things we have learned is that the only way to survive this crisis as a business is by supporting each other rather than seeing all other home bakers as competition. I have seen many collaborations, businesses sharing each other's work creating long-lasting business relationships and the public actively supporting small local businesses. I hope this new culture will pave the way for talented individuals to bring their creations into the spotlight.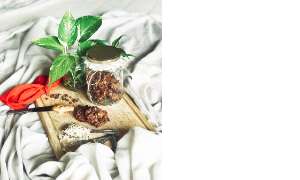 9.

Any advice to anyone who wants to start their own business?
My advice would be to do your research, plan, and most importantly start! Taking that first step is always the hardest and scariest part. Start small and allow yourself to grow along the way. Strive to build your brand through innovation. Put in twice as much work as you'd expect results and continue to challenge yourself.
*. Mei Mei's Bake House takes orders via Instagram (@meimeibakes.lk). Delivery is available for Colombo 1-15 and suburbs. One day advance notice is required to place an order.
BAKE STATION
Nadeesha Fernando's love for cooking presented at the tender age of 12. Having pushed aside her passion for baking and cooking for a career in the corporate sector, Nadeesha found herself returning to the culinary field and took up studies in the field of pastry and baking. Slowly expanding her customer base from friends and family to regular clients, Bake Station came into the limelight offering an assortment of baked varieties both sweet and savoury.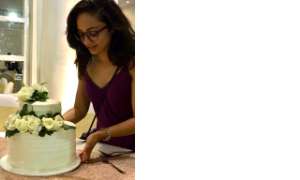 We offer all types of cakes from flavoured cakes to wedding cake structures, customised birthday cakes, flavoured cupcakes, cookies, desserts and savouries. Our best sellers would be the Chocolate Ganache Cake and Ribbon Cake but lately, there has been a bigger demand for savouries as well. I'm really fond of the signature Chocolate Ganache Cake because it's a recipe with my own twist to it.
2.

When did you start operations?
I have been operating and been in the business since 2013! Coronavirus and curfew, however, did affect the usual flow of business since people were careful of not consuming food from outside for quite a while during lockdown and business was quite slow. But sometime during the second month into the lockdown, there was an increase in orders and it became business as usual!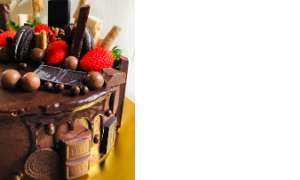 3.

What was it like running your operations during curfew?
-
It was not that easy; starting from getting ingredients and then getting the baked goods delivered to your customer. Not everyone had a curfew pass and we had to be mindful of safety precautions too since after all the customer is our priority and we had to make sure our bakes reached the customer with complete adherence to the COVID-19 guidelines. With the help of my husband, my mom, dad and my sisters - I was able to accommodate most of my orders and not forgetting my little nephew and niece who are my biggest fans and critics in helping me manage operations during this time.
4.

What was the most challenging part about operating during curfew?
The most challenging part would be obtaining the ingredients and getting them delivered on time. I had to order ingredients from several places as most places were running out of stock whereas on a regular usual day, I'd get most of my ingredients from one place. So, I ended up having to alter my operations as I was unable to do large decorative cakes due to the lack of ingredients available in the market during the first month of lockdown.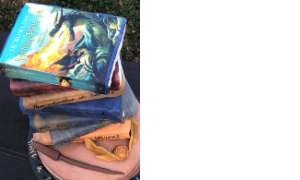 5.

How are you ensuring the proper hygiene measures are taken in preparation and delivery?
Even before the pandemic, cleanliness was of utmost importance to me. I made sure that my ingredients were transported safely and with strict hygiene measures in place. Preparation of food was done mostly by me, so our baked goodies left the kitchen to the customers' hands in sync with the COVID-19 guidelines.
6.

What do you enjoy about baking and operating your own home baking business?
Culinary is my passion and I used to watch programmes like the Master Chef and renowned chefs like Gordon Ramsay who's also my idol and wished that I was able to create food under my own brand name while working in the corporate sector. Now, I'm living the dream of creating food! And seeing my customers happy would probably be the number one reason why I enjoy baking. It drives me to do better and offer my clients a better product every time. Operating my own home baking business gives me more freedom to put my hands into doing creative baked products and gives me the confidence to open up my own little cafe one day.
7.

How has COVID-19 and the current state of the world changed your business and your baking?
With the pandemic, there has been a tremendous rise in new home bakers making it more competitive and that has driven me further to explore the catering business. I have had many new customers during the severely affected months and a rise in orders presently for cakes, desserts and savouries.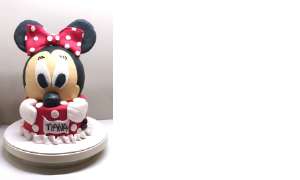 8.

How do you Home Bakers going forward post-COVID?
With the pandemic people opted-in for homemade food as opposed to ordering from restaurants and fast-food chains. There's always a demand for good food, so those who are really serious about staying in the business will still operate even after the pandemic subsides.
9.

Any advice to anyone who wants to start their own business?
I'd say go for it! I stepped into this, taking a huge risk leaving my 9-5 job and a leap of faith. I did so, as I was extremely passionate about pursuing this field and running my own business. I have been dreaming of it for years and I intend to learn more and more in the field of culinary. There will be ups and downs and you need to learn to take criticism as well as be humble in your achievements. As Paulo Coelho quotes, 'If you really want something, all the universe will conspire to help you achieve it, so go all out for what you truly believe in' .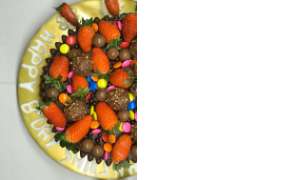 *. Bake Station takes orders via Instagram and Facebook (@bakestation). Payments can be made through bank transfer or cash on delivery. Bake Station needs 2 days advance notice for an order. Delivery can be arranged.