While humans in areas with indefinite curfew periods are struggling to find essential items and
vegetables, it may also be a challenging time for pets. Probably they are missing out on their morning walks, favourite food and playing outdoors. In the meantime, stray dogs and cats who thrived from leftovers found on the wayside too may be starving as most shops remain to be shut. Over the past few weeks, many animal lovers have walked the streets, feeding stray animals in their individual capacities amid challenges such as sourcing food.
Here's a look at what a few organizations are doing to ensure that their little tummies are fed.
Challenges with sourcing food Anjali De Silva from Dogstar Foundation Negombo had been feeding around 250 stray animals in the area for the past few days. "For that, we need 30 kg of rice every day," she said while speaking to the Daily Mirror Life. It's difficult to make rice in bulk and when we ask for it we either overpriced or we have to give a tip. The other challenge is that we need to give a protein for the dogs because they don't eat only rice. For the past week we have been checking with companies that deliver chicken but we realized that parts they sell for dogs such as innards are less. The small shops are also closed so there aren't any byproducts. If this goes on for two or three weeks, we are in trouble. The alternative is fish but it is expensive. There's no mackerel, salaya or kuriya varieties and we have to opt for varieties such as tuna which is expensive. Therefore sourcing is the main problem. However our charity arm is supporting us with feeding the dogs."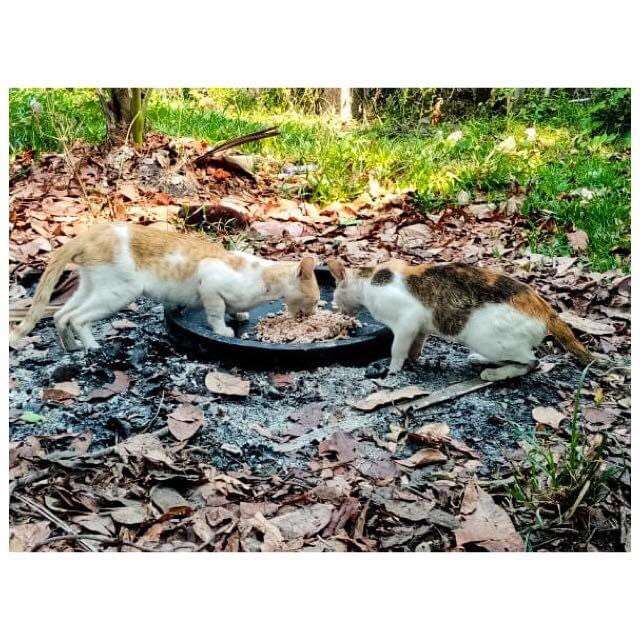 Stray dogs and cats in Negombo are being looked after by members at Dogstar Foundation

Call for donations
On behalf of Animal SOS Sri Lanka, Kim Cooling is organizing a fundraiser to feed its cats and dogs. With the closure of two charity shops in the UK that help them cover their monthly expenses, Kim and her team are facing a challenge. As Sri Lanka's largest sanctuary for street animals with over 1700 dogs and 65 resident cats, the Organisation requires food to satisfy their little tummies. Apart from that, there are over 300 special needs animals that require extra care. If you wish to donate to feed a tummy of an innocent animal click on https://www.gofundme.com/f/fedding-our-rescues-and-local-straysutm_source=facebook&utm_medium=social&utm_campaign=p_cp+share-sheet
Tips to keep your pets happy
As a means of keeping your dogs and pets happy, the Ceylon Kennel Club recommends the following tips :
 Make sure your pet has food and that you're equipped with poo bags, medicines to see through
the curfew period
 Maintain hygiene, wash your hands thoroughly before and after you feed them, touch them,
touch their toys and bedding
 Avoid them kicking your face or sharing your food
 It's advisable to stay indoors and give exercises to your dog in the garden. Practice social
distancing if you get to walk your dog once curfew is lifted
 Feed your dog as usual but in case you have to leave the house make sure there is enough
food for the pet. If you're unable to give the usual brand to the dog, slowly mix the new food with the old brand until it gets fully swapped over. If you change your dog's diet quickly, it will get diarrhea.
 If your dog needs veterinary care call the vet ahead of time and ask what precautions you need
to take before bringing the dog or pet to the vet. Some places may not be providing their usual
services.
 Ensure that any medications which are harmful to dogs such ibuprofen are kept out of their
reach
 During self-isolation try to have a routine for you and your dog
 Use a food puzzle to make mealtimes more stimulating for your dog/pet
 Most dogs love playing so a game of indoor fetch or tug of war could keep them entertained
 Try creating an obstacle course inside your house using toys, cushions, blankets or anything you
can think of
 Teach them new tricks such as 'roll over', 'sit' or 'paw'
 Keep the curtains or blinds open to allow them to see what's going on in the outside world
Photo credits Dogstar Foundation
---
Sri Lanka's animal lovers appeal to govt to follow India's example

Smt Maneka Sanjay Gandhi MP has issued a directive to all concerned to
permit the feeding of street dogs, cows, and birds during this period of
lockdown, curfew, and turmoil. In her directive she states that if they are
not fed, many will die, thus creating another kind of serious problem. " I
have asked all animal welfare workers to feed the animals during this period
and I will be doing the same".

In the light of this humanitarian directive, Sri Lanka's animal lovers and
welfare organisations appeal to the government and relevant authorities to
permit the feeding of street animals, irrespective of curfew and lockdown.

All persons concerned in such activities are responsible citizens who will
take all precautions to ensure the safety and health of others as well as
themselves.

It is their earnest plea that this request will be granted.

Anusha David
Trustee
Rescue Animals Sri Lanka