Barely ten days into lockdown necessitated by COVID- 19, the oft-quoted proverb, "necessity is the mother of invention" came to play when Thanura Yapa, Praveen Wickramge, Eshan Ruwinka, and Himal Tennakoon decided to launch Freshbox.lk. For many ensconced in their homes by a strict curfew obtaining groceries was a priority. With the supermarkets struggling to organise an efficient delivery service, these four young men saw a dire requirement in the market and launched a fresh fruit and vegetable delivery service.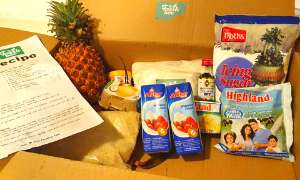 With high demand, business was good. However, with the relaxing of curfew, the four entrepreneurs have decided to diversify their business by branching out and including recipe boxes to those who find shopping a chore and prioritise convenience.
They have a range of recipe boxes which include devilled chicken, vadai, creamy seafood pasta, and cakes. All items required to make that particular dish are included in the recipe box and delivered directly to your doorstep. All you have to do is prep and cook. How easier can it get? Ever willing to be a guinea pig, I opted to try the creamy seafood pasta recipe box. As my recipe box contained seafood, it was transported in a cooler box and delivered at the arranged time to my house. The Recipe box contained all the necessary ingredients to cook the dish except for the salt and pepper and a couple of teaspoons of butter. Included was a comprehensive recipe that anyone can follow.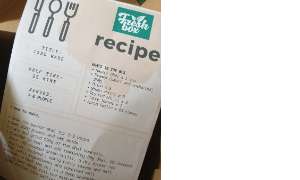 I decided to put my husband to work and asked him to follow the recipe. After a few initial murmurings of opposition, he got down to work aided by our son. It was their first time making a béchamel sauce but with the step by step printed guide they managed to execute this to a decent standard and came up trumps in creating a somewhat tasty dish of creamy seafood pasta. The convenience of opening the recipe box and finding the Bombay onions, garlic, flour, pasta, cheese, and of course a tray of cleanly washed and packed selection of seafood which included cuttlefish, prawns, and tuna fish made cooking even for a novice relatively hassle-free.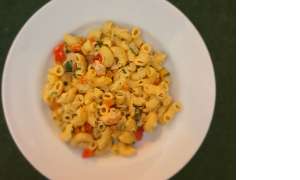 Added to that, the recipe box included enough ingredients to serve 4-5 people decent sized portions which was an added bonus!
Q

What prompted you to start this business?
We launched the recipe box concept with the aim of providing convenience and a fun experience for home cooks to have by trying out recipes.
Q

What is the range of menus you provide?
The Sri Lankan Boxes include Nasi, Biriyani, Isso wade, Cheese Kottu, while the Pasta Boxes include creamy seafood and a few varieties of baked pasta. We also have Baking Boxes which include cupcakes, pineapple sponge cake, strawberry sponge cake, and Banana Bread. For those who are more health-conscious, we have Salad Boxes which include vegetable salad and chicken salad. There is also a selection of Breakfast Boxes which have smoothies, pancakes and waffles.
Q

What did your market research indicate?
There is a growing trend of online purchases in SL for groceries. We noticed that while there has been an emerging market for online purchases of electronics there was a barrier for ordering online groceries. However, with COVID-19 this changed, and now there is a new set of people who have found this online grocery ordering a real convenience.
Our research also revealed that meal prep and meal kits are very popular in other countries due to the convenience factor. Cooking became popular with lockdown and everyone was looking to buy fresh produce and ingredients from reputed places.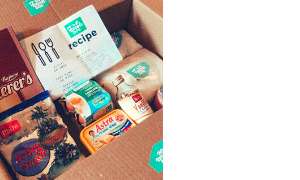 Q

Where do you source your produce from?
We support local farmers as much as possible as it is important that we empower them by purchasing good quality fresh fruit and veg from them. All other ingredients we buy from known brands recommended by our customers and chefs.
Q

How do you ensure delivery is prompt and produce is fresh?
We have dedicated delivery vehicles for Recipe boxes and aim to deliver within 24 hours of ordering. All perishable items we get delivered each morning from the farms.
Q

Some of your boxes contain meat, fish, and dairy products. Under what conditions are they transported?
We use cold storage for transportation and the packages are delivered from warehouse to location within 2-3hrs.
Q

Will you be looking to expand the range soon?
Yes, we will be adding 50 new recipes by end of this month ranging from different categories.
Q

Where are you located and which areas do you deliver to?
Our office is in Kirulapona and our warehouse is in Kottawa.