Dubbed as 'The Dresser' in Singapore, Latika Alok is a woman of many trades. Having successfully ventured through the corporate world as a Human Resources Director back in London, she has also created a reputed design label for herself and has earned the moniker 'The Dresser' having dressed celebrities for various events.
In Sri Lanka, she is the organizer of the VIP Nights – a much awaited event series in the local calendar. Her Ladies VIP Night, a glamourous soiree celebrating the International Day of the Woman, returns this February with #EachforEqual to shed light on Gender Equality and Empowerment.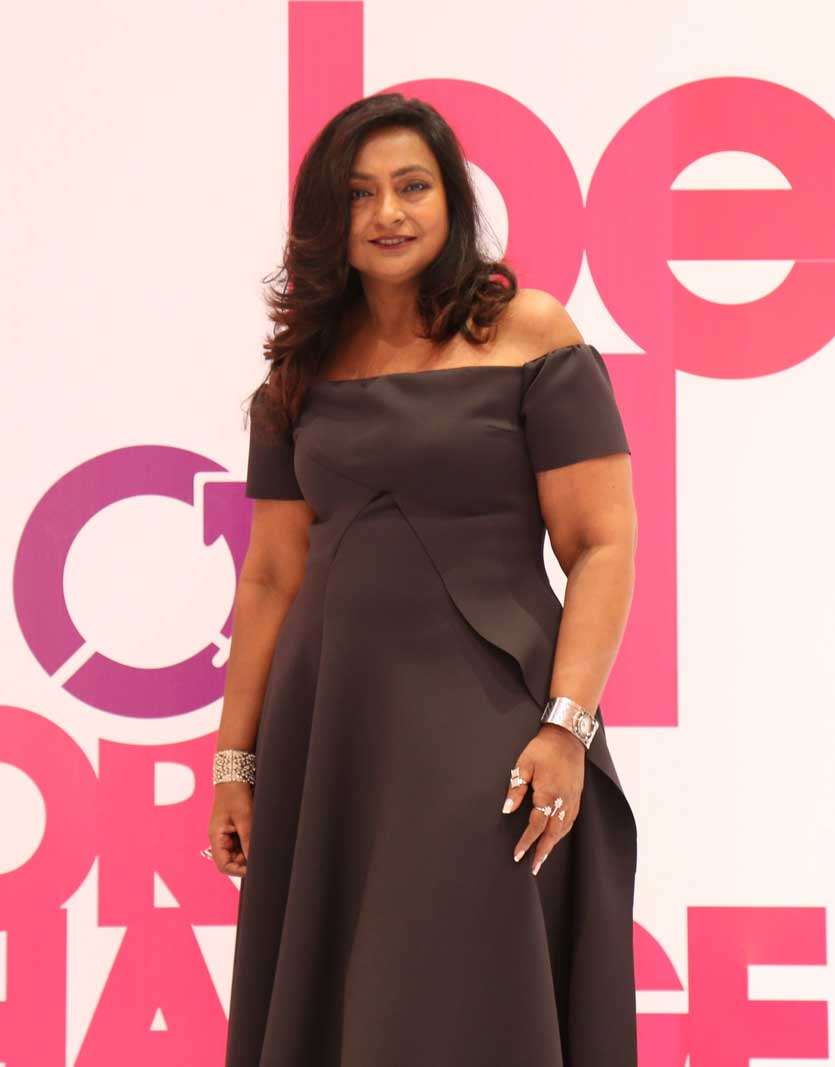 What is Ladies VIP Night?
The Ladies VIP Night is one of two brands that my company owns in Sri Lanka. When I arrived in Colombo in 2011, I realized that there was a need for high-end events which allowed women to get together to network, support one another, bond with old friends and make new ones, all in a fun and safe environment. So, I organized my first event called "All Dressed Up, Are You on The List?" and quickly realised that there was a market for high-end events for women.So, the very first Ladies Night that I did attracted 450 women with a further 150 on a wait list and with its rising popularity and demand, I was able to create a second brand which catered for men as well which is known as Colombo VIP Nights. The VIP Night Events are all about giving our guests curated experiences. We do this through what we call our four Cs – Connect, Collaborate, Celebrate all for a good Cause. Our events support charities which support the local community.
Before you organized the VIP nights in Sri Lanka, you've done similar work abroad as well?
Yes, back in the UK, I was a Director of Human Resourcing for a large London hospital where I did the full service of HR. As part of this remit, I was responsible for recruitment policies with particular focus on diversity and gender equality so my events experience started off with organising career exhibitions and recruitment fairs for the Hospital. Then in the early 90s, I decided to take a sabbatical to travel around Asia Pacific and in doing so found I had a passion for fashion and my entrepreneurial skills kicked in, and I started my own fashion brand of luxury evening wear! With that came events aimed at the Singapore Society which held many social Glitterati balls. Gradually, I became known in Singapore as "The Dresser" for red carpet events where I dressed women and celebrities for award ceremonies, TV shows and all the black-tieaffairs. In order to promote my brand, I was involved in organising fashion shows and image workshops at my store and that is the experience that allows me to successfully organize the VIP nights here in Sri Lanka.
What led you to organize the Ladies VIP Night on International Women's Day?
Being a woman myself and with the additional benefit of my HR background I felt there was a need to create more awareness for organizations to be supporting women in the workplace.Most importantly I wanted a platform that allows all of us to come together to celebrate being a woman and femininity - what better time to do that then international women's week when the world celebrates with you?
This year's theme is Empowerment and Entertainment – what's in store?
The event follows the global theme of discussion for 2020 which is EachforEqual. We'll start off with a panel discussion and follow it up by a very unique fashion show which is the first of its kind in Sri Lanka featuring leading local designers such as Sonali Dharmawardena, Aslam Hussein, Charini, Ramona and other brands. Our hospitality partners, the Shangri- La hotel Colombo will rise to the occasion with a delectable 4 course sit down dinner which is served with showmanship!
The Gender Equality Panel for this year's event is surprisingly all men – any particular reason?
With previous years when we've had panels on the Role Model, Women on a Mission and Press for Progress we've always had an all-female panel. But for this year's theme of Empowerment and Entertainment we strongly felt that it's a collective issue that's simply not just a 'woman's problem'. So, we opted for an all-male panel of business leaders from relevant industries like garments, tea, hospitality, technology and finance to get involved in the discussion about gender equality and empowerment in the workplace.
Proceeds of the show will support the Emerge Lanka Foundation, a charity for sheltering children who are survivors of abuse - what drew you to the Foundation?
We have always supported women focused charities in the past. This year we wanted to support the most vulnerable in our society - girls from the ages of 10 to -18 who have been robbed of their childhood. It broke my heart to hear that some of these young girls who were being abused by family members didn't know how to say NO or in some cases did not know at the time that it was even wrong! I am very happy to create awareness of the fact that a charity organization like Emerge Lankaexists, so girls know that they have a safe place to seek professional help.
The Ladies VIP Night isn't exclusively just for the ladies and is open to the gents as well. Is this to facilitate a better discussion?
Yes! Gender equality isn't a conversation just for women. It's critical for both men and women to participate in the conversation on equality in order for all of us to be in the same page about facilitating for change at work and at home.
What has been the most challenging in organizing these events?
I have been very fortunate that sponsors and partners recognise the value of the event, so I do get a lot of support. This is not just about the guests that attend but very much about our sponsors who want to have access to our target audience. For the duration of the event, I work very closely with them and become an extension of their marketing arm to ensure that their branding gets full exposure to our niche audience of high net worth individuals. My main challenge is that my target audience that we attract are people that would normally be expected to be invited to events, mine being a ticketed one means that I have to always be innovative and creative to ensure that I offer a unique experience and also give them value for money. We have repeated clients and a loyal following, so I believe I am achieving this objective. It is very satisfying when people come up to you and say that they are looking forward to the next event! This makes it all worthwhileand gives me the motivation to continue raising the bar and organising more fun and interesting events. I have two annual events on the calendar each year. One being International Women's Week and the other one being a premier lifestyle shopping fair called Shop Til You Drop which has over 65 high end vendors under one roof! We support local businesses to promote their products to an affluent audience which they may not easily have access to.
What's gender equality to you? Has Sri Lanka achieved it?
I believe that gender equality is good news for women and men as gender balance in the workplace benefits all. But in particular, women have got to have an equal chance of getting a job with equal pay and need to be respected in the organization as an individual based on her skills and abilities. We have a long and challenging journey ahead globally. In Sri Lanka, we do have some companies that have championed good work practices but we wish to continue to call for action to accelerate women'sequality so we can change 'some companies' to 'all companies'. It is said that if you educatea woman, a family is educated and in turn this helps the community and eventually the country to prosper.
Join the Ladies VIP Night on the 3rd of March 2020 at Shangri – La Hotel, Colombo.
Tickets at Rs 9,500 are limited, so book early by calling the Ticket Hotline on 0778591846. Tickets include "Pink Tea" cocktails by Tea Berry which is a health conscious product rich in antioxidants, an Aperitif hour, a unique Fashion Show, a seated 4-course Dinner, Luxury Door Gifts from Spa Ceylon and TRESemme, Jewellery Giveaways- all for a good cause! There are many more surprises in store for you with luxury gifts and Jewellery Giveaways, this is an event NOT to be missed.

MEN ARE MOST WELCOME