How do our food experts cook and eat? This week, Chef Dharshan takes our Q&A! Hailed by many as the greatest seafood chef and restaurateur in Asia, Dharshan Munidasa founded some of Sri Lanka's best-known restaurants such as Nihonbashi, Ministry of Crab, Kaema Sutra and The Tuna & The Crab. Known for his focus on high quality, fresh ingredients – Chef Dharshan joins us for a casual conversation about his personal food philosophies.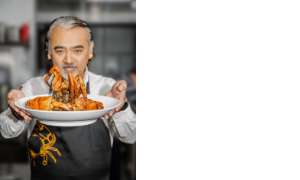 1.

What was the first dish you learnt to cook?
- My first dish actually didn't involve cooking. It involved a boat, a fishing rod, a swiss army knife and a bottle of soy sauce while fishing off the reef in Wattala.
2.

What is your go-to drink?
- Centella. It is made out of Gotukola and Thambili with no water and no sugar. It's the healthiest drink I have ever had, and I am happy to have created it.
3.

Rate from most important to least – fresh ingredients, good flavours, great presentation, quick and friendly service, dining ambience?
-
1. Good Flavours, 2. Fresh Ingredients, 3. Dining Ambience, 4. Quick and Friendly Service and 5. Great Presentation.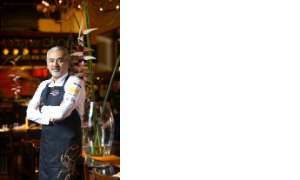 4.

What's the most unique (wish-I-didn't- try) dish you've tasted and from where?
- Paani Puri. I am absolutely averse to coriander. It's not that I am allergic, but I just cannot handle its taste and how it reacts. In the case of the Paani Puri, not knowing what it was, my first thought was that it was something I wish I never tried.
5.

What food is overrated and underrated?
- Overrated food is fusion cuisine, which is more like confusion to me. On the other hand, Sri Lankan cuisine I think is underrated. If the people in Sri Lanka can really appreciate, recognize and encourage (instead of frowning upon) cuisine that is evolving from our fundamental philosophies, Sri Lankan cuisine has the potential to become an absolutely phenomenal cuisine.
6.

What meal brings back childhood memories?
- Temple cookies from Temples in Japan. Takeaway Ramen, which comes in an aluminium box hung from a scooter zipping through the streets of Tokyo to your house in about 7 minutes. Fresh fruits from the garden, which I was able to experience again during the lockdown. Whole mangoes and slices of pineapple with salt and chilli from the street vendors in Sri Lanka.
7.

If you had Rs.500 to make dinner, what dishes would be on the table?
- My Rs.500 meal would consist of two whole chicken legs dusted with spices and oven-baked in foil with a strong accent of Turmeric, one of my favourite spices. Served with a little white rice and for those few guilty people, a gotukola sambol.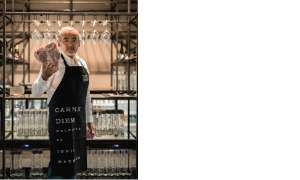 8.

What item in your fridge would you rather not admit to having?
- Ketchup and Tabasco. Eventually, this resulted in Nihonbashi's Spicy Tonkatsu Sauce, made from all-natural ingredients. It has a punch from black pepper and is a unique sauce which is slowly replacing those two ingredients in my fridge.
9.

Who would be your dream dinner-party guests?
- As much as I would like to name celebrity chefs, movie stars and sports stars, it would probably be my late father. He is the one person who was not aware of my culinary skills and my approach to crustaceans, Japanese food and steak, among other things.
10.

If you had to serve only one dish in your restaurant forever – what would it be?
Let me answer this restaurant wise:
Nihonbashi – Tuna Sashimi. It is a dish reflecting our clean ocean and the freshness of a local ingredient.
Ministry of Crab – Garlic Chilli Crab. Again, celebrating a local ingredient that is sought after around the world.
Kaema Sutra– The Egg Hopper. This has created waves in the country, caused controversy and brought in legislation to control the price of a hopper. This is probably the most beautiful hopper in the world and the largest.
Carne Diem– The Bone-in Rib Eye. Cooked at 180 degrees for 8 minutes a side or so, this 2-inch steak is finished at less than 2 minutes a side. No sauce given, it's a unique steak.
The Tuna & The Crab – The Garlic Chilli Crab Pasta. It's something unique, messy to eat and a great combination of Crab, Olive Oil and Pasta.
11.

What dish/meal would you eat but never cook?
- Kiri Kos. I love that dish but I find it so difficult to clean the world's largest fruit. Hats off to the folks who make it!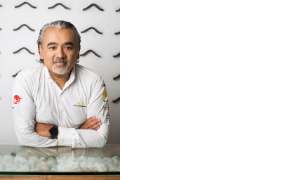 12.

What food trend do you hate right now?
- One unspoken food trend among many restaurants are copies. Copies of other restaurants. Like a singer or an artist, chefs also have to, at some point, 'stop singing someone else's song or drawing the same artwork as someone else', but to create their own dish and be remembered. It's not going to be easy, it will take many attempts, but copies of each other only stagnates and stunts the progress and evolution of cuisine.
13.

What would your last meal be?
- For me, it depends on where I am. In Tokyo, it would be a Sushi or a Ramen. In the Maldives, it would be my Steak from Carne Diem. In Sri Lanka, probably a Wild Boar Curry.
14.

Easiest meal to impress someone?
- Start out with getting a damn good ingredient. Make sure it's fresh and pay attention to its quality. Start with the product and cook it in the simplest way, and you will probably impress someone very easily. Pair it with great wine (research and order it, don't supermarket it!)
15.

What's the one thing you'd do or make at your restaurants but never at home?
- My restaurant kitchen and my home kitchen are an extension of each other. Many dishes start in one and get perfected in the other. Something I would not cook at home is probably only when it is logistically difficult to do so, such as bringing a 110kg Tuna to the house and trying to cut it at home.
16.

You are always busy and constantly on the move – how did you spend your lockdown?
- Actually, lockdown brought me back to Sri Lanka. Being at home for such a long period of time, just Chantal and myself, we were cooking, keeping the house clean, plucking mango every day, burning breadfruit to eat with truffle oil and rediscovering childhood dishes. We also had the three poodles to keep us company. Ever since the restaurants reopened and still being in Sri Lanka, this time has given me the opportunity to create new dishes, as we are now facing a "New Norm". The Prawn Biryani and Crab Biryani at Ministry of Crab are two such dishes, and the Meatloaf and Spicy Salmon Maki at Nihonbashi are also results of lockdown.