Although we are a country with a rich biodiversity, most flora and fauna have already faced threats of extinction due to human activities. Therefore, the time has come to rethink on methods of conservation. Last year a human-leopard encounter in Panmoor Estate made headlines where the incident portrayed the leopard as a threat. In India, close to 800 such encounters happen annually, and Sri Lanka stands on negligible ground. However, in order to protect the island population of leopards currently in Sri Lanka, the Wilderness and Wildlife Conservation Trust (WWCT) headed by Dr. Andrew Kittle and Anjali Watson has contributed immensely in terms of protecting the species. At a recent presentation, the duo reiterated on the importance of protecting the ridge in the Central Highlands, as means of helping leopard conservation, while ensuring the maintenance of watershed ecosystem services and biodiversity protection.

Panthera Parduskotiya
According to research conducted by Watson and Dr. Kittle, the Sri Lankan leopard also known as the Panthera Parduskotiya, is the only large mammalian predator in Sri Lanka. Therefore, being the only large predator in the ecosystem also drastically increases its role as a keystone species helping to determine the densities and numbers of prey species such as spotted deer, barking deer, wild boar, and sambhur.
"The leopard has a high tourism value in all national parks," said Dr. Kittle in his opening remarks. "Therefore there's a huge value placed on the Sri Lankan leopard. People are also interested in the leopard and research has been done in some local universities. It also has an ecological value. The leopard is an apex carnivore and has remained at the top of the food chain for thousands of years. In Sri Lanka since it doesn't have any dominant competitors such as lions or by group animals. They also have charismatic features as they grow large and they are dominant species in the system. Their beautiful markings have the potential to draw people's interest."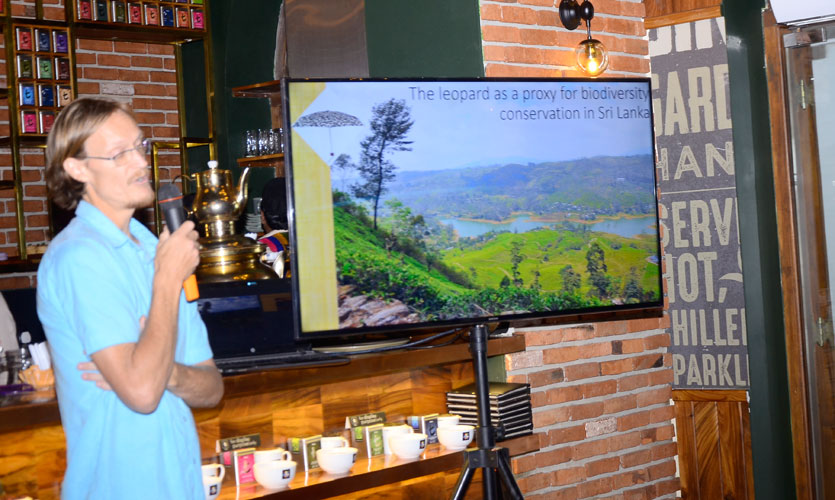 Their research further shows that there are only about 750-1000 adult leopards in Sri Lanka, and the numbers have kept decreasing substantially over the last century. Although the Flora and Fauna Protection Ordinance in 1983 put leopards under legal protection, poaching both inside and outside protected areas continued unabated.

Protecting the landscape in Central Highlands
The WWCT is currently assessing the population structure and land use attributes of the endangered Sri Lankan leopard that is present within the unprotected areas of the Central Highlands adjoining the Peak Wilderness Sanctuary. This mixed landscape of remnant forest, tea, and other plantations include a ridge which acts as a vital watershed for the adjacent Castlereigh and Maussakele reservoirs. Speaking further, Dr. Kittle said that the Central Highlands is a UNESCO World Heritage Site. "This includes the Knuckles Conservation Area, Peak Wilderness, and the Horton Plains National Park. These are biodiversity hotspots with very high levels of endemism and rich in flora and fauna. The criteria of UNESCO to declare Central Highlands as a World Heritage Site included critical forests which were habitats for unique leopard subspecies, Panthera Pardus Kotiya. These forests can also act as in-situ conservation hotspots for biodiversity."

WWCT's ongoing research has now identified this ridge as being a vital connector and residential forest for the leopard; with females residing and breeding within this ridge forest, and males using it as part of their larger ranges. Findings to date confirm the residence of at least six females and five males with three sets of cubs; with a larger population occupying the adjacent forests to the Peak Wilderness Sanctuary. Therefore this proposed ridge corridor will act as a vital and additional area for highland leopards.

Conservation Methods
In her comments, Anjali said that when they started working there after getting permission from the Wildlife Department they were initially talking about Peak Wilderness because not much work has been done there with regard to the leopard. "Therefore it is a large chunk of land in our island forest. From 2016 human-leopard encounters occurred and we thought there was something going on outside those boundaries. We thought we needed to focus on the mixed landscape. We collated some data that we were collecting over the past 15 odd years, and we observed that the Central Highlands is coming up as a hotspot for issues with leopards. Surprisingly leopards were killed using snaring – snares are not set for leopards but it's a big catch. So we needed to understand the ecology of the leopard. By understanding that we felt we would be able to address issues occurring with human-leopard encounters. As means of conservation methods, we had to basically find out what people have been doing to avoid these encounters and what they need to do now. In other words how to prevent this from escalating further, how we could maintain the population etc."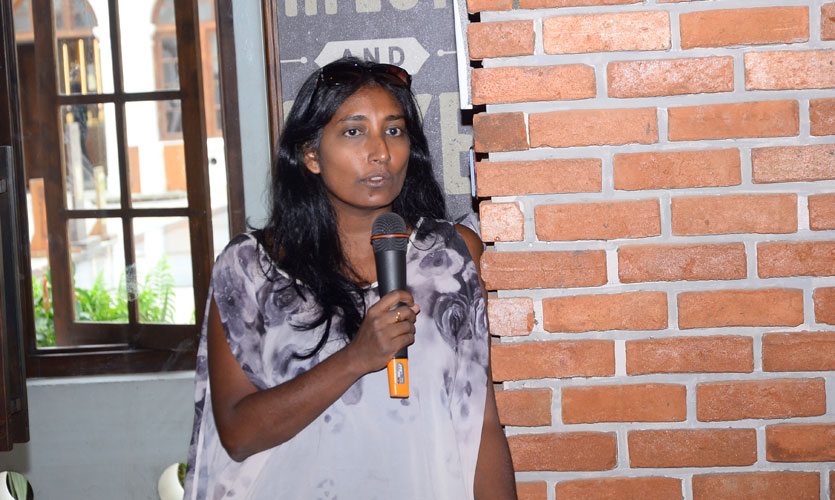 Therefore, the duo has started a study from Dunkeld Estate itself in August 2016 which was quite an extensive research. Most of the landscape there are of tea estates. For this purpose 70 remote cameras were set up throughout the landscape and initial work has already indicated that leopard presence is widespread. "It was quite exciting because when we started the project we thought we would lose cameras and not get much information but it didn't happen that way," Dr. Kittle added. "We had a count of 25 adult leopards because we are not counting cubs since it is too much for the camera. So there were nine males and 16 adult females and we also picked up a few cubs as well. The density estimate was 6.6 individuals per 100 square kilometers which is a number lower than Yala or Wilpattu, Horton Plains, but in this fragmented, integrated landscape there were quite a large number of animals."

Information about 'Arnold', a leopard that frequents many areas indicates that the same individual could be seen in different areas. "All males range around the peripheries and between Castlereigh and Maskeliya there seems to be quite a number of females. Hence the ridge is of prime importance because this is where the females and the young are seen and it looks like sort of a 'refuge habitat'.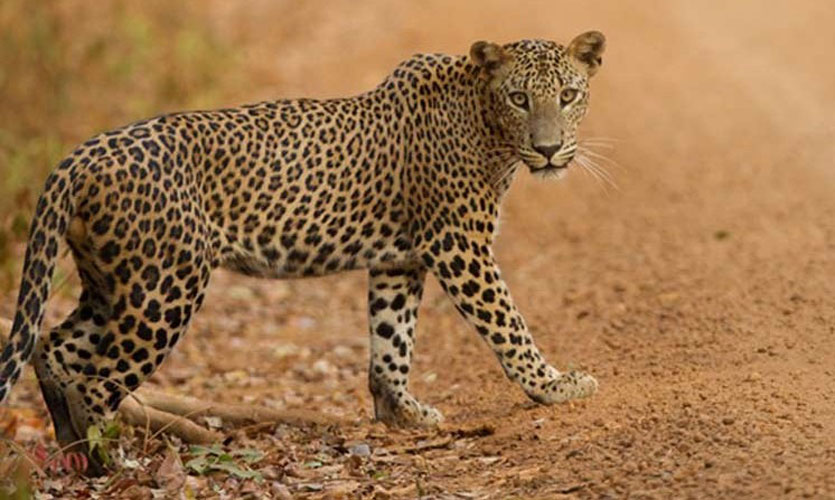 In addition to the leopard, there are many other species which need to be conserved as well. A study done a couple of years ago focusing on the wild cat conservation in general have looked at the umbrella species concept, and the leopard was the top species with an ability to conserve other cats through a focus on a range of habitat conservation. The Fishing Cat and the Rusty Spotted Cat (the smallest cat in the world, are two other wild cats in the Sri Lankan landscape with a lot more mammalian diversity out there.
Dr. Kittle elaborated on the importance of developing biodiversity surveys. "We have done some bird and butterfly surveys in the preliminary stage but we also want to do amphibian and reptile surveys as well. We also got examples of some endangered species in the system including primates and birds and butterflies," he said.

The Future
"A year and a half has passed and this mixed habitat still needs to be protected," Anjali further said. "The ridge should be protected not only because it has resident females but it is also one part of the watershed of Castlereigh and Maskeliya. There was a drought and a difficult time for tea production over the past few months, and as such, there's a double benefit in protecting the ridge. Something we are also looking at is whether there's enough food for the leopard to eat here and it seems like there is. When we did diet analysis it showed only a smaller percentage of domestic prey consumption. Therefore maintaining prey populations for the leopard will prevent animals comingin to human areas. Having some form of a habitat restoration to increase corridors between these ridge forests is the way forward.
Mixed landscapes have multiple owners and everybody needs to come on board to come up with a solution to have some extra protection in the Central Highlands. We have only got three protected areas with one being a national park.

She further said that the landscape is varied but is heavily utilized by wildlife. "With movements, we have observed it is important to keep these landscapes untouchable, to not put housing up there because there will be a risk of more human interaction. If you already have housed up there it's better to give it more of a buffer and a forest corridor between the housing and the ridge. Most communication towers are on ridges these areas would make for ideal little conservation zones. Wildlife has adapted to a tea landscape; but there are rivers, patches of forest and connectivity could be increased on that. We are working on protecting the ridge but we are taking it across the Central Highlands, Peak Wilderness going to Horton Plains to Agarapathana and other areas as well.

Continued monitoring is required in order to assess behavioral and feeding ecology (in terms of individual range and prey species), population dynamics and genealogy. This monitoring will be facilitated by the WWCT field base at the Dilmah Dunkeld Conservation Station. In conjunction with the specific awareness work, WWCT's ongoing awareness programmes to the tea estate communities and plantation management on the importance of watershed forests, leopards and general wildlife conservation must be scaled up to include the proposed project actions.
Pics by: Waruna Wanniarachchi