A brilliant musical by Feroze Kamardeen hit the boards last Friday chronicling the political journey to the polls by the two main presidential candidates Ajith Luvdasa (Vishan Gunawardane) and Choolabhaya Pusswedilla (Eshan Thillakasena).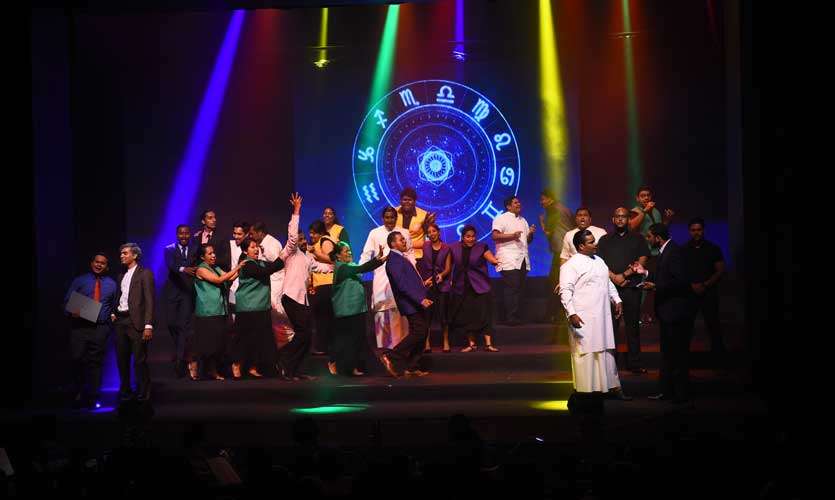 Just over 120 minutes of musical comedy engulfed the Lionel Wendt and entertained an audience who had temporarily allayed their corona fears to witness Kamardeen's latest offering.
Inspired by the musical score of the Lion King penned by Sir Elton John, Kamardeen had fearlessly and cleverly rewritten the lyrics to convey powerful messages about the Sri Lankan political situation which in itself is a tragicomedy of sorts.
The star of the show was undoubtedly Cyril Nitharamasuffering (Tharusha Kumarasinghe) his puns, his agility, comic timing and of course his facial reactions were excellent. At one point his eyes were on stalks adding to the hilarity he so easily created.
Kamardeen had created the characters with great skill especially supporting characters such as Bimal Kammaliwansa (Kovindu de Saram), Waruna Kumara Disaawaknaa (Senitha Senanayake) who bore a rather uncanny resemblance to their real-life counterparts.
The host of the show Carrying Nothing Newsworthy CNN's star reporter Robert Westernthinking (Kanishka Herat) played his role with flair. My only observation was that his lyrics could not be heard clearly at times.
Chaminda Pusswedilla (Sulakshana Amaratunga) the main protagonist of the show delivered a stellar performance, he aced the delivery of his puns and his imitation of his real-life counterpart was spot on.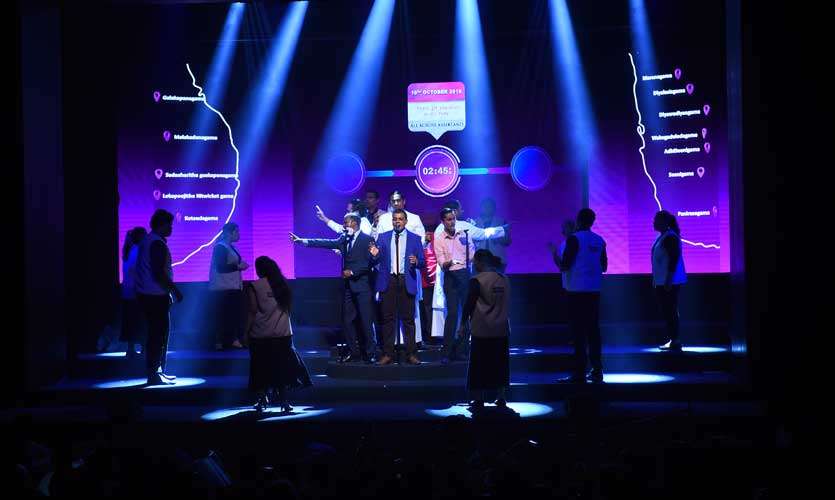 Pusswedilla's partner in political strife, Wikrama Nikamsinghe (Gowrienanthan Balarupan) delivered his role with panache and came across as the aspiring wiley old fox that he aspires to be like his uncle Dickey.
The lyrics were super and conveyed some hard-hitting messages to the audience about the political games candidates play to ensure their political survival often at the expense of the people who vote them in. The racketeers, commission seekers, soothsayers, political hangers-on et al were all vilified through a cleverly written dialogue and songs.
One of the songs sung by Ajith Luvdasa included the lyrics "thaththi lives in me, so they all love me, please vote for me" conveyed the desperate desire of Luvdasa to capitalise on his father's achievements to win votes. The most salient and apt song of the night which conveyed political skullduggery at its best was The sound of silence sung by all the political characters. Its powerful lyrics rewritten by Kamardeen conveyed the message that when it comes to protecting each other, politicians adopt a vow of silence to save the political hides of each other.
Kudos to Kamardeen and his crew who spare no one when it comes to staging political satire. ARSIKLAND - The Circle of Strife struck close to the audiences' heart. As the musical mirrored the real life political scenario, its rhetoric and messages resonate well with the audience. THAT'S what makes Kamardeen's work stand out from the rest.