This year has been a year that has seen Sri Lanka and Sri Lankans talked about in the international community - both with derision and with awe. Commanding the latter is talented musician Eshan Denipitiya, whose incredible talent continues to amaze a legion of his fans, including The Piano Guys and legendary Queen guitarist Brian May. His more recent goosebump-inducing, virtuosic piano cover of Queen's greatest hits, aptly named "Rhapsody of Queen", not only left us spellbound, but had Brian May awed too! We caught up with this talented youngster who spoke of his life, his dreams and the fateful events in his life that were the result of his prowess as a pianist.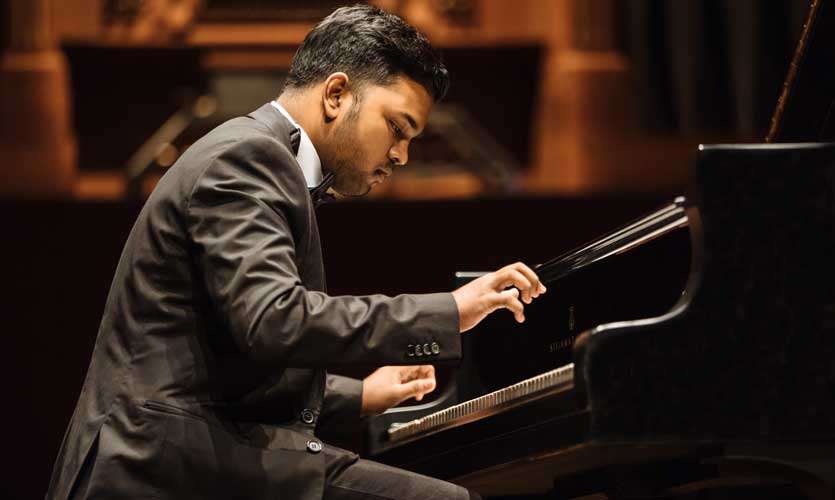 •Tell us a little bit about yourself.
I come from a family of musicians. My grandfather Patrick Denipitiya, was one of the most sought after musicians of his time. My father, Mahesh Denipitiya, is also a music director, composer and performer, who is well known for his work in Dell studio on TVDerana. My mother is a Chartered Architect and is the Deputy Head of School at the City School of Architecture. My sister Dulani is also a very gifted singer! She is currently a lecturer at the Department of Architecture, University of Moratuwa. I completed my secondary education at St Peter's College, Colombo 04. In 2014, I received the award for Best All Round Student. Thereafter, I moved to Singapore to pursue my undergraduate studies in Music, at LASALLE College of the Arts. I graduated top of my batch earlier this year, and received the award for the best student from the School of Music at LASALLE.
•Is there a story behind your love of music? Piano specifically? Was there anyone in your family who inspired you to follow in this career path?
I grew up in a house filled with music! My father is my biggest inspiration. As a child, I was introduced to many musical instruments and exposed to different styles of music. I owe it to both my parents for encouraging me to pursue my love for music. I started learning the piano at the age of six, under late Mrs. Dharmi Mudalige. I continued my piano studies with Mrs. Ruvini Hapugalle who gave me the much needed musical foundation. While at Lasalle, I was fortunate to study under the guidance of Mr. Frank DeMeglio, who really brought out the best of my musical capabilities! I couldn't have asked for better teachers to guide me on this journey!
Throughout the years, I've come to fully understand the piano and its capabilities - it is truly an orchestra on its own. I love the piano because it allows me complete freedom in expressing my musical ideas.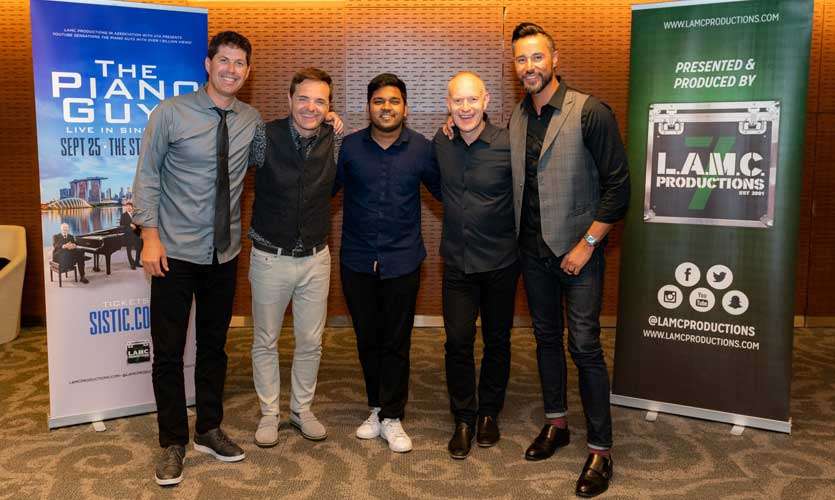 •If you hadn't chosen music, what would you be doing right now?
I honestly don't know! Haha!
•Who is your biggest influence as a musician?
Some of my biggest musical influences are Chopin, Liszt, Queen, John Williams, my grandfather and father.
•What is your favourite piece to play?
'Mephisto Waltz' by Franz Liszt is one of the most challenging and rewarding pieces that I've played. It easily tops the list! I also love to improvise spontaneous pieces.
•If there is one person you would like to perform for, who would you pick?
My grandfather, Patrick Denipitiya.
•What's the best thing and what's the most challenging part of what you do?
The best thing about performing is the ability to move people with your music. The challenge is that you have to constantly be on top of your game by investing hours of practice and dedication to the craft.
•I'm sure you have had many memorable stage performances. Tell us about the impromptu performance with the Piano Guys. How did it happen?
I've been following the Piano Guys and their music for a long time. When I heard that they were coming to Singapore, I was very excited! During the show, the Piano Guys called out for a pianist to come on stage and jam with them! I volunteered and before I knew it, I was standing in front of 5000 people, not knowing what to expect! They started playing, and there on, we had a blast! Later that night, I met them backstage and showed them my arrangement of Queen. They absolutely loved it! It was definitely a night to remember.
•Speaking of celebrity recognition, Queen guitarist Brian May recently re-posted your video. Tell us about it.
My cover was reposted on the Instagram page- @Top.Musicians' which is where Brian May came across it. I wasn't aware of any of this until the notifications came flooding in! It took me a while to realise what had actually happened. I was awestruck! There is no greater feeling than to have my tribute appreciated by the legendary guitarist himself.
•What advice would you give anyone looking to make a name for themselves in the scene and find their "voice"?
Music is limitless. Stay true to who you are, and don't be afraid to be different.
•What is your dream?
I hope to travel the world, sharing my passion for music and inspire the next generation of musicians to make a difference through their music.
You can follow Eshan on: YouTube, Instagram, Facebook

"Rhapsody of Queen" - Virtuosic Piano Cover of Queen's Greatest Hits - https://goo.gl/pt6JG2
Piano Guys Impromptu performance - https://goo.gl/DwUytU