Brothers on Bikes is a Sri Lankan community of motor biking enthusiasts, majorly comprised of accomplished professionals who are also seasoned riders. Brothers on Bikes (well known as BOBs) believe that motor biking is an art one should follow with respect and discipline.
With 16 riders on the go on their mighty Royal Enfield motorcycles, heading 18000 feet above does sound pretty exhilarating!
I had the fantastic opportunity to meet 4 of these brothers including the first rider and the leader to speak out on their journey to the Himalayas! And it was pretty exclusive when they simply want to built a culture and to break out of stereotypes of bikes, where it's considered an undesirable means of transport and bikes in general being unsafe. And to set an example especially to young people.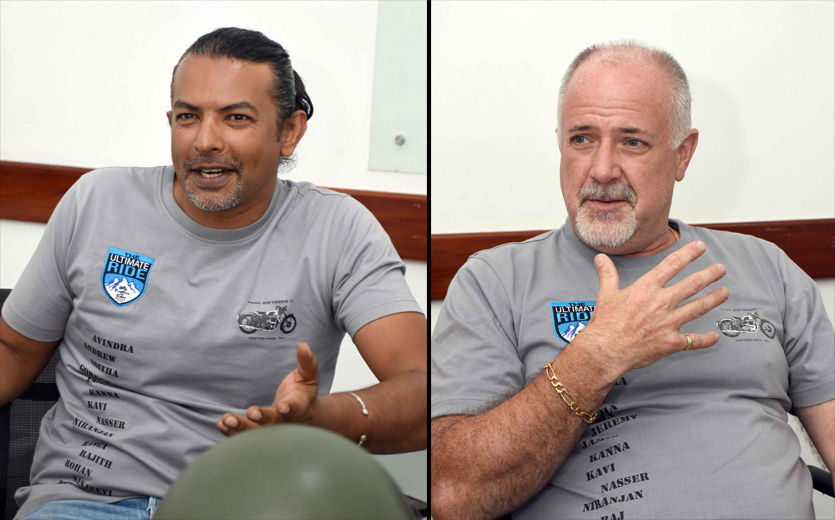 Asitha (left) and Gordon (right)
How and when did the love for bikes began?
Gordon: My mama, the first and the second wives said no! But I always wanted a bike and I started riding when I joined these guys in Sri Lanka since I'm originally from the UK.
Ranga: I come from a family with a background in bikes, so my uncles pretty much brought down motorcycles from Japan before the Indian bikes took over. You can say I started riding from the age of 7.
Asitha: We all had tricycles when we were small I bet! And then came the plastic ones which eventually led to this.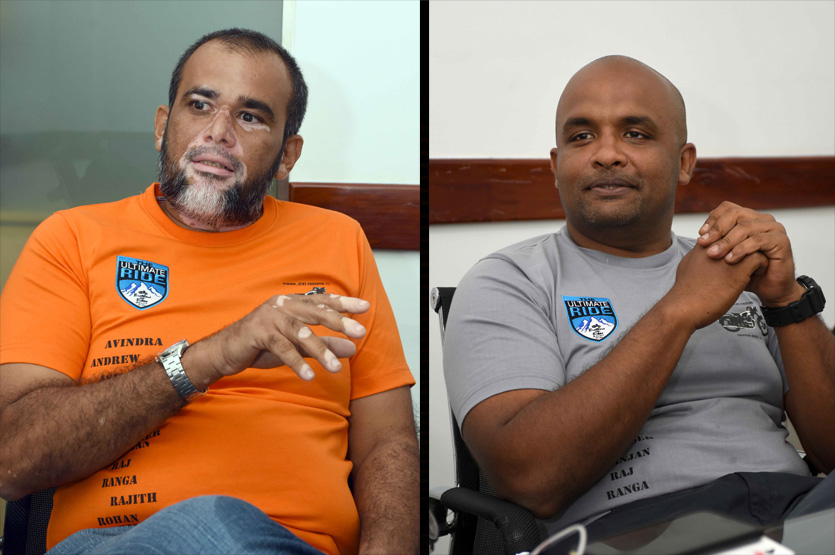 Naser (left) and Ranga (right)
What inspired you to go with the drive all the way to the Himalayan mountain range?
Asitha: You can say I was an influence since I've done this before and with Ranga being our leader, we've done a few terrains and with the Taprobane coming to an end, Ranga said "What about the Himalayas?" and we were in!
Ranga: I did read about it and watched a few videos of the Indian riders who did this terrain to the Himalayas. Hasitha has done this before and what inspired us was the fact that it was the ultimate ride for the country. It's not like there's so much to ride within Sri Lanka which ultimately led to this.
Naser: At 46 I bought the Royal Enfield and went to Arugam Bay with a few of my friends and couldn't help myself but overheard a conversation where the Himalayas came up. Which they said they were interested in heading towards August and I said "I'm in!".
The Brothers on Bikes also faced a few difficulties during the journey, from the dusty landscape and the fear of boulders to fall, to altitude sickness. However none of this hindered their terrain and they managed to successfully pull off a successful journey all the way to the top, which to them was the Ultimate Ride!
Online media sponsor: Life Online
Official radio station: RED FM
Official travel blog: i Sri Lanka
Photographs by Kushan Pathiraja