One of the most popular musicals of all time; 'Grease' is a Tony – nominated Broadway show that is known and loved by all. This year, 'Grease' hits Colombo as Cold Theatre 7 (CT7) brings this spectacular musical alive in special association with Theatrical Rights Worldwide at the Lionel Wendt Auditorium this August. Directed by Kevin Cruze with choreography from Umeshi Rajeendra and musical direction by Nishantha Warnakulasuriya along with some of Sri Lanka's veteran actors – CT7 is ready to take you back in time.
Nishantha Warnakulasuriya
Choral Director, Singer and Violinist Nishantha Warnakulasuriya is a musician of many talents. Having begun his musical journey at a young age; studying piano and violin under the guidance of Mrs. Louisa David, getting vocal training under the guidance of Mrs. Menaka de- Fonseka Sahabandu and learning choral music under the training of Mr. Francis De Almedia, Nishantha is presently a Choral Director of the award-winning Old Joes Choir. He is also a performing member of the Symphony Orchestra of Sri Lanka and the Menaka Singers Opera Ensemble. Earlier this year, Nishantha caught his first break as a Musical Director when he directed and participated in Arsikland the Musical.
We know that Grease is all about the music and Nishantha tells us all about the exciting preparations they've got in place to get our toes tapping this August!

What's the set list for 'Grease' like?
The set list for Grease comprise of famous songs like 'You're The One That I Want', 'Summer Nights', 'Hopelessly Devoted To You' and 'We Go Together' among others. They are quite challenging, but the songs are extremely catchy and the music is simply amazing. So, it wasn't too tough to familiarise the cast with songs.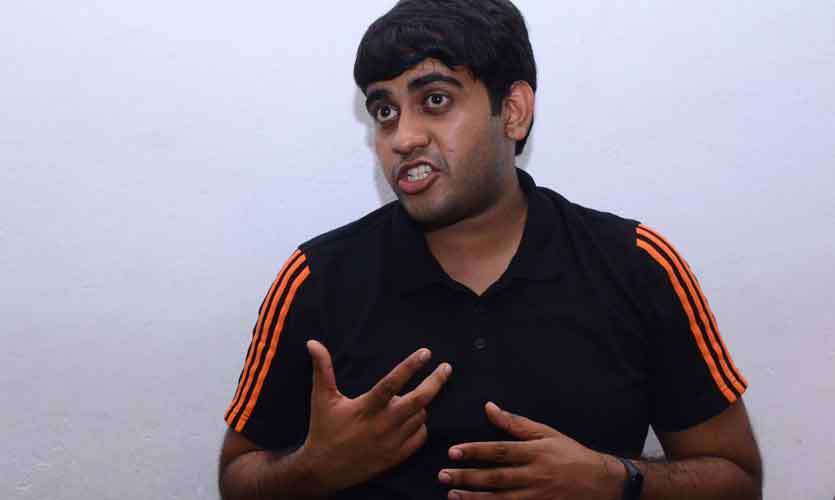 What was the process of preparing for the music for the production?
It all started with the auditions which were held during mid-January, where we had quite a pool of talented individuals to select from. Finding the correct fit for the characters based on their performance and vocal skill was one of the most difficult tasks. Thereafter it was just a matter of preparing the cast members for the respective roles, and doing continuous vocal training.
What is it like to train the cast? What was the most challenging part?
The training part is fun, however, it's challenging given the fact that not everyone has singing or choral experience but I would say that they've performed quite well and come a long way since the beginning of the entire process.The songs are catchy and familiar yet the most challenging part I would say is the technical difficulty of several songs and also the vocal range required to execute it, which require the singers to be strong, confident and well equipped with their basics of breath control and using their voice in the correct manner. A musical of this calibre and difficulty requires them to manage energy well, which again is a challenge, unless regular practice and preparation are done in the correct manner.
You'll are planning to use a live band instead of using backup music. Is that a lot more complex?
Yes, we're having a live band! Live music is something I would always opt for as opposed to settling down to tracks. The energy, intensity and the feel can never be replicated. Each performance is an experience, and the fact that we have a live band helps a lot and gives a lot more energy and feel from a singer's standpoint as well, as opposed to just singing over a track. Also, we have musicians who are talented enough to tackle the music, so why settle for anything less? Complexity-wise, I would say yes, it is quite complex since there is a lot of hard work and practice that go into it. Our musicians have been working really hard and they sound amazing!

Did you get to put your own twist into the score?
In certain parts, yes I did. When it comes to musical arrangements for the ensemble, I've created my own harmonies for certain songs. It is important that you do so as opposed to only sticking within the framework that's given. Makes things fun and exciting!
Grease is all about the music! What can the audience expect?
Yes, 100%!! If the audience is singing along, they're enjoying the music, which is amazing news to me! And I believe that any performer would always work towards that goal, always keeping the audience on the edge of their seat and tapping their toes. They can expect an amazing show and a good time. Really looking forward to the performance nights!
'Grease' – The Musical 2019 will take place from the 1st to the 4th of August 2019 at the Lionel Wendt Theatre. Box office is now open! Tickets are available at the Lionel Wendt Box Office.
Tickets for the 7.30pm Shows from the 1st to the 4th of August are priced at Rs. 5000, Rs. 4000, Rs. 3500, Rs.3000, Rs. 2000 and Rs. 900 (Balcony -Unreserved).
Tickets for the 3.00pm Shows on the 3rd and 4th of August are priced at Rs. 4000, Rs.3000, Rs. 2500, Rs. 2000 and Rs. 900 (Balcony -Unreserved).
Pictures by: Waruna Wanniarachchi