How do our food experts cook and eat? This week, Harpo takes our Q&A!
Founder and CEO of Harpo's Cafés and Restaurants which include restaurants Harpo's Pizza, The Bayleaf, The Commons Coffee House, Park Street Mews, Curve, and Colombo Fort Café as well as the President of the Colombo City Restaurant Collective, it is no secret that Harpo Gunaratne is a major foodie! In this casual interview – he tells us all about his personal food ethos.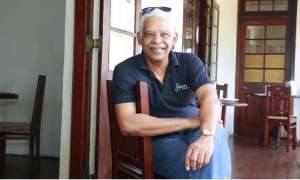 Q

Do you have a food philosophy?
I don't really cook much but I definitely enjoy my food. I enjoy eating healthy and my wife always cooks healthy so only once in a way I would snack out a kottu late in the night.
Q

What ingredient is underrated?
Underrated? For me, its turmeric. Not many people use it and that's a shame.
Q What was your favourite childhood meal?
Oh, Marmite sandwiches! I loved it when I was a kid and I love it still. I remember I used to take Marmite sandwiches to school back in the day. So even now, I'd occasionally ask my wife to make me some.
Q

What's something you hated as a child, but love as an adult?
Honestly, I never had food I hated. I'm open to all kinds of food really. I would never refuse to eat any kind of food.
Q

If you had Rs. 500, what meal would you make with it?
A Kottu! That's my guilty pleasure. It's such a great Sri Lankan food.
Q What item in your fridge would you rather not admit to having?
Since I love clean eating – chocolates!
Q

Who would be your dream dinner-party guests?
I would love to sit for a meal with Gordan Ramsey and Jamie Oliver – they are such inspirational people.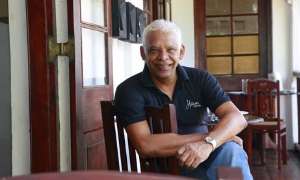 Q

Your one meal if you are stranded in a deserted island?
I like to have an aglio e olio. I absolutely love it!
Q

What meal would you make to impress your wife?
Haha… I'd crack an egg! I used to be in hotel school so I used to cook but now I don't. I don't think I'd even be allowed to cook at home now – I'm sure I'll be chased out of the kitchen.
Q

What kind of cooking competition would you enter?
One that has me making pizza!
Q

What's the one thing you would have at restaurants but never at home?
Surprisingly, I don't take pizza home! I very rarely have pizza at home.
Q What do you do with your trial and error dishes in your restaurants?
Well, if it is an error then it'll never leave the kitchen but if it is a trial, we'll always keep trying until we make it better.
Q

What is a cuisine or a dish that has no place in your restaurants?
I like diversity. All my restaurants serve different kinds of cuisines and places like the Commons Café has a very diverse menu. As long as it's good – it'll be in our restaurant.
Q Which cuisine would you get into one day?
Hmm…probably Chinese food. I really want to serve dishes like Dim Sum. But other than that, all the restaurants pretty much offer every cuisine available.
Q What are your thoughts about pineapple on pizza?
Oh yes, I'm for it! I think it offers a great kick to the pizza.