Farizeh Salahuddin speaks to Food Factor about growing up in Salloos Restaurant, her love for baking and the setting up of Tuk Tuk Treats in Sri Lanka.
"I literally grew up in Salloos Restaurant, my father's sublime creation. Before Salloos opened, we lived in an architecturally and emotionally beautiful house where food was my father's religion. He had 2 kitchens, enough crockery and cutlery to serve elaborate dinners for 30 people at a moment's notice. There was an army of staff to curate the dining experience and mesmerise the lucky friends my father invited after his evening of badminton and drinks at the Punjab Club. He was known for his fine food and lavish entertaining.
When his insurance company was nationalised, converting the ground floor of his stunning house into a private members' restaurant seemed an obvious choice. I grew up with spiced aromas and the daily bustle of a busy kitchen where large pots were stirred into magical meals that would have a mood-altering effect on the customers. Food is a deeply emotional matter, a forever happy relationship.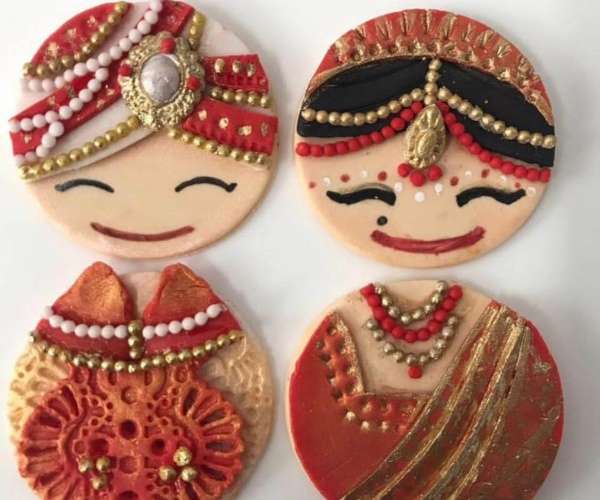 My heart belonged to the bakery in the corner of our house.. I used to pop my self up on a high stool and watch the bakers roll the figure of eight buns, the breadsticks whilst trimming the edges of the long rectangular artistically iced pastries. I loved the precision of the baker as he marked indentations before cutting the pastry into individual portions. I of course happily ate all the scraps while chatting endlessly. I always had a lot to say and was lovingly called Sir Pir (headache) by the baker.
Our enormous wood-burning oven looked like a brick wall with a small arched iron door. As the door opened I could see the flames inside. The baker would insert rectangular tins filled with pale gold pillowy dough glistening with egg wash into the oven like a pizza using a long-handled shovel. And as if by magic, in reverse motion, the bread would come out all shiny and golden. I can still smell the bakery and my feeling of utter bliss in those early years. It was my unicorn, my enchanted castle, my heavenly escape. The restaurant and bakery were a roaring success. Salloos moved to the iconic WAPDA House on Lahore's prestigious Mall Road. My father's passion for food was always rewarded.
I was young when we moved to London. My father opened Salloos restaurant in Belgravia. And I was introduced to the world of English bakeries and French patisseries. Fortnum and Masons, Harrods, Selfridges, Browns, Claridges, Savoy and the Berkley Hotel's high tea. The world of cafes offering croissants and cakes that looked like works of art. I was mesmerised. After marriage, I moved to Hong Kong. The Mandarin Oriental showcased cakes in individual glass windows like jewellery. It was cake art at its best. I had come a long way from the almond Nan Khatai of Pakistan to the scones of London to the sculptured cakes of Hong Kong.
One thing for sure was that I loved baked goods. I was obsessed with learning all that I could. Sri Lanka gave me the opportunity to test endless recipes that have been tweaked to perfection. I have gained a feel for baking through experience and I have come up with my discerning menu. I have baked for 8 years now. Excellence requires quality ingredients that deliver addictive bites. In my baking, I'm certain that you will taste my inherited passion. Every item is baked to order, fresh and can be delivered to your door in our white and tan convertible tuk... I adhere to the highest standards of hygiene in my kitchen, a habit not acquired due to covid but due to over a decade of running my father's restaurant. We were held to the highest and most stringent standards. Each restaurant was given marks out of 5 for hygiene which by law we had to display at the front of our establishment. I am the acid test for taste and cleanliness... My oven was a gift from my mother and it has served many happy moments. My 6-year-old daughter of course is my biggest fan and I hope you will become one too. I cannot wait for you to try my menu and taste the difference.
I have baked at home in Colombo. My cakes have flown abroad to Africa, Pakistan and Ireland. Baking has given me purpose, pleasure, and calmness. I feel lost in the moment and it feels like creating art. It has helped me through challenging times and to celebrate happy times. My favourite place to bake is in beautiful Villa Sante in Kalpitiya, which architecturally has an uncanny resemblance to my father's house in Pakistan, all those years ago. I feel I've come full circle. And when I bake in Villa Sante I remember sitting on my stool at the bakery in my parents' home and the absolute joy I felt.
I look forward to offering an assortment of Cinnamon buns slathered in cream cheese glaze, gooey fudge brownies and brown butter chocolate chunk vanishing cookies, double chocolate espresso cookies, light scones with raspberry jam and rich clotted cream. It's sure to delight all the senses as good baking should, whilst I hope delivery in my convertible Tuk, which give me endless joy, will bring a smile to your face." TUK TUK TREATS is offering one lucky winner an assortment of goodies, in return for you liking her Instagram page – TUK TUK TREATS. Like her page and leave a message saying hi, your name and Daily Mirror. She will pick a name and the winner will get an assortment of goodies. She will keep you posted on her Instagram page.
IG TUKTUK TREATS
FB TUK TUK TREATS