If you enjoy an entertaining and immersive dinner experience, then Teppanyaki at Robata Grill is for you! Robata Grill at Movenpick Colombo, which once served solely Japanese cuisine, recently revamped not only their interiors but their menu as well, offering a variety of delectable Asian Cuisine that are surprisingly affordable! The star attraction however, is the Teppanyaki Grill, which we recently checked out.
Arriving at Robata Grill, you will be welcomed by friendly staff who will lead you to the Teppanyaki Grill which is situated in a separate space and affords diners privacy. The space is also quite large, with floor to ceiling windows overlooking the road and allowing in plenty of natural light. The grill is placed in the centre of the room around which you will be seated, so you're always in on the action, but a comfortable distance away from the grill so you don't feel hot while eating.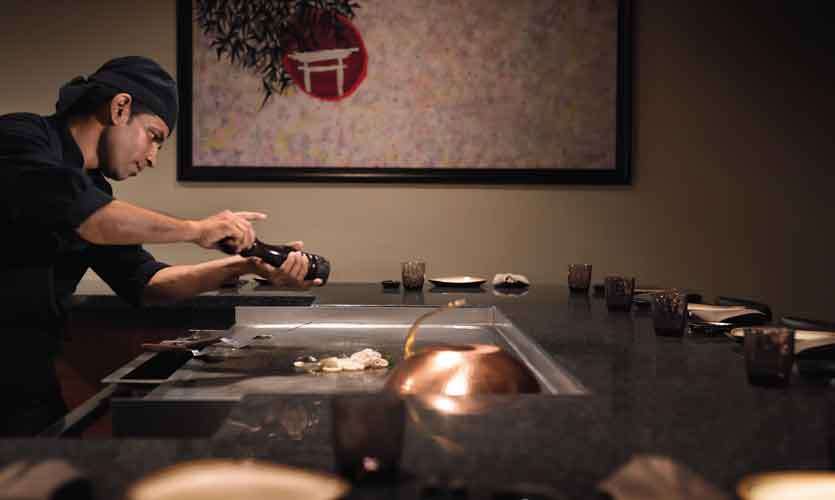 Once we were seated, the chef began by welcoming us to the Teppanyaki experience by expertly using batter to "write" a message on the grill. This was followed by a mind blowing show of knife skills that left us both in delight and shock - juggling sharp knives like nobody's business, the Chef was nothing short of an excellent showman who continued to impress us with his skills throughout the whole meal!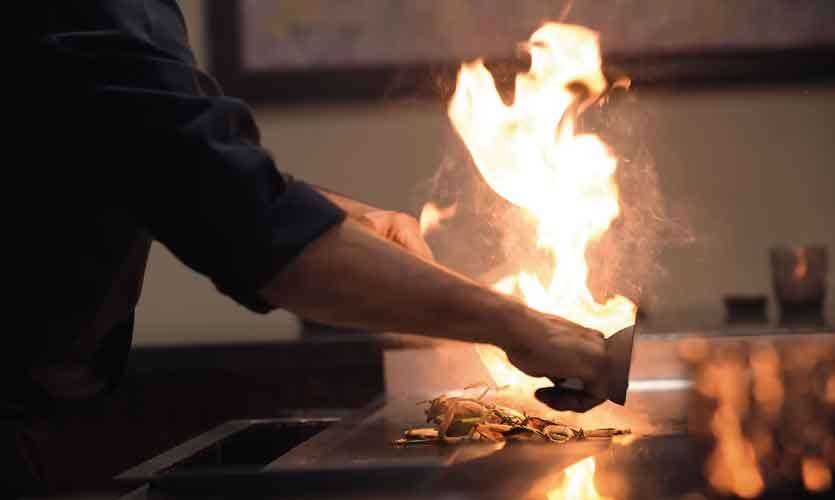 The Food
The Teppanyaki menu differs in terms of offerings and price based on if its lunch or dinner. Lunch usually comprises an addition of Miso Soup and freshly cut fruits, while dinner includes Miso Soup with a small platter of assorted Nigiri and Maki Rolls. While the items on the menu are often grouped together, you do have the freedom to customise is based on your preferences. Among items on the Lunch menu are Beef / Hamburger / Chicken / Fish and Vegetables. Meanwhile the Dinner menu comprises Ocean Combo, Sun & Moon, Surf & Turf and Miyako.
We tried the dinner menu, so we were served the miso soup as well as a sushi platter that comprised California rolls and nigiri. It's easy to find yourself stuffed after just the soup and the sushi, but feel free to pace yourself out and truly savour the entire experience. Since we were there for a tasting, we didn't pick anything off the menu, but tried a variety of grilled meats including Salmon, Prawn, Chicken and Beef Sirloin. We barely felt the time go by as we were entertained by the Chef throughout and enjoyed watching our food being prepared in front of us.
First to be served was the salmon steak along with the prawns and we were immediately wowed by the food! The salmon steak was fantastic, grilled to perfection and well flavoured.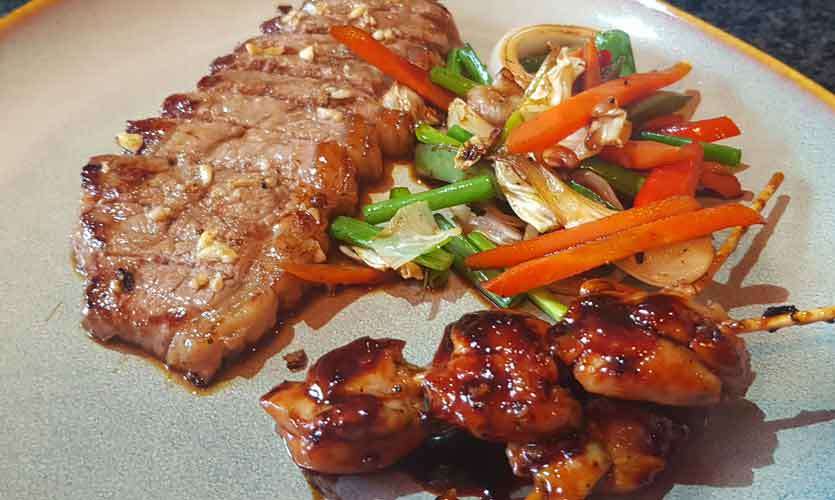 Although we planned to space it out, we found ourselves devouring it in no time and would have happily requested seconds. The prawns too were yummy with a tinge of sweetness and we couldn't be happier. The chef also served us freshly prepared garlic rice with vegetables on the side. The perfect accompaniment to the meats, the garlic rice too had us eating much more than we probably should have! Served finally were the chicken and beef (prepared medium rare). The chicken was succulent and lightly grilled. The beef was unfortunately a little overdone, and not medium rare as requested, but flavour wise it certainly delivered.

The teppanyaki experience is one not to be missed! From excellent showmanship and entertainment, great food and enthusiastic service, you're bound to have an unforgettable meal. It also makes for a wonderful setting for a small celebratory meal with your loved ones or for catching up with friends or colleagues. Do note that drinks and desserts are not included in the price. However, if you do need drink options, we highly recommend the Berry Breezer and Achcharu Virgintails. They also have a small range of desserts available should you need them. We had the Green Tea Creme Brulee, which was a mildly flavoured, not-too-sweet dessert that we liked. You can also opt for the Movenpick range of ice creams. Robata Grill is situated on the 2nd floor of the Movenpick Hotel.
Pic Courtesy: Movenpick Hotel Colombo