Platter it up has been flooding our Instagram home page with beautifully assembled, colourful platters for a while now and we knew we must dive headfirst into one of these mouth-watering platters.
Nima Faiz is the brainchild behind these works of art that would brighten up any party table. The idea struck while hanging out with her girlfriends and craving a good cheese platter but not really wanting to put the effort to make it or knowing where to get a good one, after noticing this major market gap she started Platter it up on February 2019 as a side hustle while working a full-time job.
Initially it wasn't a challenge to handle two jobs at the same time as she was mostly making platters for family and friends, but as its' popularity grew and people caught word of these beauties her followers grew to 2000+ in a blink of an eye to a point she couldn't even reply the DMs fast enough, it got so overwhelming that Nima actually toyed with the idea of shutting the page down *collective gasps of horror* but this super-one-woman-operation powered through this and actually took the big decision to leave her job and do this full-time despite the little negativity she received from people when she said she is she leaving a stable income behind her and venturing off to start her own business, but like she said "a big company can survive without you, your own business can't".
We asked her what advice would she have for someone who has a dream down the pipeline and still haven't taken that leap of faith "start small because not starting at all is the biggest mistake you will make" so for all our budding entrepreneurs out there take notes along with the leap of faith!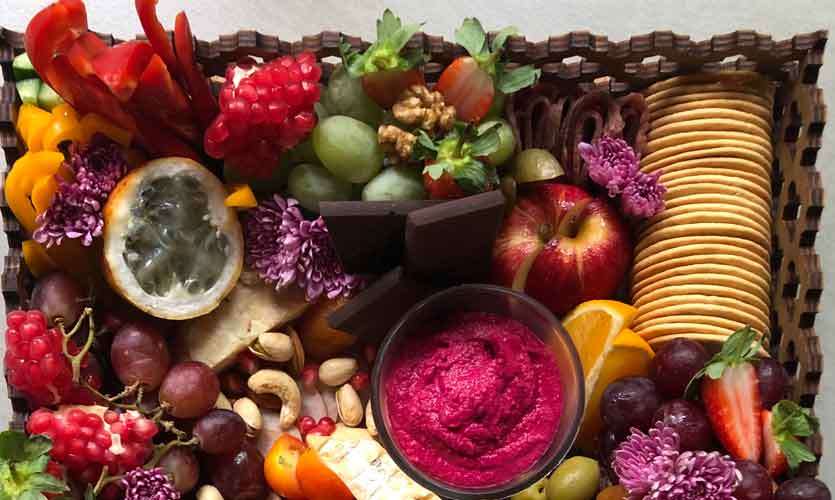 The range
When talking about the platters they offer, below are the honourable mentions:
Starting off with the podi platter that can feed 2-4 people, the picnic platter feeds 2-6 people, the round table platter is enough for around for 4-8 people and the unreal platter serves 6-10 people. They also offer a larger range of platters like the Mega platter for 10- 15 people, show stopper platter suitable for around 15-25 people and their mama platter which feeds a crowd of 25-40 people and is an impressive 1.3 meters long!
A lot of thought is put into the balance of taste (sweet, salty and savoury), sourcing of ingredients which are handpicked by Nima herself who is a stickler for product quality and is very hands-on with every aspect of the business from sourcing to accounting, there will be no sub-par or bruised fruits on your platter you can count on that! she makes it to point to buy from local suppliers to support our businesses, the fruits and veggies are washed carefully to get rid of pesticides and other impurities, each item is cut, measured and arranged in meticulous manner in a span of 2 hours for us to enjoy!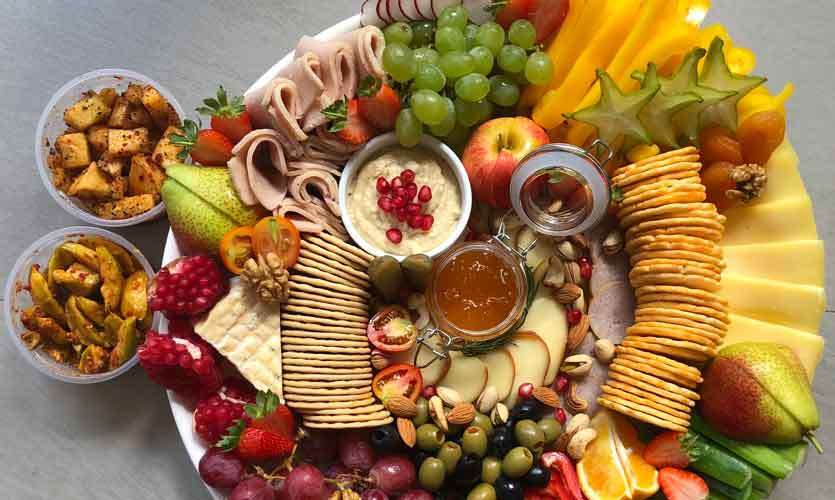 Miss podi platter
We decided on the Podi platter, which is supposed to feed 2-4 people but can feed a small army our humble opinion, it came with 3 types of cheese, (brie, gouda and smoked scamorza) perfectly balanced off by the sweetness of the orange marmalade. There were two 2 types of cold cuts (chicken and beef salami) and a good balance of fresh, crunchy veggies like cucumber and bell pepper and fruits like grapes, strawberry and tangy passion fruit. (depending on availability of seasonal fruits like rambutan and mangosteen will also be included) To complement the veggies and the two types of crackers there was a delightfully vibrant, rich and creamy beetroot hummus which we absolutely fell in love with! A few nuts and olives were included to nibble on to give that salty flavour. This platter was a happy marriage with a wonderful oak-matured Chardonnay and five people grazed leisurely away at this delectable treat on a pleasant Sunday evening and even though full we didn't feel like we were to be rolling around like stuffed pandas.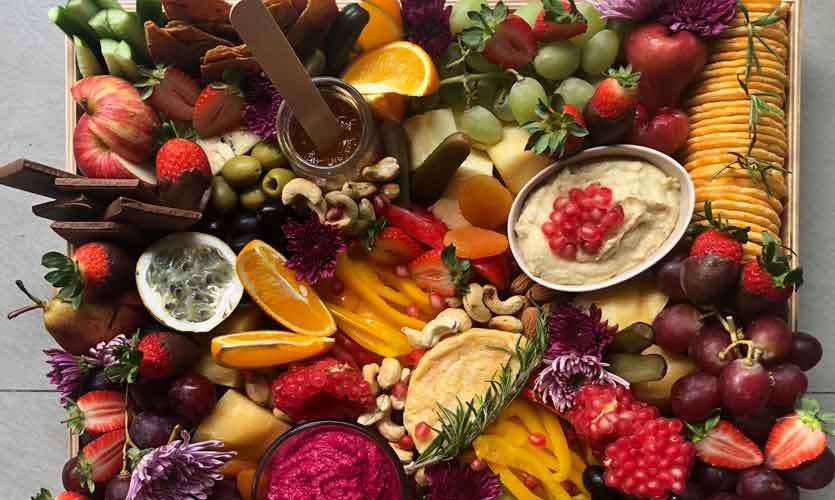 Platter it up is not only excellent for a soirée or a girls' night in, but it also makes for an excellent gift for a client or present for bae! I mean, after all, the way to the heart is through the stomach, now isn't it? When ordering your platter, do let them know if you would be consuming it immediately or later and the crackers can be sent separately in zip-lock bags (nobody wants soggy crackers!) so let them know in advance (at least 24 hours prior) what you would like your platter to have, they do take your requests into consideration or just leave it in their very capable hands and relish in the absolute masterpiece you will receive!
DM them on their Instagram page platteritup.lk or call on 077 3098986 to reserve your platter immediately! Happy munching!