Uber Eats, the demise of all our fitness efforts! Well on one hand it definitely is a blessing to have whatever you crave brought right to your doorstep. Newly added to the Uber eats' fairly extensive selection of restaurants, home bakers, bakeries, patisseries etc. is Hari Baolk. Hari Bao serves an interesting item known as a Bao Buns.
What is a Bao Bun you ask? A Bao Bun is basically a soft, fluffy, slightly sweet, steamed bun which is wrapped around different meat or vegetable fillings. It's essentially part of Chinese cuisine and very closely related to dumplings.

The Food
Rating ***
Their menu isn't very extensive with selections, they have 3 Baos each costing Rs.400 or Rs.990 for all 3. The Bun is pretty much the same in all 3; extremely soft, fluffy almost like a warm pillow which encases a packet of flavour. The Chicken Bao was not bad, the Chicken was succulent and moist, minus the few dry pieces. However, the flavour profile was very limited and it wasn't seasoned well and neither was there enough kick to it, the cucumber and spring onions were what actually made it more flavourful.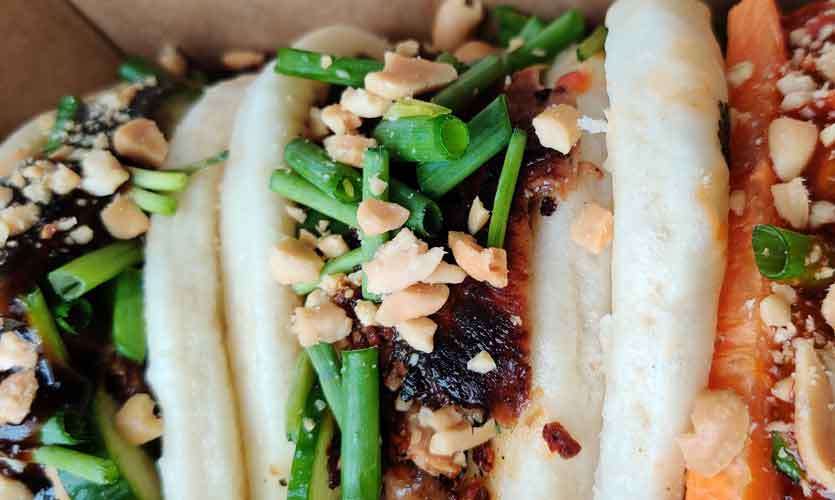 The jak fruit Bao was not my personal favourite but that's probably because I'm not a big fan of jakfruit especially not in a bun. The flavours in this one however were much better, there was a tangy spicy sauce which worked very well with the jakfruit and the peanuts.
Last but certainly not the least was the Pork Bao. This was a sure hands down winner! The pulled pork literally melts in your mouth, it had the right proportion of fat and meat, it was packed with flavours and the sweet and spicy sauce worked extremely well with the pork. It was definitely "finger licking good". The fresh cucumber and crunchy spring onions gave it a great twist of freshness and it balanced well with the sweet sauce.

As it was my very first time having Bao buns I can't exactly compare it. However I must say they have done a pretty good job and I definitely see a market for their dish. However I do hope they revise their Chicken Bao with some new additions to their menu.

Recommendations
I Definitely Recommend the pork one, it's a must try! This was loaded with juicy chunks of sweet and spicy pork pieces.