It has been ages since I sat down for dinner at a restaurant and I see no way to get back to it other than with a hankering for some good old fashioned Indian food! I got the chance to visit "Flavors" down at Galadari Hotel and see what they had to offer. 
Having done my research on the place beforehand, my expectations of the place were somewhat different from the reality of it all. Situated at the end of the hotel lobby, the only view you'd receive is that of the comings and goings of the hotel patrons. Not exactly the setting for a fine dining experience, but it still has a story worth telling.
I felt like I was walking into the Orient Express (despite the train in mind never having travelled through India). Very low key lighting and colourfully embroidered sheets hung overhead, with furniture covered in maroon and highlights of gold to match giving us a small feeling of India. Not only that, but I also found it interesting that in place of the traditional ceramic and glass, were stainless steel plates and brass cups. It seems a lot of thought had gone into creating this authentic Indian experience.
I feel like the entire point of writing this article would be missing if we didn't talk about the reason why we all turn to this particular section of our morning read, right? 
I can safely say, my expectations were low going in, not entirely having experienced a fine dining experience surrounding Indian cuisine before. Our night started off with a complimentary round of crispy flatbread, an almost "Papadum" like crisp, with three types of chutney; mint, tomato and mango. I particularly gravitated towards the tomato chutney. It wasn't overly watery and had just the right amount of chunk to not make it a tomato sauce. The crisps were nice to try the chutney but I was more inclined to pair them out with the starters.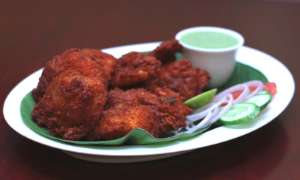 For our appetisers, I chose to go with a few dishes recommended by the maître d'. I tried the "Fish Amritsari" which was a lovely tender batter-fried fish with mint sauce. The fish was a bit more on the softer side with a crispy exterior and basically melted in your mouth. It was an interesting pairing with the mint sauce that came with it. The mint sauce combined well with the slight zing from the batter. I also ordered the "Kozi Vattal", char-grilled chicken which went perfectly with the tomato chutney. The char added a wonderful smokey taste to the dish. For an appetiser, the portion was just right for everyone. I also tried out the Vaddei which, once paired with the chutney, really hit the spot.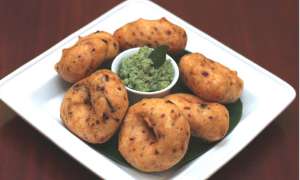 For Mains, I decided to take my normal route and have my usual order and only hope that they didn't make the mistake of not differentiating flavour in their curries. A mistake that most Indian restaurants in and around Colombo make on more than just a few occasions.  I can safely say I was blown away by what was served. 
The "Paneer Makhani" had a clear cut tomato flavour from the curry but most importantly, the biggest chunks of paneer with a beautifully soft texture to it. We also tried out "Murgh Makhanwala", a butter chicken dish with perfect chicken to curry ratio (which frankly, if you're a foodie, you'll understand) and a had lovely flavour to it. The "Lamb Rogangosh" was definitely a dish I was looking forward to. I am usually not one to indulge in lamb dishes but Rogangosh is a dish I often find mistaken for a curry-like butter chicken and I was interested to find out their take on it. It was genuinely refreshing that the dish was full of tender lamb and the curry had very earthy tones in it. I did order the "Raita" but it turned out to be a little too cooling to pair with the rest so I would recommend ordering it with a Biriyani instead. As a staple, we got an assortment of Naan which was definitely a good choice. The Garlic Naan was not at all overpowered with garlic and it wasn't a jaw exercise to bite into, which is definitely a plus in my books.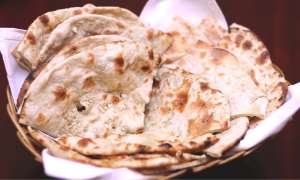 For Dessert, we were served "Rose Kesari", a sweet semolina pudding which had an almost cake-like texture to it. Safe to say, it was a wonderful ending to a very hearty meal.
It is really difficult to find a restaurant in town which hits the nail on the head in terms of "Authentic Indian Food" and as we all know, India is definitely known for its food. The only problem is, most places around Colombo manage to make dishes that are supposed to taste completely different, taste exactly the same and it's such a let-down but this really wasn't the case here! I was pleasantly surprised to find out that the dishes here had their own little flair and stood out from each other greatly.  
I would like to thank Gayani and her team at Galadari for being incredibly welcoming and even more importantly, Chef Abu for really bringing an authentic Indian experience to the table. I highly recommend that you go try their menu out for yourself and see what they have to offer!
 
text Vihan Wickramasurendra