Located on the outskirts of Beruwala, Cinnamon Bey is the perfect venue for an exotic beach getaway. With a beautiful view of the Indian Ocean, tastefully done and reimagined interior design, and a vast array of unique culinary experiences, it can certainly make your stay a holiday in paradise. Focusing more on their culinary aspect, we recently went through three amazing experiences at three of their most esteemed fine dining restaurants, and we can honestly say it did not fail to deliver one of the best culinary journeys we have experienced.
Fine dining at The "Fire"
"Fire" which is the upscale grill and pizzeria at Cinnamon Bey provides you with a massive selection of food, including grilled meat, seafood, steak and even pizza, just to name a few. The canopied outdoor seating was serene and shady, and the mosaic-tiled tables and comfy couch seating made for an extremely casual dining experience.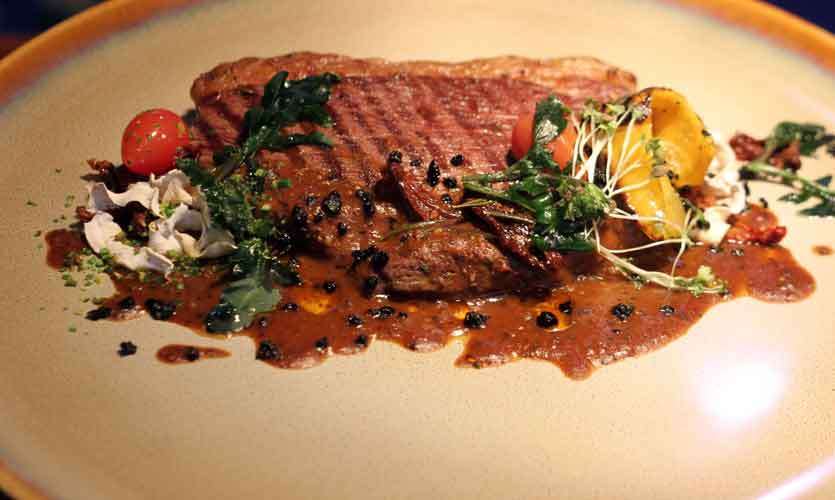 This restaurant also offers a vast array dishes, ranging from imported steaks from Australia, such as Ribeye, T bone, Round and flank steak, to various types of grilled seafood, including salmon, seer fish and prawns. In addition to this, their menu also includes a range of salads and soups that are no doubt bound to be delightful.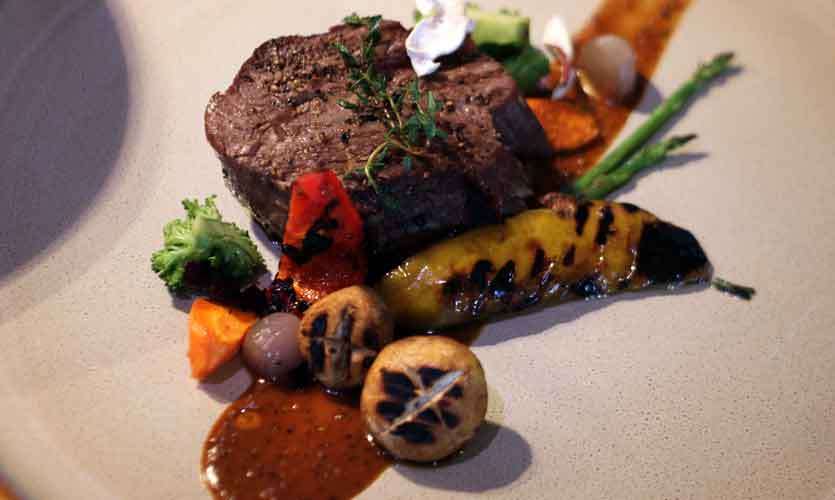 All the meat is made according to the preference of the customer in terms of whether it's rare or well done. This is certainly the right place to check out if you are a meat lover and want to satisfy your more carnivorous side.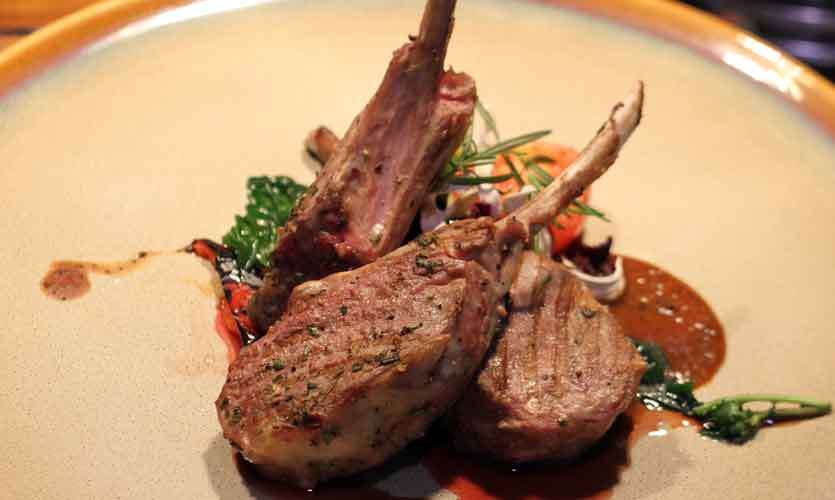 Tandoor by Chef Khan
A fusion of rich spices and flavours, each course and meal at "Tandoor" will be prepared using a mix of culinary techniques, the freshest ingredients and the use of homely clay ovens that will bring the exquisite taste of traditional Indian cuisine to the southern coast of Sri Lanka.
Having a quite laid back ambience, a scenic view of the ocean, the first ever authentic Indian restaurant at Cinnamon Bey is managed by the Indian culinary expert Chef Khan who has been residing in Sri Lanka for the past 10 years. It proudly displays a sign saying 800 degrees which the chef explained was the temperature of the oven maintained in the kitchen at all times. He proceeded to tell us that if they put their hand into the oven it would be burned in a matter of minutes!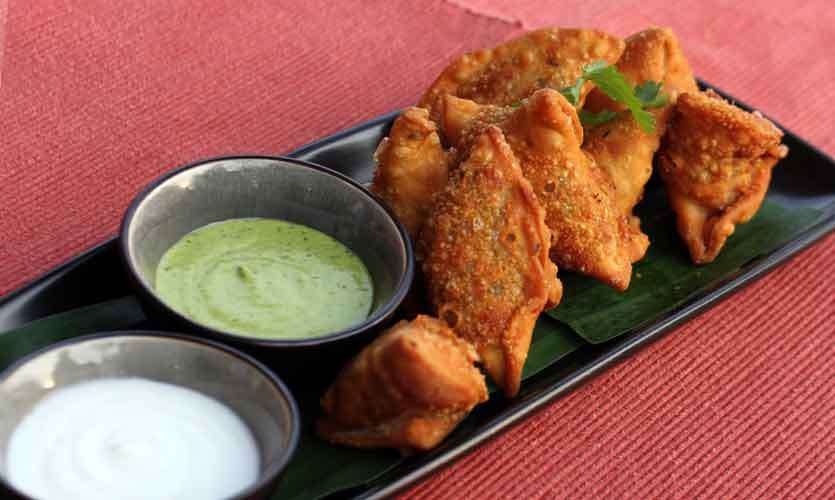 Chicken Tikka, Tandoori Chicken, Vegetable Samosa, Tandoori Prawns and Mutter Paneer are some of the mouth watering delicacies served at Tandoor. Tandoori chicken legs, together with a range of hearty curries as well as freshly baked naan bread, rotti bread, khichdi, a range of chutneys, and Rasam is also available.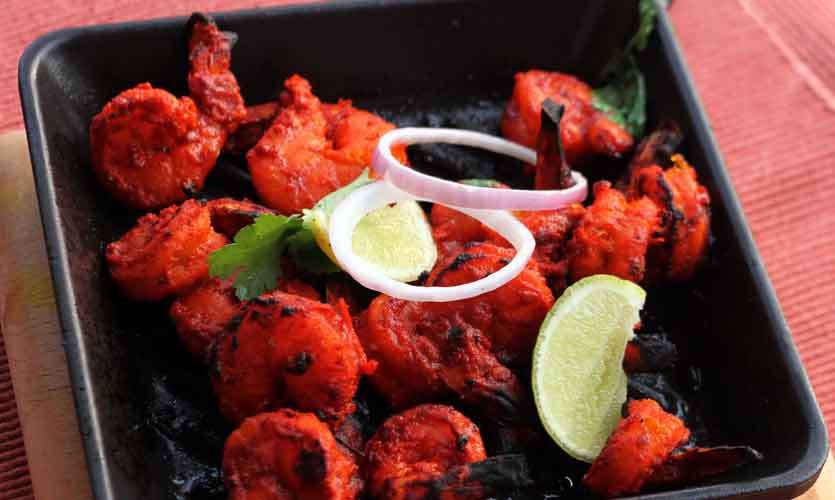 The flavour and texture of every dish was absolutely fabulous and very much Indian and this restaurant undoubtedly delivers its promise delivering an exquisite Indian cuisine.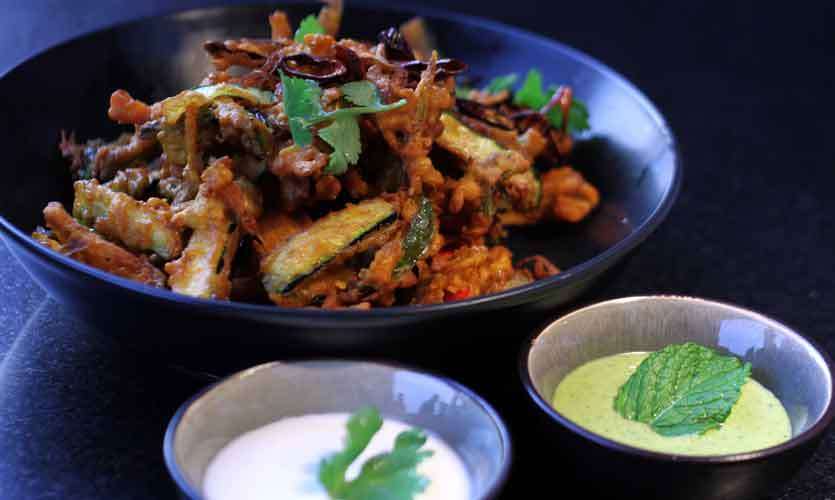 Rock Salt - Chef 101
Rock Salt is one of the signature restaurants at Cinnamon Bey which provides customers with the opportunity to prepare their own meals the way like it. It truly is a wonderful experience and quite an unforgettable one. ( Don't worry it doesn't involve long hours in the kitchen). They provide you with a personalised dish or you can also choose one of their signature dishes off the menu which you can then cook on the Hot Stones provided by the restaurant. You are also entitled to your very own "Toque Blanche" and an apron, which elevates your imagination and completes your chef experience.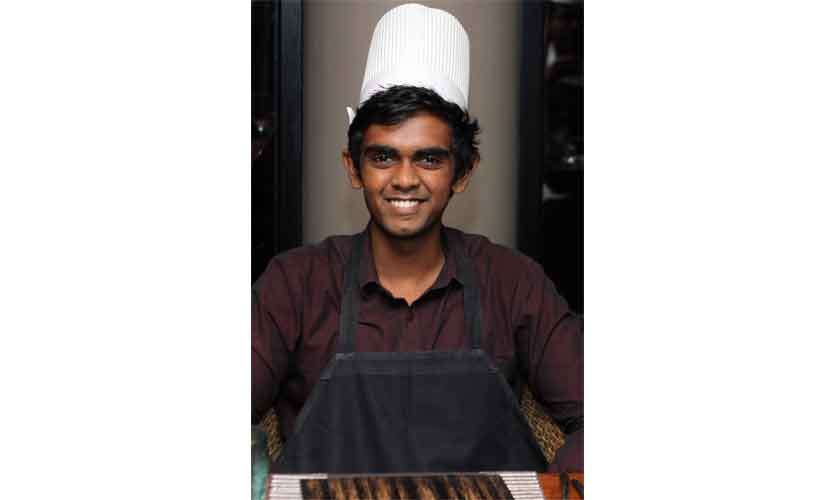 We tried out their Seafood with passion fruit salsa which consisted of prawns, salmon, cuttlefish and also a sushi roll complemented with a passion fruit and tomato salad which I thought was amazing. There was a lovely zing that the passion fruit gave and the seafood was cooked well and the two complemented each other quite well.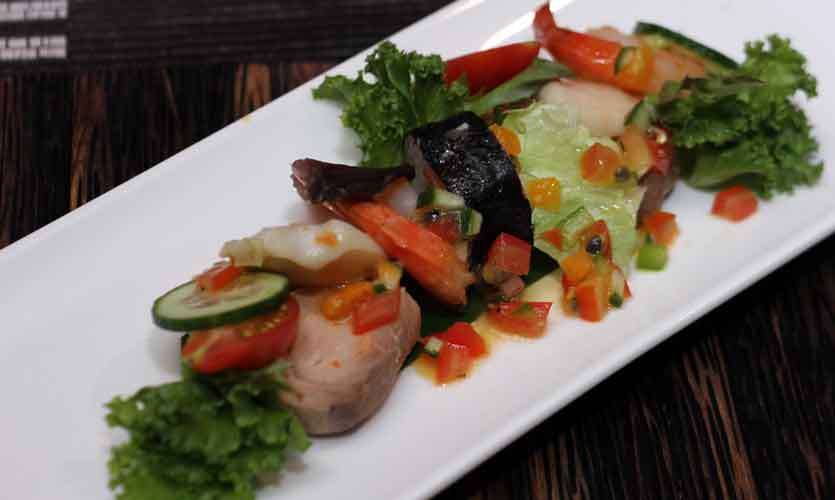 However, the highlight came when we got the opportunity to be the chef. We got a platter of raw chicken, prawns, seer fish and salmon which we had to fry on our hot stones. We got salt, pepper and pink salt to season it with and also fresh asparagus, tomatoes, button mushrooms and also rice to go along with the meats. It truly is a thrilling and exciting journey and certainly not an experience you get everywhere. Don't worry too much, even if you're not that great a cook, the chef is always around to help and make your dinner as palatable as possible. All in all, it's a great restaurant to Indulge in a fusion of flavours from around the world presented with a unique twist - prepared with the best of ingredients to be seared on hot stones.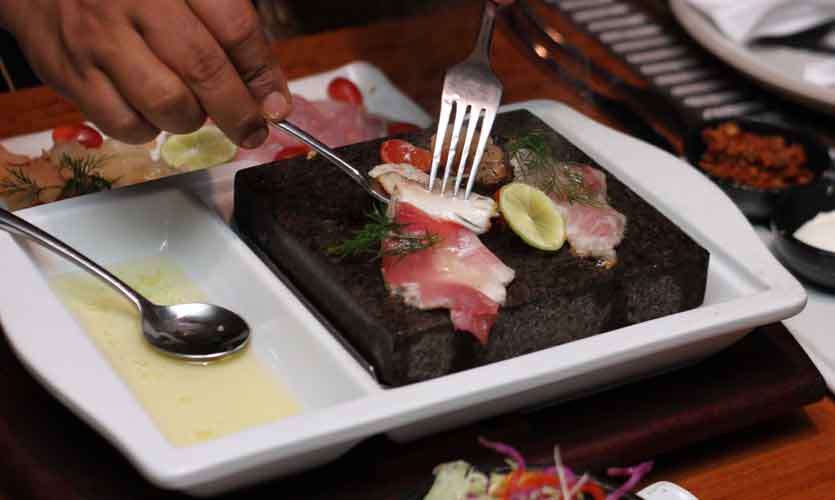 These were simply three of the eight restaurants available at Cinnamon Bey Beruwala and each one is an experience in itself. This is most definitely the place to go if you are looking to treat yourself to a variety of Sri Lankan or international cuisine and to put it in simple terms, it is a one-stop shop to satisfy all your culinary needs.
Pics by: Pradeep Dilruckshana