Cafe 97 is Colombo 05's latest little cafe that's located on Fife Road, Thimbirigasyaya. Having opened recently on the 17th of July this is a great place to enjoy some delicious food and mouthwatering beverages!
Ambience
Although it's a nice quiet place that is ideal to enjoy a hot cup of coffee, Cafe 97 does not have the typical "cafe" interior. The setting is more inclined towards fine dining, with formal chairs and tables coupled with decorative table mats and cutlery to give it a more formal ambience. It's definitely not a venue if you're looking to go and work or study because the setting just isn't built for that. However if your intention is to enjoy some quality coffee, scrumptious treats and incredible food, while spending a fine evening with your family or friends, then this is the ideal spot for you.
The staff is also very efficient and friendly and they make you feel welcome and at home from the time you walk in.
Drinks
Offering an extensive selection of drinks, it has everything from espressos and lattes to milkshakes, fresh juice and even Mocktails. I opted to go for the Oreo Milkshake first but to be honest it didn't quite meet the expectation. It definitely looked very chocolaty and creamy from the outside and although the two wafer sticks and whipped cream on top made it look quite appetising, it didn't have enough oreo in it and the milk overpowered all other flavours.
The Fresh Strawberry Lemonade however was simply out of this world! It was pretty much a modified version of a mock Mojito with an abundance of fresh strawberries, mint and lemonade, that left quite a strong tangy aftertaste.The chef had also included his own special ingredient but refused to reveal what it was, saying that it was his little secret , but whatever it was, it tasted absolutely amazing!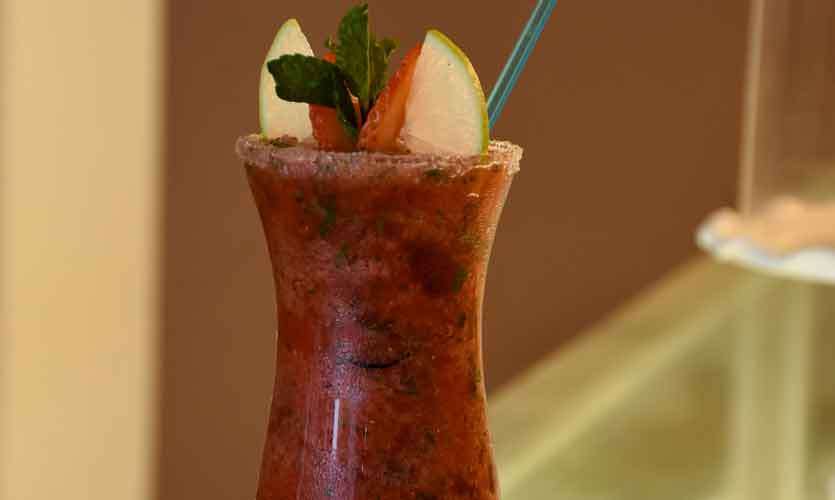 The Swedish Latte (cold) was also good with just the right balance of espresso, milk and sugar.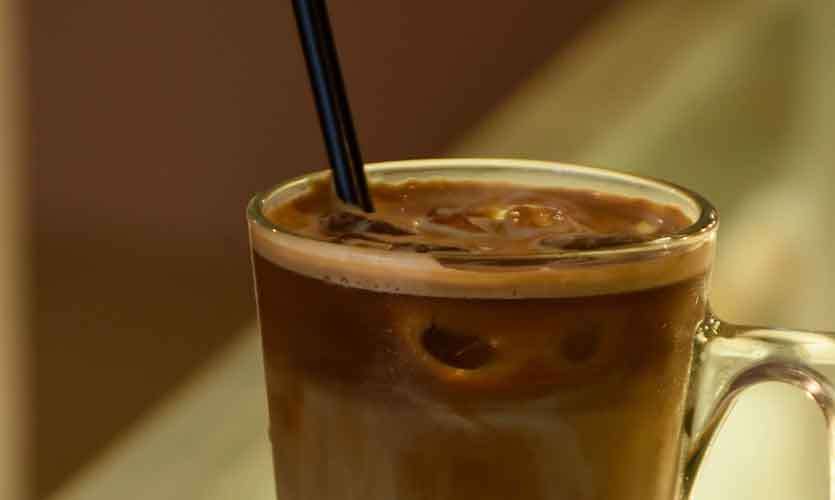 Food
This definitely is and hopefully will continue to be one of the best places to satisfy food cravings in Colombo. Offering an extensive A` La Carte Menu you have the luxury of going for whatever craving that your heart desires. Whether it's soup, salads, burgers, pastas or even a filling main like rice and meat they have it all.
We first tried out the "Vichyssoise Soup" which was then followed by a Beetroot Salad.. The soup was quite thick and creamy and tasted absolutely smashing! It looked very appetising, was served hot and the combination of potatoes, onions, leeks, chicken broth and cream was an absolute mouth-watering delight!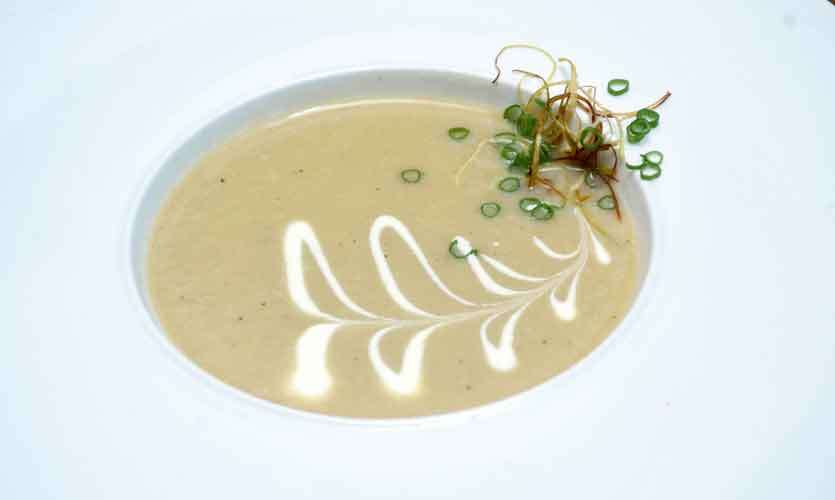 The Salad was without a doubt equally good if not better. This combination of Beetroot, Chick Pea, Rocket Leaves and Balsamic Vinaigrette was refreshing and is the ideal healthy meal. The portion size is quite big and if you're a light eater then this is definitely a wholesome meal for one. The ingredients tasted fresh and the balsamic made it pleasantly sour followed by a touch of sweetness as more of an aftertaste which I thought was very nice.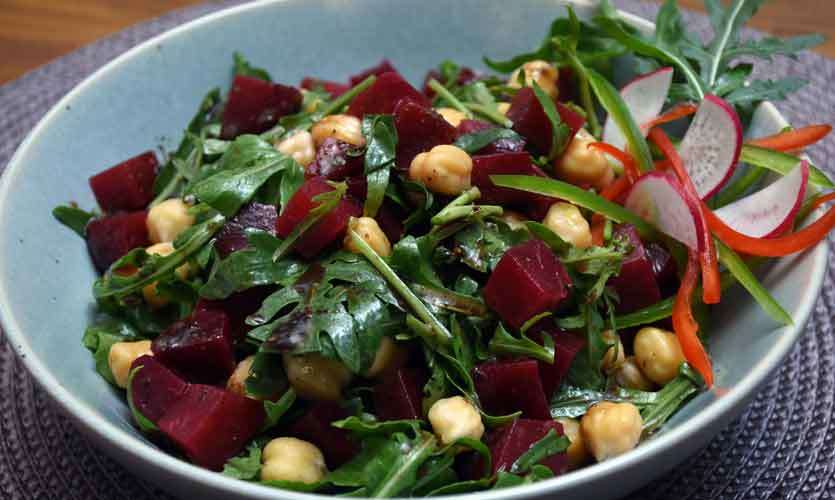 Next we opted to go for the "Crunchy Crispy devilled prawns". This consisted of a portion of devilled and battered prawns complemented with cilantro and red chillie topped with spring onions and also a small portion of rice. The prawns were really nice by itself but a hot chillie sauce plated on the side made it a lot hotter and better. The rice and salad were good complements, but the prawns were a treat in itself.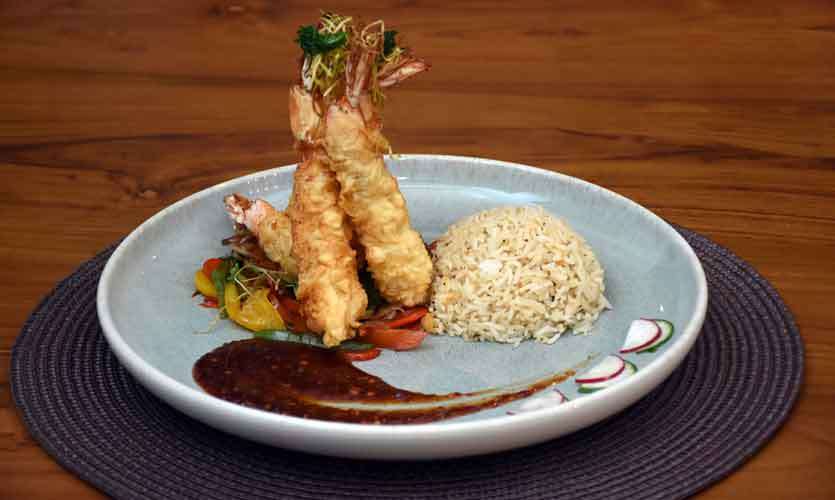 We finally tried out their "Classic C '97 Double burger with chicken". This burger was without a doubt …… THE BEST! Stuffed with a generous heap of chicken, bacon, cheese, caramelised onions and a fried egg each bite of this amazing burger is an explosion of flavour in your mouth! This burger will leave you feeling stuffed, satisfied and happy and is easily one of the best burgers you will find in Colombo.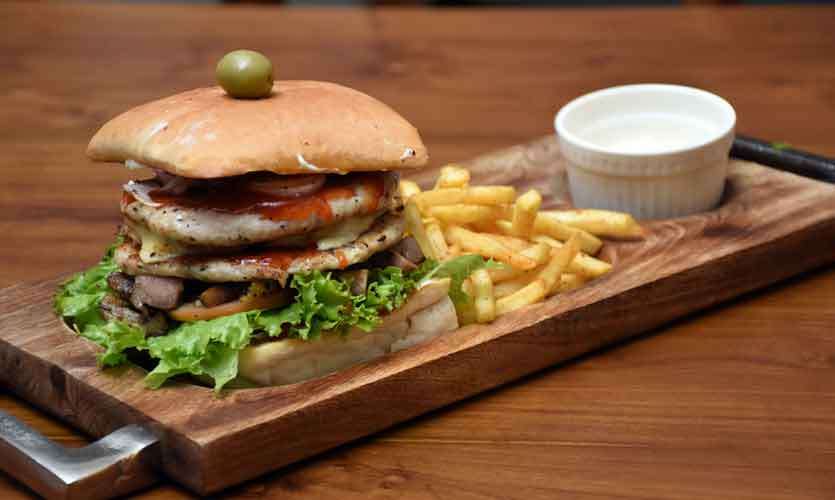 Desserts
The dessert options varied from various types of cakes, ice creams and pies. We opted to go for a 'Giant Profiteroles with fresh cream and Ice cream". It was basically a large Choux bun filled with cream and topped with chocolate and a scoop of ice cream. That momentary feeling of satisfaction when you bite into this is simply worth dying for! Although I was too full to finish it but that one bite was enough to say it all.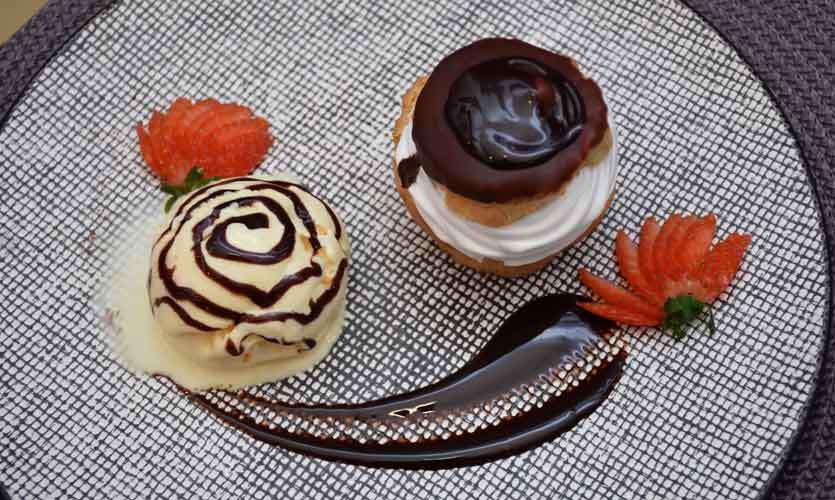 All in all, this is a great place to enjoy a wonderful meal and have a good time with your friends and family and it's certainly a place you will be compelled to visit a second time.
Pics - Kushan Pathiraja