Bombay Borough launched in style last week at the One Galle Face Mall, opening its doors to a culinary journey through India. Franchised by Charcoal Concepts of K Hospitality Corp, the restaurant and bar served guests a delicious array of indian food and drinks with a modern twist.
Ambience
The design aesthetic of Bombay Borough manifests the marriage of the old and the new; tasteful and swanky, with quintessential Indian touches. Featuring stunning interiors with a smattering of ethnic trinkets and art, decorative mosaic that adorned parts of the floor and a marble bar in the middle, seating was an equally eclectic mix comprising two to four person tables, bar height tables, and communal tables. The various elements came together beautifully to create an attractive space perfect for sharing piquant food and hearty conversation.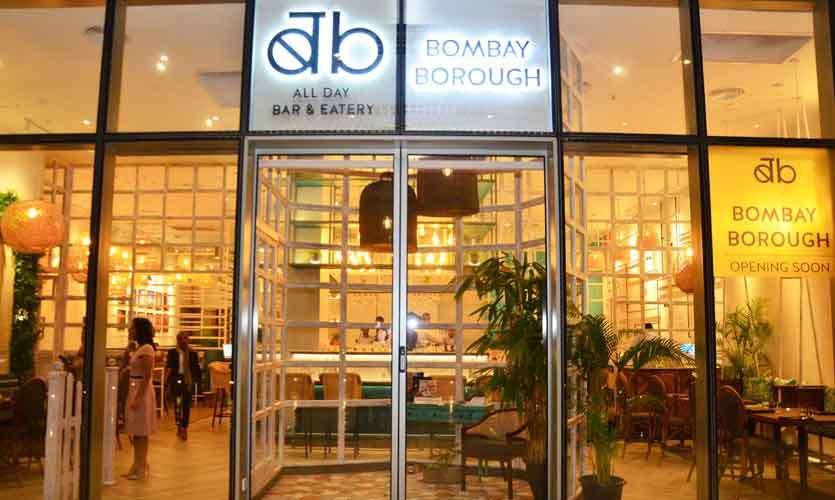 The drinks
Bombay Borough has a line up of inventive beverages that are modern with a hint of surprise Indian ingredients or simply old favourites served in Pauwa (quarter bottles). With beverages like ​Sahebs and Babus​, Bombay Prohibition and mocktails such as ​Kairi Sherbet and Rickshaw Refresher, the names are indicative of the distinctively local ethos that the Bombay Borough upholds.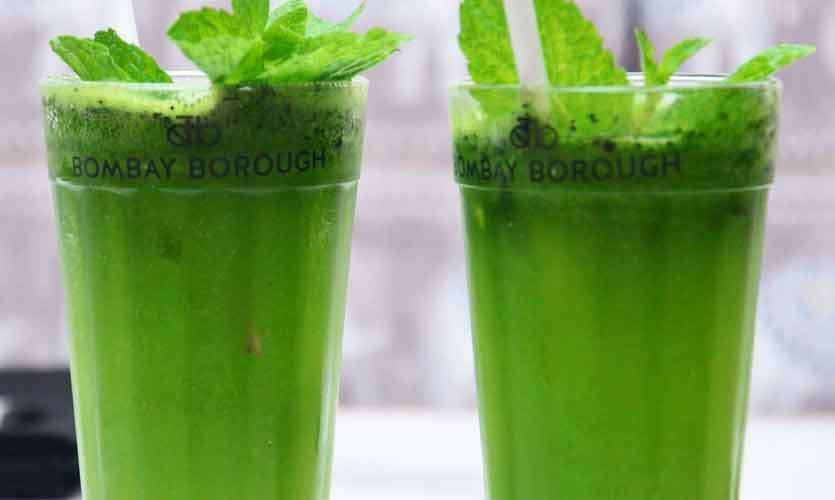 Small Plates
Guests were served a few samples off the menu, starting with 'small plates'. First to be served was the Fiery Thecha Prawn, prawns tossed with the fiery 'mirch ka thecha', a coarsely pounded green chilli chutney with crunchy peanut. True to its name, the prawns were fiery hot! Thankfully, the heat didn't discount the taste, which was rich and bursting with flavour. Adding the crunchy peanuts to it was pure genius and worked fabulously.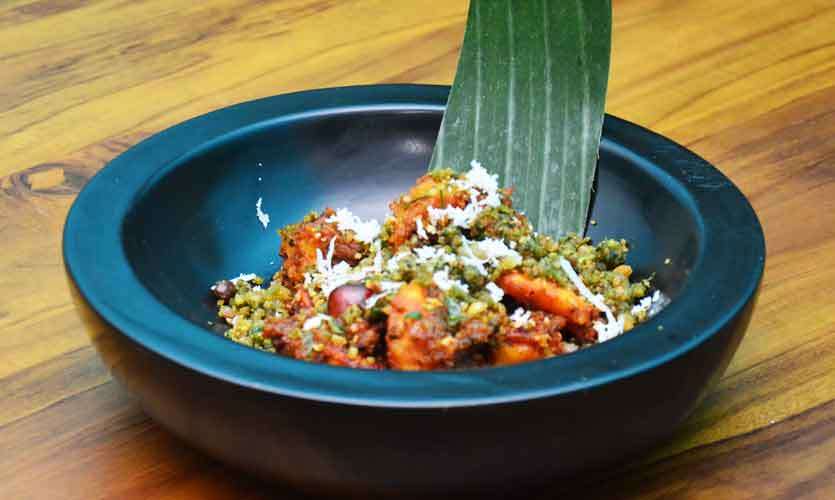 The Chowpatty Corn Chat, which comprised tender corn and potato, 'imli mirch' chutney and crunchy peanuts, was served in a shot glass. Crunchy and tangy, I loved the many subtle flavours that made up the chat. More importantly, I loved that they even had chat on their menu.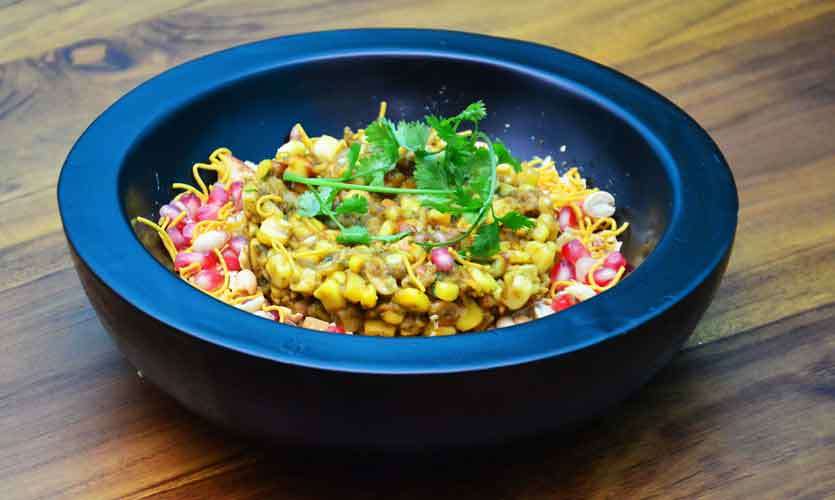 Lastly, the Chilli Cheese Kulcha, mini kulchas stuffed with chilli cheese was an absolute delight to devour. Cheesy goodness with just the right amount of green chillies added to it, I'd wager that you will be tempted to stuff your face with the kulchas.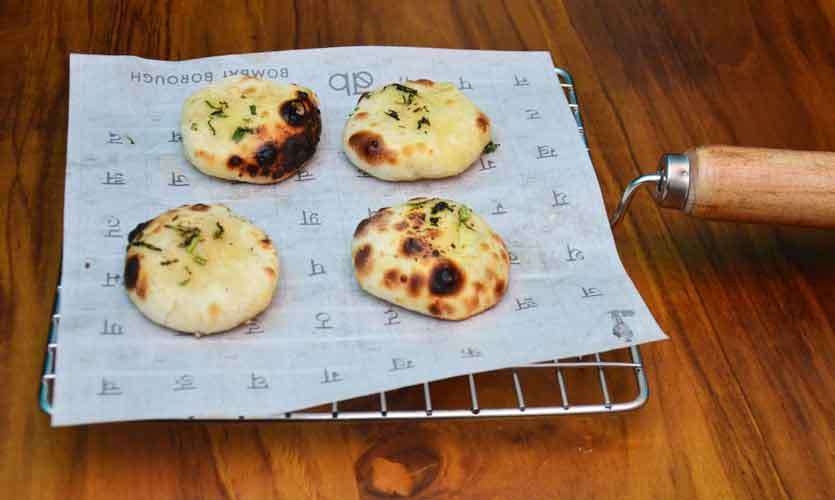 Big Plates
For the mains, a.k.a. ' big plates' here at Bombay Borough, we were allowed to pick items of our choice, so my companion and I decided to sample the Tikka Kabab Biryani and the Chicken tikka butter masala. The biryani was cooked dum style and included roasted chicken kebabs, and served with a raita on the side.
The chicken tikka butter masala comprised marinated spiced charcoal roasted succulent chicken chunks in a rich Panjabi makhani sauce. The biryani was fragrant and tasty on its own, but when I added the butter masala gravy to it, was pure heaven! In both the biryani and the butter masala, the chicken was succulent and had absorbed the flavours quite well.
Dessert
They had three dessert options to pick from, so we tried the Amritsari Kulfa and the Dark Chocolate Mess.
They also had Bombay Ice Cream Sandwich on their menu, but we decided to leave it for another visit.
The Amritsari Kulfa included kulfi and creamy rabdi on a bed of badam almond phirni, finished with falooda and a dash or rose syrup served amritsari style. Kulfi on steroids, if I may say so, thanks to the addition of rabdi, phirni, falooda and rose syrup, the Kulfa was sweet and yummy!
The Dark Chocolate Mess, homemade chocolate sponge and brownie crumble with caramelised nuts and dark chocolate sauce was another tasty dessert. Not typically a huge fan of dark chocolate, even I was thoroughly impressed - the dark chocolate wasn't overpowering, but served as a perfect launchpad for the dessert. I'd have it again.
Overall
Bombay Borough is swanky and fun from ambience to the food and drinks. The food and drinks all had an element of surprise, but most importantly, they tasted great! Whether you're hoping to catch up for drinks and food after work or just meet up with family for a meal, Bombay Borough doesn't disappoint.
Location: One Galle Face mall (Level 1-69, facing Galle Road).
For reservations call 0117011011.
Pics by: Waruna Wanniarachchi (Nov 10)