An eccentric, prudish, young gay billionaire of Sri Lankan descent, Victor Ognisanti de Parerga is looking for a suitor. But the suitor must turn $10,000 into $ 3 million in six months as per his father's conditions. Victor who seems to be the ultimate narcissist but is in fact the old-fashioned romantic at heart eventually meets a handsome and almost ascetically religious French American doctor who is quite the spouse material with his pure and pristine qualities. Surprisingly, Victor also finds out that the would-be suitor's deceased religious mother has set her own daunting conditions for any man who wished to marry her son! As things get complicated Victor and the doctor tries to find out if they really are soulmates with the striking incompatibilities between the two personalities.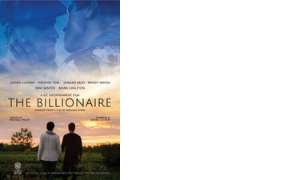 This a glimpse of what 'The Billionaire', the first feature film by Los Angeles-based actor, independent filmmaker, classical singer Gehan Cooray has in store for those awaiting its release. The script is an updated, gender-swapped independent film adaptation of George Bernard Shaw's 1930's play 'The Millionaires' transported into a modern-day scenario of primarily gay and asexual characters. What is unique about the film is that it features a Sri Lankan actor in the empowered title role of 'The Billionaire'.
The film was honoured with the Best Comedy Feature Award at the Burbank International Film Festival in September 2020. 'The Billionaire' was officially submitted to the Academy of Motion Picture Arts and Sciences and Hollywood Foreign Press Association after becoming eligible for both Oscar and Golden Globe Award Nominations. The film is now in the Academy Screening Room which is the Oscar voting members official streaming platform under the 'Best Picture' category and all accompanying categories such as 'Best Actor' and 'Best Adapted Screenplay'. Among the categories that the film is eligible for at the Golden Globe Awards are 'Best Motion Picture' – Musical or Comedy,' Best Performance by an Actor in a Motion Picture' and 'Best Screenplay – Motion Picture.'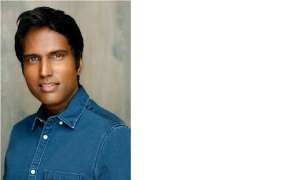 Pictured: Gehan Cooray
Speaking at a media briefing to announce the considerations for the prestigious awards, Gehan recalled performing in stage plays directed by renowned playwright Indu Dharmasena. "Indu firstly put me on stage as a professional actor. At the age of 15, I wasn't only doing what I love on stage but was earning money as well. Therefore I thought I could pursue this professionally overseas. My singing teacher Menaka De Fonseka Sahabandu cultivated my voice and singing temperaments. She got me into opera and told not only to perform but also direct those productions. When I was in Los Angeles I double majored in Dramatic Arts and Psychology at the University of Southern California which has the best film school in the world. Having taken many cinema classes at USC I realised I could easily transfer my knowledge of drama to the big screen as well. I also acted with Angela Seneviratne in Indu's plays and by looking at her I thought I could transition from a stage actor to a film actor. She gave me a lot of confidence in that regard."
Cooray's inspiration to direct his first series of short films was a casual conversation with American actor, director and screenwriter Jon Favreau of The Jungle Book fame. "Then it was my mother who inspired me to do my first feature-length which is The Billionaire. I decided to merge my stage training with the art of film making. This is why I selected a play by George Bernard Shaw. I adapted the screenplay myself, which took 2-3 months and one thing that was important was to portray asexuality. The character I portray is a chaste and pure person. He's a proud and haughty character but makes out for it by being a pure person who wants an innocent romance."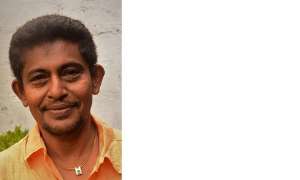 Pictured: Indu Dharmasena
The first cut for the move was 2 hours and 40 minutes and it was internationally acclaimed filmmaker Chandran Rutnam and renowned playwright Jith Pieris who has helped young Cooray edit the film. "Once edited I took it to Warner Bros. Studios for colour corrections post-production and worked with them throughout the summer in 2019. I taught them certain things about how to light a south Asian person's complexion. They were lovely to work with and after all that was done, in October 2019 I made my Carnegie Hall debut."
He also expressed his gratitude to those who have supported him throughout his career while announcing that the film will soon be released in cinemas under Ceylon Theatres.
Sharing his thoughts, renowned playwright Indu Dharmasena recalled the many roles Gehan played in plays directed by him. "I directed him at St. Joseph's College and at the tender age of 15 he has been playing various roles from my son to friend, stepfather and also the villain. When he wanted to go abroad for studies I told him that he should take theatre as a subject. I should thank Shiromal and Raju for backing him as parents and have stood behind him in whatever he wanted to do. That's the kind of parents who I was a theatre person who does drama, loves to encounter. When he wanted to do the film he never gave up. I'm proud of him and for me what he did in a way is an award to me as well."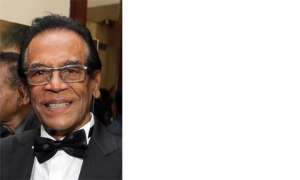 Pictured: Chandran Rutnam
"When Gehan first showed me his film I saw a lot of value and entertaining things in it but also some deficiencies," opined internationally acclaimed filmmaker Chandran Rutnam. "It's difficult to tell a friend or someone who you're encouraging exactly what you think. But then I looked at him, saw his enthusiasm and thought I should tell him what I thought. He paused for a while and said let's have something to eat. Then I told him that I'll watch it fully. One thing I realised was that it wasn't edited properly. But he listened to me and took it as positive criticism. What I appreciate about Gehan is that he listens and takes it in a positive manner. I lived in Burbank for about 10 years and this is where you get Universal, Warner Bros Studios and is in fact the Hollywood. I was happily surprised that he won this award and we all should be proud of it knowing that he has brought such pride and honour to Sri Lanka."
The 1-hour 56-minute film was directed by Michael Philip and was shot in Canada with a budget of USD 1.2 million.