It is always a treat to watch Rukshan Perera perform on stage. Having identified a dearth in the production of original tracks, Rukshan has been involved in composing originals while giving out messages in diverse areas. At his 10th anniversary show which concluded last weekend, Rukshan once again performed his originals, some old and some new, to a packed audience. Although it was his show, Rukshan didn't forget to share the stage with children representing the Merril J. Fernando Foundation in Moratuwa and students of Gamini Vidyalaya in Kelaniya. A few other highlights of the show included performances by these students who sang two meaningful songs on garbage segregation and why government officers shouldn't take bribes, both composed by Rukshan himself.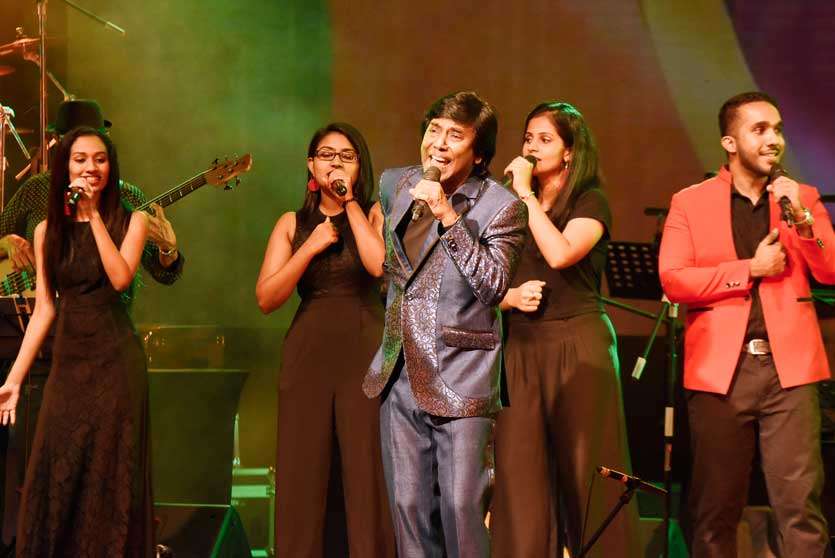 Featuring alongside Rukshan were artistes including Clifford Richards who was also the host for the evening, along with Choro Calibre, Jananath Warakagoda, Colombo Brass Ensemble, The De Lanerolle Brothers and Devshan Perera, Lelum Rathnayake. Talented pianist Surekha Amarasinghe performed a few classics to which Rukshan had done certain twists to make it more appealing to the crowd. At Rukshan's concerts, one will never walk away without watching his unique 'scatting' skills which he showcased at this concert as well.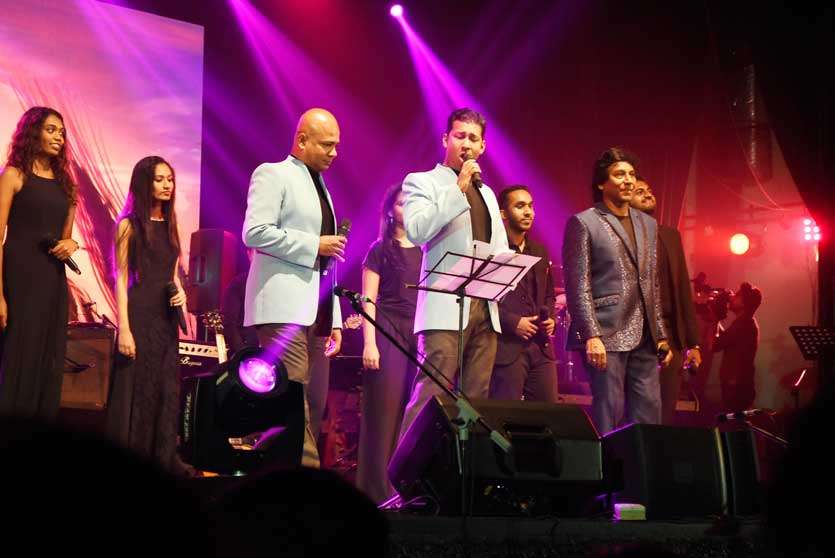 Having been an ardent social worker, heavily involved in various community service projects through his Rotary Club, Rukshan has been passionate about his work. This time, the proceeds raised by his 10th anniversary concert were in aid of Cerebral Palsy Centres in Jaffna and Kurunegala affiliated to National Centre for Cerebral Palsy and other Developmental Disorders.
Before they called it a night, a few guests had this to say :
"It was a fabulous show." – Parakrama
"What I appreciate from him is that he has renewed old songs. The western music medley he did were songs we heard at home. We used to hear music from each others' houses all the time and it brought back a lot of memories. He supports the Unity Mission Trust and he helps a lot of other needy causes and I salute his way of thinking." – Shyamala
"He's a superb entertainer. He has original tracks that are being enjoyed by the people and it's a unique talent." – Harshini
"The sounds and lighting were great and Rukshan was at his very best. The other performers too were amazing. I'm glad that I came for the show." – Shirlene
"It's a fantastic cause that Rukshan is supporting. I enjoyed it very much." – Spencer
"Rukshan did an outstanding performance with his team and the rest of the musicians. It's all for a worthy cause. What really resonates with me is that his songs are composed with a purpose in mind" – Shanthini
"Rukshan is a close friend of mine and I have been following all his concerts. He's trying to move into a slightly different format and it's always very enjoyable." – Mahen
"It's very nice for someone to step out and do something of this calibre. There was a lot of diversity in the concert, moving from Sri Lankan music to Western and jazz. It was an experience in itself." – Richy
"It was a fantastic show and I can't express it in words. Rukshan is multi-talented and he performed with us in the Golden Chimes. I wish him all the success." – Lankika
"Rukshan always does something for deserving people. This is my ninth show. I always wish him good luck and looking forward to his 11th show." – Sandy
"I'm his childhood friend and it's wonderful being here today. He does a lot for charity and there's a message for the younger generation." – Adrian
"What an exhilarating journey through different forms of music and musical expression! Congratulations Rukshan, you're a genius. On a personal note I was never a Jazz fan but you converted me into one overnight." – Kumar
Pics by Nimalsiri Edirisinghe