Adversity makes strange bedfellows' goes the old adage and in the case of young Pasan Gunaratne, adversity presented him with the opportunity to utilize his skills and help his community. A kitchen apprentice at the Hilton, Colombo, when the country went into lockdown, Pasan like countless others of his generation found himself at home. Instead of allowing boredom to get the better of him or spending time playing games or surfing social media, Pasan decided to step up and help his community by baking. Baking over 60 loaves a day of various types of bread, Podi Pasan's Patisserie has come to being.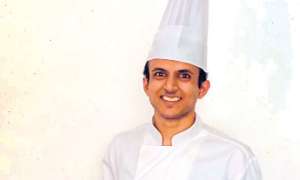 Pasan who is only 22 years old is an alumnus of S. Thomas College, Mount Lavinia. From the age of 14, he knew his future career would revolve around food. "There's so much of joy to be found in food. I love to be part of that joy, spreading it through my food, and just to be able to see a smile on a person's face is an incredible feeling!" he says.
As a 14-year-old schoolboy, Pasan attended extra classes under the tutelage of Mrs. Christina Brohier where he convinced her to bake him some brownies. Mrs. Brohier got Pasan to help her and thus discovered he had a knack for baking. "I would say it is Mrs. Brohier that really encouraged me and convinced me to get into this trade" he adds.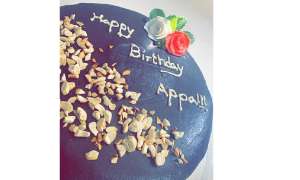 Determined to further his education in the culinary field, at the age of 14 under the watchful eye of Chef Jean Pierre at Creative Kitchen in Kirulapone, Pasan followed the Pastry and Bakery course where he passed the City and Guild Diploma in Patisserie with a distinction. After completing his Advanced Level examinations he joined the Sri Lanka Institute of Tourism and Hotel Management where he continued his education. Armed with his qualification, Pasan was snapped up by the Colombo Hilton where he works as a Kitchen Apprentice and is also currently pursuing the NAITA certificate.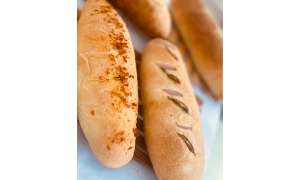 With curfew imposed and people scrambling to buy groceries and food, Pasan soon realised that there was a growing shortage of bread in his community. Encouraged by his mother, Pasan decided to start baking bread for those in his neighbourhood.
Ever the conscientious employee, as he is still employed by the Hilton, Pasan sought permission from Mr. Manesh Fernando the General Manager of the Hilton in order to pursue this community service. Pasan says " Mr. Fernando was delighted to hear that I was helping the community in the way I know best. In addition to encouraging me, he also mentioned that my menu was unique". Ever grateful, Pasan adds "the Hilton has been a great foundation of my work and certainly epitomizes the very essence of hospitality beyond its boundaries and this has buoyed me to reach out even further to the community."
Armed with a blessing from his employer, Pasan embarked on baking artisanal bread which ranges from plain bread to more fancy items such as karapincha bread, and cheese and pol sambol bread to sesame seed bread and currant bread. Ever adventurous he also undertakes orders for cakes so that those celebrating special occasions during curfew don't miss out!
Despite facing tough challenges in sourcing ingredients, Pasan was fortunate to find fellow community members who have come to his help. "I have managed to get a band of local enthusiasts - who also want to help the community. From the shopkeeper who now sells me 25 kilos of flour every day to the grocery store which sells me my herbs and butter and the tuk driver who does my deliveries" explains Pasan.
Given the current situation, Pasan is focused more than ever on health and safety in the kitchen. "Every kitchen must maintain specific catering hygiene and safety standards. I ensure that these standards are met beyond expectations at home. My mum and I wear gloves, masks, hairnets, and hats at all times. Cleanliness is paramount" he says. Pasan further explains " when we receive our supplies from the store, we wipe the bags with disinfectant and transfer it to our own containers. Our baked products are well wrapped in oil paper and sealed. Our delivery person also wears gloves and masks".
Working almost 15 hours a day, Pasan starts his day at 4 am and bakes almost 60 loaves a day which are snapped up by a rapidly growing loyal fan base. Commenting on the feedback Pasan has received he says "everyone says it is really soft and tasty. Most people like the special flavours and combinations I have created and say they have never tasted anything like this and it's simply mouth-watering. They also say the prices are reasonable."
What next, after lockdown is lifted I ask Pasan. "I hope to go back to work at the Hilton Colombo to complete my apprenticeship programme and hopefully secure a full-time job there where I could develop my skills further. Simultaneously with the help of my mother I would love to develop this little venture by diversifying the product range."
The pandemic has certainly turned the tide for Pasan, who says that while in school a lot of people "didn't believe in me and didn't think I would end up where I am today". He adds "I started this project to help my community more than making money. However, it is an amazing feeling to know that people love my products and the orders are increasing."
Speaking of one of the most valuable lessons he has learned in the past few weeks Pasan says " I have come to realize that there are lots of people out there who are willing to help a young boy like myself succeed and to appreciate their skills. The pandemic has taught me to think out of the box and I would ask others who have lost their jobs or are simply wondering what to do to think of how they can use their knowledge and skills to perhaps do something on their own."
"You have to believe in yourself and never give up. As my mum always says if there is a will there is a way. You will face obstacles but focus on your end goal and you will see results" says Pasan before he sets off to begin kneading another batch of dough for yet more loaves.