An interview with Reshmi Senanayake
Nine year old Reshmi Senanayake is an aspiring young author whose preliminary novel, "The Tropical Purple Hearing Aids" is the perfect gift to give young children during this season of giving. Its vibrant illustrations by Ruwangi Amarasinghe and captivating story about a young girl's transformation after receiving hearing aids is certainly worth a read. What began as a light-hearted conversation among Reshmi's family members grew into a socially conscious project since the proceeds from the sale of the book will be donated to the National Council for the Deaf in Sri Lanka.
Today we're in conversation with this skilled writer about her thoughts on the novel and its capacity to facilitate change.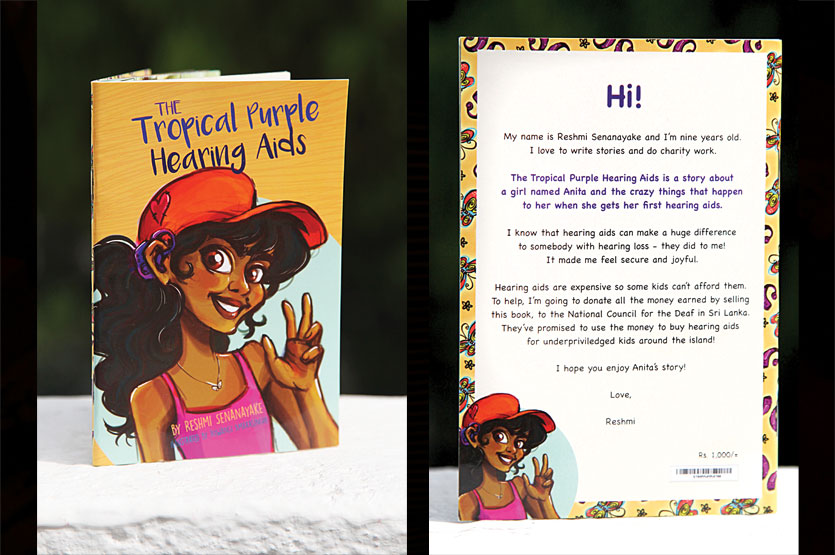 Why was it important for you to share Anita's story with the world?
I was inspired to write this because I have hearing aids myself and I love them a lot. I'd hate for kids to be bullied like Anita was, so I wrote this book to show that you shouldn't listen to what other people say.
The book features many of Anita's strengths like her amazing cooking skills and passion for writing. How do you think it'll impact society when you show them another side to people they think of as having 'difficulties'?
It really depends on the people. Bullies will be shocked and will find it hard to continue bullying someone who appears different but displays amazing talents like everyone else. Those who don't bully will feel happy for that person, realising that just because you're different it doesn't mean you can't have wonderful talents. Others though will know that no one is incapable of doing anything so they won't be the least surprised at someone's achievements.
There's a very supportive community structure in this story. Since it's close to your own experience, do you think it makes a huge difference when you have people to rely on?
Honestly, I don't know how I'd survive without my family, my audiologist and my teachers! When I'm upset and hurt, my community will support me and make me feel better. My audiologist always finds ways to make my hearing aids better and my teachers are always on the look-out, making sure I can hear in class. My family is also ready to help me when needed. I can't tell you how much I appreciate them.
Your book mobilises social action since the proceeds will be donated to the National Council for the Deaf in Sri Lanka. What prompted this decision?
I'm a girl who dreams of making the world better and wondered how I could do this like Jane Addams, Abraham Lincoln or my parents. I chose to support the deaf in Sri Lanka because I have hearing aids and I'd feel incomplete without them. I heard that there are people who really need hearing aids but can't afford them, so I thought I'd use the money from this book to raise funds for them.
What do you enjoy doing during your spare time?
I love to read books because they spark my imagination. When it starts to get warmer, I go outside and play with a ball or ride on my scooter with my sister. I also like to put my legs up on the couch and watch some TV. Sometimes I relax by colouring or drawing.
What advice would you give to young dreamers everywhere?
First find what you love and what you want to give to the world. If the way is tough, you still need to believe and persevere, otherwise you're never going to get anywhere. Anything is possible. Dream. Believe. Have faith in yourself. Persevere. Never give up. So reader, if you have a dream…do it.
Visit your local book store this Christmas and help Reshmi accomplish her dream of making hearing aids freely available for those in need. Each book is priced at Rs. 1000. Your contribution will be greatly valued and appreciated.