The finals of TNL Onstage took place on the 3rd of September 2016 at the Viharamahadevi Open Air Theatre. After months of hard work, the winners were declared and awarded and this week, we caught up with both them to talk about their big win!
Today, the winner of the SOLO CATEGORY - Thiysuri Ranatunga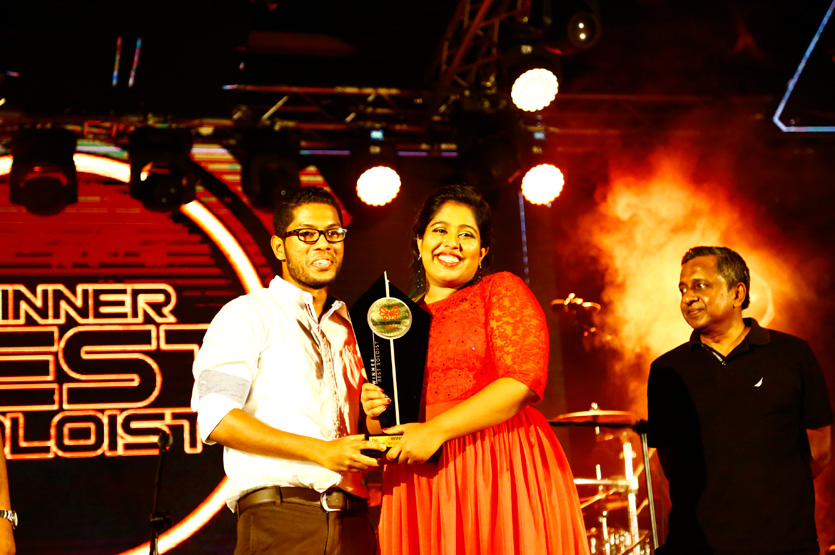 Tell us a little bit about yourself.
I'm Thiysuri Ranatunga and I'm 19 years old. I studied at Musaeus College and Ladies' College, and I was a part of both the school choirs. I am currently a part of the Soul Sounds Academy Choir under the training of Soundarie David and I love good music!
What's your first memory that sparked your love for music?
When I was about 8 years old, we used to have voice training at Mystical Rose International Institute, which was my speech and drama institute, and we used to sing about twice a month, and I really enjoyed that time and that was my first memory that sparked my interest and love towards music and singing.
What's your music background?
I started going for singing competitions at the age of 10 years. I took part in British festivals organised by the International Institute of Music, Speech and Drama a number of times and got placed All Island Winner for my age category. My first ever proper schools singing competition was Vocalize 2013 in which I was placed third in the solo singing category. Then in 2014, I took part in talent search organised by the Interact club of Royal College, and was one of the 6 finalists. This year, April, I took part in "Voice off" and was crowned the winner. I've been trained under many acclaimed voice trainers over the years, such as, Soundarie David, Sanjeev Jayaratnam, Julius Mitchell, Rachel Halliday, etc. I was a part of both my school choirs and I'm currently a part of the soul sounds academy choir. I also did the Trinity College London pop and rock exams. I was also a part of the choir which sang the Beethoven's mass in C major at the St. Lucia's cathedral on the 14th of February. In addition I was also one of the few girls who sang in one of the songs, "Let the Wolves Come and Lick Thy Wounds" in the latest album of Stigmata.
What made you decide to enter TNL Onstage?
It was always a dream of mine to take part in TNL Onstage. I applied this year was because I felt this might be my last chance to apply to it as I have plans of going abroad next year for my higher studies, so I wanted to give it a chance this year.
How was the competition and what motivated you?
I've taken part in a number of competitions before TNL Onstage, but I have to say that it's nothing like anything I've ever taken part in. I have had one of the best experiences in my life throughout this competition with all the consultations with Ashanthi, busking sessions, studio sessions, and even the practise sessions with the official backing band, Silk. Being just 19, I've learnt so much from this experience. Seeing the talent around me, I was more motivated to be better and to do my best. I must mention that the TNL crew was so friendly and helpful with absolutely anything, and was so professional in organising such an event.
How does it feel to be the winner of TNL Onstage 2016?
I'm still pretty shocked every time I see the TNL Onstage trophy in my living room. It's just so surreal, and is one of the best things that has ever happened to me. I consider it as one of my highest accomplishments. The feeling I got when they called out my name as the winner of the solo category is honestly indescribable. I just want to thank my parents, relatives, friends and everybody who came to support me at the finals; and my mom for always pushing me to do my absolute best; and all the people who has trained me over the years and also Ashanti for all the advice and for helping me with my song choices. Many thanks to the official backing band, Silk for practising with me and advising me and also the TNL crew for everything they've done.
What's next?
Since I'm still 19 years old and just finished schooling, I plan to go abroad for my higher studies next year. Apart from music, I love maths! So I'm planning to do a mathematics degree. But I still hope to do some originals and hopefully have an album someday in the future. I'm not giving up on singing. It will always be a part of me.
Photographs by Zeeshan Akram Jabeer