Looking at the number of travel advertisements in the Hit Ads section of the Sunday Times newspapers and various travel offers on social media it is heartening to see travel is on the increase. Although travel can be a costly affair, it is inspiring, educational and of course totally rewarding. Most people like to travel with family or groups of friends. But what of those who do not want to be encumbered with travelling partners or family and wish to go alone? Let me tell you, solo travel can be most rewarding as you can do what you want when you want without having to always check with your travelling companion if they are happy with the travel choices you have made.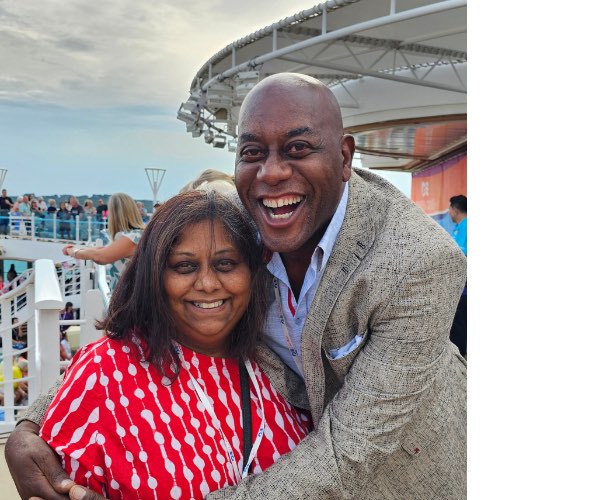 Pictured: Meeting Ainsley Harriot on a princess cruise around Europe
In the last year, I threw caution to the wind and completed almost 15 solo trips to various destinations in Europe by myself including a press trip on Princess Cruises facilitated by Worldlink Travel. Solo travel has been the most liberating experience of my life. Before embarking on my travels, the first thing I did was to invest in a good travel insurance policy which would cover me for any eventualities from missing a flight to breaking a leg! Keeping the lines of communication open is vital to me so I always check the local phone network and if needed buy a SIM from the airport which enables me to be in touch with family back home and will also help me use maps and other apps while travelling.
Do your research
When I plan a trip, I put in hours of research on the destination I intend to visit. Be practical as to how many places you can realistically visit during your time in the city. Be aware of places that are overly quiet after dark or have a reputation for crime. Join various travel groups on Social Media and ask questions. You will find that fellow travellers are quick to share their travel tips which will help you.
Safety and Security
One of the biggest obstacles especially for solo female travel is the worry about safety and security. When travelling alone, it's common sense to make sure you're aware of how and where to get help if you need it, and arm yourself with knowledge about the local area. I always compile a list of emergency numbers and also the number of your country's embassy or consulate. When you arrive at your destination send your location to someone back home so that they know where you are and arrange to send a family member or a friend a text each day so they know you are safe. Find a safe place for your passport and information. Keep a photocopy of your passport and travel insurance in a separate place, ideally with a small amount of emergency cash. Use lockers or a safe where available.
Back up your documents
Try not to take your passport, tickets and all your money when you go out to explore. Make use of the safe box in your room and keep your valuables there. I always have a photo of my passport and travel documents on my phone and on my email so that if something happens I have access to them via my phone and email.
Free walking tours
The very first time I did a free walking tour was in Sofia, Bulgaria and it was one the best decisions I made. Free walking tours are a great way to get your bearings of the city you are visiting and the guide will be a great source of information for you. You also get to learn a lot from the guide and who knows you may meet someone who might want to buddy up with you for a wander around later on. Be mindful though that although the walking tour is free you are expected to tip the guide around ten euros per person.
Maps, travel planners and local travel tickets
If you are not very good at listening to directions then do use Google Maps which has helped me on numerous occasions to find my way around. Citymapper is also another app which I use regularly. Not only does it give you public transport travel options but also gives a walking route. Research the travel options available. Increasingly across Europe, they do not accept money on public transport and one is expected to pay for fares by bank card or download an app and pre-buy travel cards/tickets. I also downloaded the local taxi app apart from Uber and Bolt in case of an emergency.
Pack with caution
Most people have a tendency to pack as many clothes and shoes as possible. However, bear in mind that when you are travelling alone you want to get around easily instead of lugging around heavy luggage up stairs and onto public transport. Also, do not travel around decked with your family jewels. Keep them at home to wear for weddings and not on your travels. If you are worried about where to do laundry don't worry there are many public laundries where you can wash and dry your clothes.
Trust your gut
If something feels off, then it probably is. It is important that you go with your gut instinct. If you are not comfortable in a situation then remove yourself from that situation quickly by popping into a café or calling a taxi to get to your hotel.
Respect local culture
There is nothing that cheeses off locals more than tourists not adhering to local customs. Find out what cultural rules and regulations you need to observe and follow them. That way you will not offend anyone and you will not fall foul of anyone.
Dating apps and drinking
If you do like a drink then do so but do not overindulge to the point where you get drunk. That leaves you vulnerable and open to danger. Be mindful of your drink and always get your own drink. Do not leave your drink unattended at any time. If you are considering using a dating app such as Tinder or Grindr then do be cautious and meet in a central location. Remember to carry contraception as it can be hard to find emergency contraception if you do engage in a holiday romance.
Enjoy yourself!
Keep an open mind when travelling alone and always go with your instincts. Travel is a wonderful platform to meet new people and broaden your horizons. When it comes to solo female travel the most important thing to remember is to travel smart and travel safe.
Pix By Tina Edward Gunawardhana