Opening the children's colouring book 'The Sri Lankan Adventure' by Chantal Sam elicits a sense of excitement and adventure in you (even if you're an adult who I obviously am!). The beautiful illustrations aiming to bring out the many wonders of our island nation are sure to engage children, inviting them to colour their way through Colombo, Sigiriya, Trincomalee, Kandy, Nuwara Eliya, Ratnapura and Galle with their favourite crayons and pencils.

"The Sri Lankan Adventure started out as a Christmas Brochure for my niece and nephew who live in London,"
recounts Chantal Sam (Samarasinghe), who together with her partner runs Sirens Management Consulting, a company specialising in aviation and tourism, as well as Sirens Productions and Inn Colombo 7.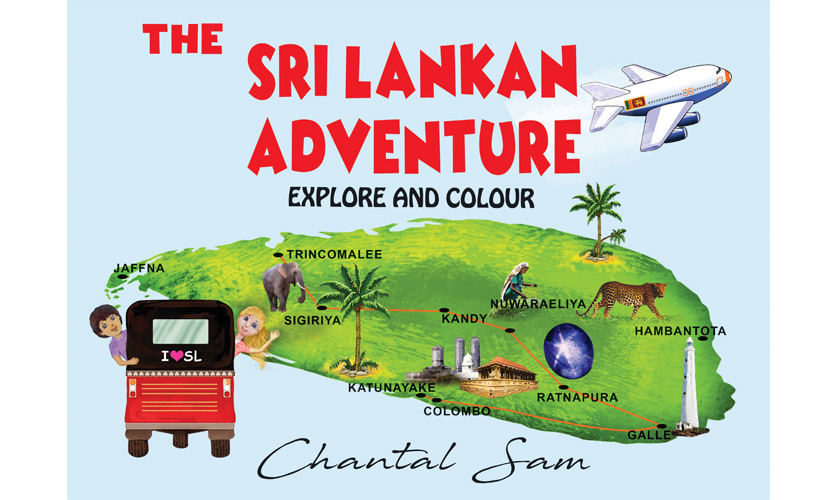 "As they don't get to visit Sri Lanka as much as we would like them to, it was a way of educating them on some of the special places here. This then turned into a book as Mr. Vijitha Yapa embraced the concept and decided to publish it! The idea behind it is to highlight some of the key places in Sri Lanka and to be a travel book (which wasn't available in the market for children) as well as a souvenir for tourists to take back for their children. I wanted it to be interactive and engaging and that's how the colouring aspect came in."

Chantal is a product of Ladies' College and Colombo International School. She pursued her higher studies at University of Leeds in the U.K. and in Queensland, Australia where she obtained a degree in Economics & Management and an MBA in Finance. Having studied Fashion and Design in Milan last year, she also dabbles in fashion during her spare time and has her eponymous label - Chantal Sam.

Profits from the sale of 'The Sri Lankan Adventure' are directed towards 'Child Action Lanka', a charity that supports underprivileged children.

"As this is a passion-project I didn't want to make any money out of it and wanted it to benefit a children's charity. I visited many and was skeptical as to how much actually goes to the kids. I then remembered that a wonderful lady I'd met years ago (Charlotte) worked at CAL and decided to check with them on how I could work with them on this project. CAL transforms the lives of disadvantaged children in Sri Lanka, especially 'street children' and they have centres all over the country, which I found to be more effective."

"First-time authors are usually put-off mid-way into a book as getting a book published isn't an easy task but if your idea is unique enough, do persevere,"
Chantal advises budding children's book authors.

"Originality and creativity are the key and there aren't enough successful local authors in the children's market."

'The Sri Lankan Adventure', priced LKR 1975 is available at all leading bookshops.
By Jennifer Rodrigo