I was tagged on Park Street Gourmet and it's got an amazing spread for the season. Like every year, it's nice to have something very Christmasy and yummy laid out on your table for those special dinners and lunches you'll be having with your family or friends. I did some shopping at this amazing place, even with all the restrictions and red tapes and blah blah blah… they seem to have found an amazing balance of all your favourites. Today I sat down with Johanne de Zilwa for a quick chat about what's new and what's trending.
How has 2021 been and what is special for Christmas act Park Street gourmet? The year 2021 has been very challenging with the lockdowns- but we have continued to service our loyal clientele via our App Zip sip and have had all the Gourmet goodies and beverages for their households uninterrupted. For Christmas this year we in fact started sourcing our goods early from very reliable suppliers who did not let us down-hence all our stores in Colombo, Galle, and Negombo are well stocked with seasonal delights.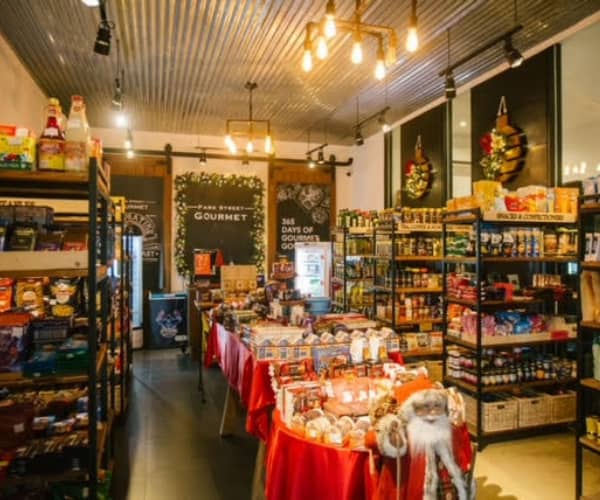 With a lot of red flags I'm sure it's very hard to bring down our favorites for the season, how did you manage during this time, and what's on the shelves for us to come and visit? We have been collecting Buffer stocks for the season and the stores are full of what you will wish to have for Christmas and the New year festivities ranging from Christmas goodies / a Super selection of imported chocolates and gift boxes, Imported Steaks, and Cold Cuts, Cheeses, Turkey, Duck, Salmon steaks, Smoked Salmon, dry products, local specials among many others. This year we have a range of ready-to-eat food as well from Dumplings/Pies/Pizza and desserts.

You are known for the amazing hampers that you pack this year what is the range and what is the starting price? We specialize in Hampers for the season and this year to date the response has been great from Corporates/Embassies and Individuals. Our Hamper prices start from Rs 5500/ and there is no limit as we curate Hampers per the budget of our customers- so most hampers will have a varied mix of Goodies. During Christmas / New Year Customers would come into the store and make a Hamper Gift to their loved ones and we have many Sri Lankans living abroad who order Hampers for their loved ones via our app Zip Sip. We offer a Hamper with a varied mix which is our forte.


Tell me a list of the unique items you have brought specially for Christmas? The list is very long but some of the products are-Marzipan Bars, Christmas orange Marmalade with cranberries, winter house miniature milk chocolate, Ginger Bread range, variety of shortbreads, Christmas chocolate bars, a huge selection of Dark Chocolates, Chocolates and gift Boxes, Tim Tams, Hot Chocolate, Panatonnes, Christmas Truffle cheeses, and the list goes on and on…….

You also work with a lot of home bakers. Who provided the well-known love cake and Christmas cake? Who do we have on the list this year and should we pre-order to get our hands on it? We at Park Street Gourmet from the inception of the Pandemic have supported our local producers and we have very successful brands at the store today which are also a part of our hampers. We have 6 bakers working with us during the season namely Pavia's Cuisine, Shiks Delights, D and G, My Sister's Kitchen, Circles and Gorgeous Cakes for those yummy Cookies, Yule Logs, Swiss Roles, Breudher, Rich Cake, and Love Cake.- pre-orders are taken in-store.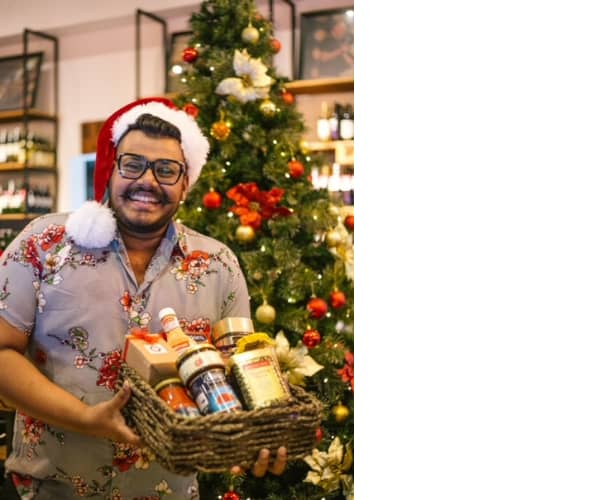 I have been longing for some season activities and I'm so happy to see the place so well Done-up, it sure feels like Christmas in there. So get your list ready and walk into Park Street Gourmet.
This column is all about promoting Everything LOCAL. If you feel you have something interesting and I need to write about - just tag me @danuinnasithamby on Instagram or Facebook
Photography- You're my Favorite