Today I'm tagged by CFW and I speak to the Designer who rocked the ramp with her grand finale at the Colombo Fashion Week. It elevated the show in a new dimension on Day 3.
The Colombo Fashion Week has showcased fashion for the past 19 years. This year the stage was bigger the drive was more, the collections were very competitive.After two years of uncertainty for the CFW fashion runway because of Covid and the shows being under so much restriction, it was nice to see a steady audience appreciating the local designers and their creations.
I would have preferred if some of the designers were only inspired by the foreign brands and labels, without it being a copy-paste. I'm not sure whether it's the designer who is to be called out or the ones who are supposed to guide them through this process.
Ajai and the team sure did put up a phenomenal show giving Colombo something to talk about and giving designers a platform for their creativity to be exhibited. There were a few designers who really did a brilliant job. The emerging designers did showcase a solid collection and I can't wait to see them on the main runway. The talent is real.
Day 2 of Colombo fashion week started off with Dimuthu Sahabandu. The attention to detail as always was impeccable. Amilani Perera's Grand finale for day 2 left us all with a mixed bag of emotions with her collaboration with the UNFPA giving the community a message of how important it is to respect women, and the way it was executed was pure genius.
Day three started off with Sonali Dharmawardena, with her artistic stories being beautifully portrayed. The next designer who really caught the audience was SUKET DHIR. Every piece had a story and it showed his years of experience in fabric and delivery. Next up for the 1st time in Sri Lanka all the way from Pakistan was Zaheer Abbas whose collection was such a pleasant masterpiece. Our showstopper for the year INDI gave us a story so here is the narration of her collection.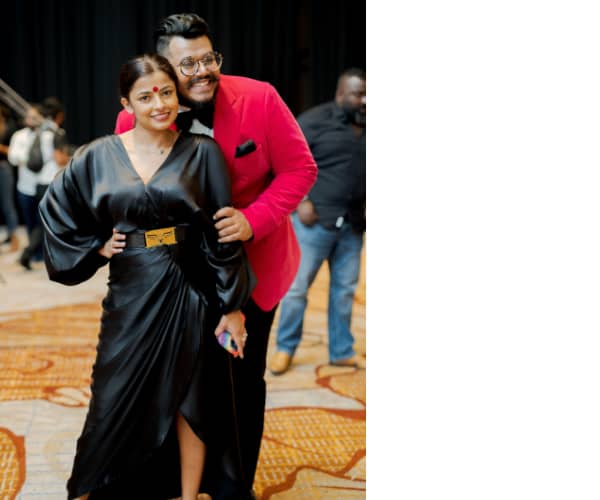 1. What's the inspiration for your collection
I was inspired by my recent trip to the north of Sri Lanka, I was drawn to the everyday lives you would see and come across. We have tried to embrace innocence, purity & tried to reflect the positivity and the sensitivity I felt in the environment that I experienced while exploring the warm culture, amazing food, traditions, and its heritage.
Soft to bold colour palettes, structured to feminine silhouettes, jewellery, accessories, and the music we used helped. We have to depict the vision of the collection. The mood is fierce yet feminine, strong yet gentle... We have chosen prints yet again that are created with elements of the environment we stumbled upon while travelling, we could not miss out on flamingos as they were transitioning through Jaffna right at the time.
2. How has the feedback been?
Very positive. I have my own niche market that celebrates my work, is loyal to my designs, and supports me by wearing a local designer. In general, with the wider audience, I think they would have been surprised to see what House of Indi can really do in terms of fashion. Overall we definitely made a mark on the show.
3. How was it working with inspiration from the north?
Very enlightening, you feel the warmth of the collection, drawn from the people who live there. You appreciate the little things in life that people use to trigger positivity. There was so much purity and vibrancy that comes at you which needed to be toned down, broken to create a fashion story on the ramp.
4. You had such diversity on the ramp, you had men, even in dresses?
We want House of Indi to be known as a barrier breaker. We fully support LGBTQ community in Sri Lanka as such it's our way of showing love is love through fashion. Plus don't forget, men use to wear female clothing silhouettes for centuries, it's only now that we have this aspect of dividing what men can wear and not.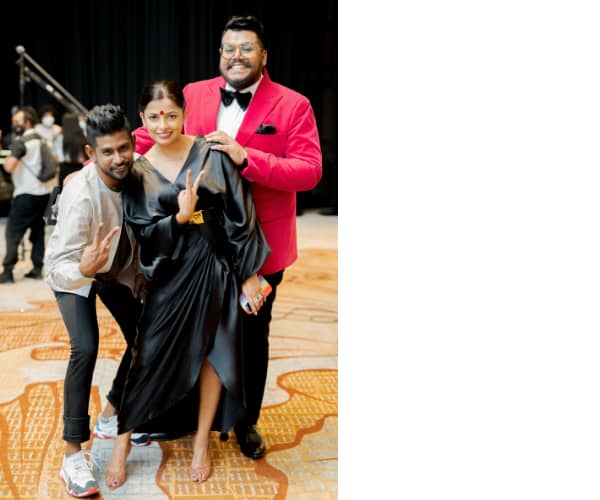 5. ADK performance. What made you add it to the mix?
Full credit for adding ADK and also guiding me towards the north inspiration this year goes to none other than you, Danu. With your rich heritage from Jaffna, it was easy to derive a story and ADK performance enhanced in bringing the cultural vibe & setting the mood to the ramp and collection. Also how amazing is Sri Lankan music & what it can create? Love love ADK & his work. The audience thoroughly enjoyed it. I'm getting amazing feedback.
6. Where can one buy this collection?
The collection will be available at our Concept Store - WH Located at 79 Dharmapala Mawatha, Colombo 7.
7. What do you feel about the show this year?
It's was back to his winning path, since the pandemic, Ajai and Fazeena have done a great job in moving it forward, redesigning the structure of CFW and how it is delivered with all the rules and regulations of COVID-19. Two years since then, this year it was back to its grand glory days with Prasad and his team, it felt like the first time the show is back to where it was, but also in a new journey and I was so happy to be the grand finale in this segment of embracing the new norm.
8. What are your thoughts about emerging designers? As one designer has been called out for copying a Dior collection.
I was a little sad and disappointed to see that, but that doesn't mean that designer doesn't have potential. I could see he has worked very hard on his silhouettes & thought process. Just feel like he has not been directed at the correct path. He is still learning. The development process is very important to a designer whether it's an emerging or an established designer. This is the problem in Sri Lanka. We have so much talent but no guidance.