HSBC Colombo Fashion Week announces New season with special emphasis on Societal and Environmental Wellbeing, Emerging Designer Fund, NextGen Award, Responsible Meter, CFW Accelerate
This edition of HSBC Colombo Fashion Week intensifies its focus on developing a fashion eco-system that has Environmental and Societal wellbeing at its heart by introducing its theme Green Conscious and Earth Sensitive. This season which is planned for 24th to 26th of February expands its scope in the new normal environment by developing a series of programmes that not only supports Emerging Designers but also creates a system that allows designers to have sustainability at the core of their design philosophy.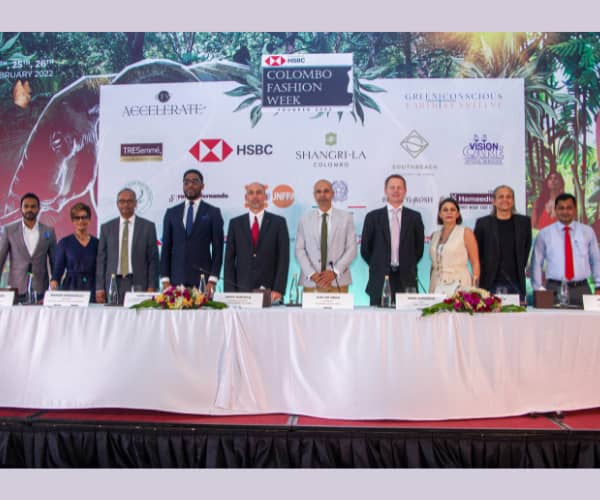 In 2022, CFW, a development organization, enters its 19th year, throughout this time emerging designer programme has remained a key initiative of CFW. This year it extends this programme further by announcing the HSBC Fashion Fund for high potential designers who showcase at Colombo Fashion Week. This fund focuses on supporting designers who need financial assistance to move ahead in these challenging times. The HSBC Emerging Designer Fashion Fund will identify five high-potential young designers through a panel. The names will be announced after evaluation at the end of February 2022.
This is HSBC's 15th year as the title partner of Colombo Fashion Week and during that time this partnership has seen the fashion industry of Sri Lanka expand into an eco-system that encourages new generations to come into the design industry. To celebrate this milestone, in addition to the HSBC Fashion Fund, HSBC also announces its second collaboration The Responsible Meter which creates a pathway for designers to start a sustainable supply chain.
The Chief Executive Officer for HSBC Sri Lanka and the Maldives, Mark Surgenor stated "HSBC is delighted to be completing its 15th year of support for this most sought after showcase of Fashion, Design, and creativity in Sri Lanka. Celebrating our 130th year in Sri Lanka as the leading international Bank, we are delighted through our partnership with CFW to be able to continue to support the opening of a world of opportunity for our clients, designers and the Fashion industry in Sri Lanka"
Responsible Meter is a one of its kind garment tool that evaluates the impact of a designer's supply chain on Environmental and Societal wellbeing. This scoring is to guide designers and to make consumers aware of their purchases.
Shangri-La Hotel Colombo, the official Host hotel, has also yet again partnered with CFW this season. This partnership has strengthened over the years and share similar values on the responsibility towards the environment.
Speaking on the partnership, Mr. Herve Duboscq the General Manager of Shangri La Hotel Colombo said, "As we partner with HSBC Colombo Fashion Week for the fifth consecutive year, we are consistently inspired by the values and evolving aesthetics embraced by the event, including this year's theme – 'Green Conscious and Earth Sensitive,' that emphasizes mitigating the impact on Sri Lanka's diverse wildlife and natural landscapes,' said Herve Duboscq, General Manager, Shangri-La Colombo, and One Galle Face. 'Reflecting our own aim to create colourful moments of joy for our guests in a sustainable manner, we're also enthusiastic that this year's edition of CFW will provide a rich showcase for the work of many talented designers, whilst bringing salient focus to the meaningful ideals embodied by the event.
This season is the second year that UNFPA partners with CFW to bring attention to sexual and gender-based exploitation of women. The apparel and the fashion industry boasts of healthy women participation in its supply chain making them important stakeholders. This aspect of societal wellbeing plays an important role in arresting this exploitation. Designer Amilani Perera integrates this aspect in her collection to be shown.
WNPS (Wildlife and Nature Protection Society) partners with CFW to highlight Environmental issues that need attention, the month of February is called the month of Wetlands as these important ecosystems need attention and preservation. Established in 1894, WNPS is the third oldest conservation society in the world and the largest and most active in Sri Lanka.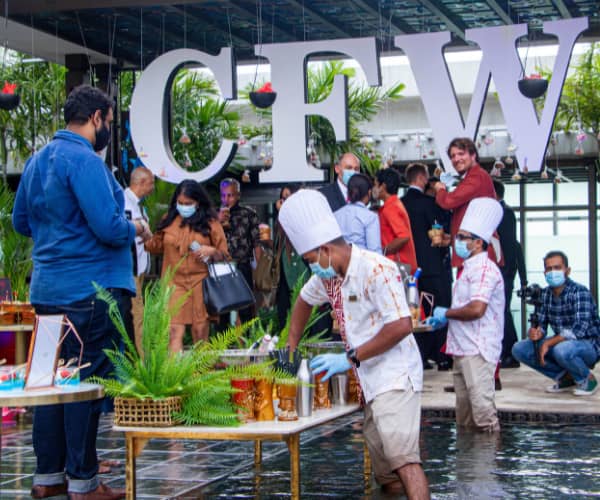 This season also sees the introduction of the Italy Award by The Embassy of Italy for a talented young designer. The award also includes a financial reward and a scholarship to study fashion at a prominent design institute in Milan.
At this edition, there will be important Sri Lankan designers showcasing, like Charini Suriyage, Dimuthu Sahabandu, Sonali Dharmawardena, Amilani Perera, Fouzul Hameed, Indi Yapa Abeywardena, Asanka De Mel, Dinushi Pamunuwa, Kamil Hewavitharana, Achala Leekoh, Himashi Wijeweera, Divya Jayawickrama, Ayesh Wickramaratne, Nilusha Maddumage. In total there will be 23 Sri Lankan designers showcasing.
This year after a gap of two years, CFW invites three prominent South Asian designers to show at HSBC Colombo Fashion Week. The famous Pakistani designer Rizwan Beyg, Woolmark Ward winner Suket Dhir and RimZim Dadu from India will be part of the line-up. These designers are also part of the knowledge-sharing programme with Sri Lankan designers.
For the first time CFW partners with South Beach Weligama a designed-based development that finds synergy with CFW on pillars of sustainability, creative lifestyle, and trends.
The Hair Looks for each day will be presented by Tressemme, the official haircare partner, an expert brand that also partners New York fashion Week.
Vision Care is the Official Eyewear Partner for Colombo Fashion Week and has been so for the last five years. In its role as the leading eye care brand in the country with over 55 branches located islandwide, Vision Care is unwavering in its commitment to driving the sector to achieve greater heights.
Another first partnership with CFW, the official Makeup partner for the season is Beautybyrosh, an inclusive Australian brand founded by Rosh Kumarasinghe of Sri Lankan origin. The brand is cruelty-free, vegan, ethical, and sustainable, and works towards creating a more inclusive space in the global beauty community.
Ramani Fernando Salons is Sri Lanka's largest and leading hair & beauty brand, with over 40 years of experience in the industry. Ramani Fernando has been the Official Hair and Make-Up Partner for Colombo Fashion Week since 2003, they continue to support CFW with its growth.
Hameedia continues to extend its longstanding affiliation with CFW and continues providing its unwavering commitment to this year's event too.
Emerging Media, a market leader in location-based indoor and outdoor advertising are the Official Outdoor Digital Media Partner.
Media factory, who commenced business in June 2005 and was an instant game-changer for the industry and has continued to do so, is their official Media partner.
Also joining hands for the first time is Hardtalk, a public relations agency with over 12 years of experience working with both local and international brands.
The Official Radio Partner of this year's event will be TNL Radio.
CFW, a developmental platform started in 2003, in a systematic manner, created formats that demand transformation across the key pillars that would define a fashion industry. CFW's mission is to establish, develop and maintain an efficient fashion eco-system that incubates the best of Sri Lankan fashion design. The various companies of CFW focus on different aspects of fashion, from fashion week platforms, creative events, media, sustainable fashion, education-based programmes, and fashion brands.