ALEAF, a sustainable fashion brand by Alafiya Najmudeen was born out of a desire to create products from earth-friendly materials that were sourced responsibly. Aiming to be a brand that is more than a smattering of buzzwords, ALEAF hopes to embody the ethics they believe in. Founder and CEO Alafiya thus embarked on a journey to "build a brand that creates a space to make guilt-free fashion choices that help the planet and its habitants without compromising on quality, luxury or elegance". Alafiya also hopes to "help uplift communities in Sri Lanka and eventually around the world by creating jobs and donating 30% of its profits to the Foundation of Goodness to uplift and empower underprivileged communities in Sri Lanka".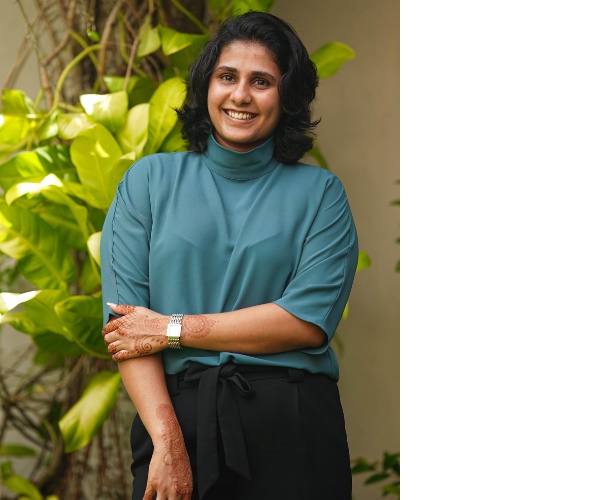 Pictured: Alafiya Najmudeen
"Growing up I watched my father succeed as an entrepreneur and always dreamed about becoming an entrepreneur like him one day" Alafiya shared. "My parents also taught me from a very young age that it was important to be kind and to give back to those in need. This has always stuck with me and one day I wanted to really help make a change for the rural people of my country. Graduating from La Trobe University with a Bachelor of Business majoring in Events and Sports Management, I knew that I wanted to do something in the creative field because I loved making things and organising events. I was always doodling all over my books or brainstorming my next idea." Alafiya spoke to the Daily Mirror Life about her brand, how she's trying to make a difference, her plans for the future, and more.
Q How did the name for the product come about?
The name is combination of 3 elements that are a reflection of the Brand and Founder:
The brand name is a part of my name
It is the first letter of the Arabic alphabet - a representation of my culture
A representation of the materials we use as they are all-natural and made from plants
Q Tell us about the brand. How and why was ALEAF born?
As I lost my job due to COVID 19, I started thinking about what was next for me. A fashion lover and an altruist, I decided to combine two things that I was really passionate about and decided to fulfill my dream of becoming an entrepreneur. As I began reading up on the fashion industry, I realised that I wanted ALEAF to be a part of the change that the industry needed.
I wanted ALEAF to create a happier, cleaner, and fairer world. As I now had my vision in place, I embarked on my journey of finding the materials that would best reflect my brand. Coming from a tropical island, the materials I chose really felt close to home and they also had a more positive impact on the environment and the people who make them. ALEAF is a representation of all of the beauty and adventure that our island stands for. The brand was founded on my desire to start by giving back to those in need in Sri Lanka and hopefully one day I would be able to give back to those in need around the world.
Q How are ALEAF bags made?
Our bags are designed to be timeless, sophisticated, multi-functional, and inclusive. All of our bags are designed as part of a collection and they are for everyone (Women, Men, and Unisex). Each collection is created to tell its story and all of the bags will reflect this story. We choose the colours based on the feeling the collection is supposed to invoke in you. This is why for the first collection EMPOWER, we chose the colours green, navy blue, charcoal, mulberry, and pebble. Each of these colours was a representation of boldness, confidence, and sophistication.
Once the bags have been designed and the materials and trims have been chosen we work with our makers to create a prototype. Once the prototype has been approved we go on to produce our bags. We take great care in making each of these bags as we want our customers to have a bag of exceptional quality that showcases the talents of our artisans.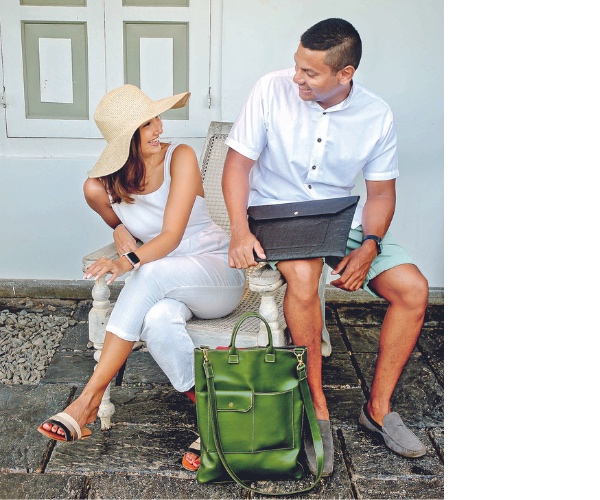 Q What are the materials you're using to create the bags?
Innovative and sustainable bio-based materials called Piñatex and DESSERTO are two of the materials we currently use.
Piñatex is an innovative, natural, and cruelty-free textile made of fibre from the waste leaves of the pineapple plant. These leaves are a by-product of the existing pineapple industry and therefore require no additional resources to produce. It also creates additional income for the farmers as these leaves would otherwise be burned.
DESSERTO is the world's first highly sustainable and environmentally friendly organic material made of Nopal Cactus, also known as the prickly pear. The mature leaves are carefully selected without causing any harm to the plant itself. The leaves are then dried in the sun for three days after which the organic raw material is used as part of the patented formula to create DESSERTO.
Q What are the products/ types of bags currently available?
Our first collection, EMPOWER comprises 4 products:
Amor Laptop Sleeve (Large and Regular)
Amari Pouch
Rayyan Messenger Bag
Aya Slim Tote
These products were inspired as we were transitioning from being at home due to COVID-19 and getting back to what was the new normal. We wanted the products to make the journey fun and convenient. We believe that having the right bag can really make a statement and make life a lot easier because you have everything you need handy.
Q What were the challenges faced when designing and creating these products?
One of the biggest challenges when creating the designs was figuring out how to minimise waste, and make them multi-functional and inclusive.
The biggest challenge in creating these products was that when ALEAF first started we wanted all of the products to be manufactured in Sri Lanka. However, as the situation of the country worsened a lot of the skilled labour which was already extremely hard to find became even harder as people migrated overseas. This has forced us to have to look in a different direction. Additionally, the materials that we use to create our bags are very new and are different from making genuine leather or synthetic leather bags.
Q How are you using ALEAF to uplift communities?
ALEAF promises to donate 30% of all profits annually to the Foundation of Goodness to help uplift and empower rural communities in Sri Lanka by providing them with basic necessities, access to education and employment. I also aim to work with small businesses in Sri Lanka wherever it is possible from packaging to manufacturing.
I am also a mentor of the Women's Empowerment department at the Foundation of Goodness where I work closely with the team to help women who have completed a course or several courses from the Foundation of Goodness transition into employment or start their own business.
Q "Sustainable materials", "slow fashion", "ethical production", "responsible packaging" are often simply lofty buzzwords thrown around by brands. How are you ensuring your brand is embodying everything you say you stand for?
We ensure that we embody everything the brand stands for by being transparent about our operations from start to finish. We want our customers to be able to know what they are buying, who made their products, what goes into the products, how to care for their products to extend their life, and also how they can responsibly recycle their products at the end of its lifecycle.
We choose materials that we believe have a holistic impact on the planet and its people. We use materials that are not only environmentally friendly and cruelty-free but are also durable because we want our products to last long. Whilst the materials we use are not perfect and do still consist of a percentage of Polyurethane (aka PU), most of our materials are partially biodegradable and are made responsibly. The materials use eco-friendly dyes to obtain colours that are not toxic and use minimal water and electricity to produce. Most of these materials are made from waste that would otherwise be burned which would create significant carbon emissions whilst also creating an additional income stream for farmers.
At ALEAF, we aim to reduce waste and keep true to our promise of a slow fashion brand by producing only 10 pieces per colour of each product. If we feel that there is a demand for our products we then make an additional 5-10 pieces in total still leaving the number of products made below 50.
We are all about uplifting and empowering our people and therefore we ensure that all of our makers are fairly compensated for their work. We only work with small teams because this allows us the ability to foster close relationships. We visit our makers to ensure that they work in safe conditions, are treated fairly, and invest in tools and equipment that they may need to carry out their work safely and efficiently.
We accept that we are not perfect and with every new day comes an opportunity to learn and get better. We will continue to keep learning and keep improving our practices to create a cleaner and fairer world.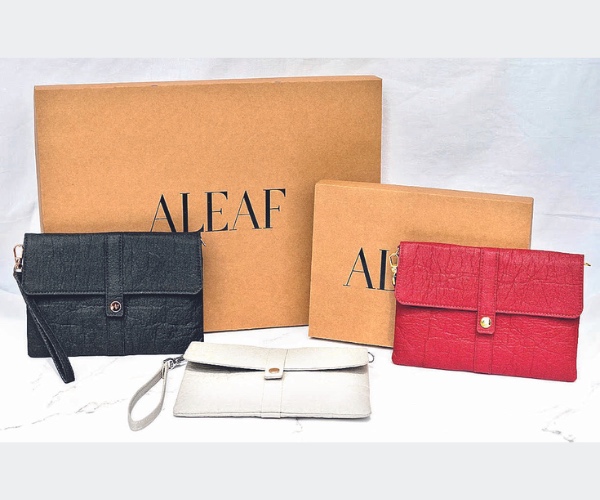 Q What's next for the brand?
As we re-launch our brand after a 3-month hiatus we hope to come back stronger and better. We will be re-launching with our first collection EMPOWER and are currently working on our second collection and hope to share it with the world in July/August. This collection will be called Liberty as it aims to foster a feeling of being free. We are relocating and setting up in Melbourne, Australia where we really hope that this will help us make a bigger impact.
Q Are your products only available via your website?
No, our products are available online and at The Design Collective in Sri Lanka. However, we only have a selected few designs available at The Design Collective. All customised purchases are only available on our website.
Pix Courtesy: ALEAF