The Green Cabin Pastry Shop was a family name since 1884. They have served many local families and patrons alike. According to one of the CEO's and family member Revantha Devasurendra, "having a meal at Green Cabin is like having a meal at your grandmother's place". He is 100% correct because to many Sri Lankans, Green Cabin was home away from home. Some of the staff have been around for the last 40+ years. Today, they have opened their re-done restaurant, located at No. 7 Visaka Road in Bambalapitiya. This is just past the old House of Fashion on Duplication Road.
Ambience
They have done a phenomenal job renovating an old home. In fact, the home belongs to a loyal customer. Their whole concept was adding a modern twist whilst also retaining the charm and nostalgia of the previous restaurant on Galle Road. It's extremely open and airy, having lively mosaic tables and modern rattan chandeliers. It's a great place to bring foreign guests, have family functions or just to have a yummy local meal.
Drinks
I had the pineapple juice, it tasted just like a virgin Pina Colada as they had added some Coconut cream.
Food
There was a wide array of dishes we got to try. To start off, I had the bites. First on that list was the Isso Wadei. I enjoyed this because generally the wadey itself is quite dry. However, they had done a great job with keeping the prawns juicy and the whole wadei had a great mouth feel. Next was the Hot Butter Cuttlefish, this was not too spicy but it had a good amount of spice to it. It was also on the sweeter side which I quite enjoyed. The Samosas were next, this was a pretty basic vegetable samosa filled with potato and other vegertables and was not bad but wasn't amazing either.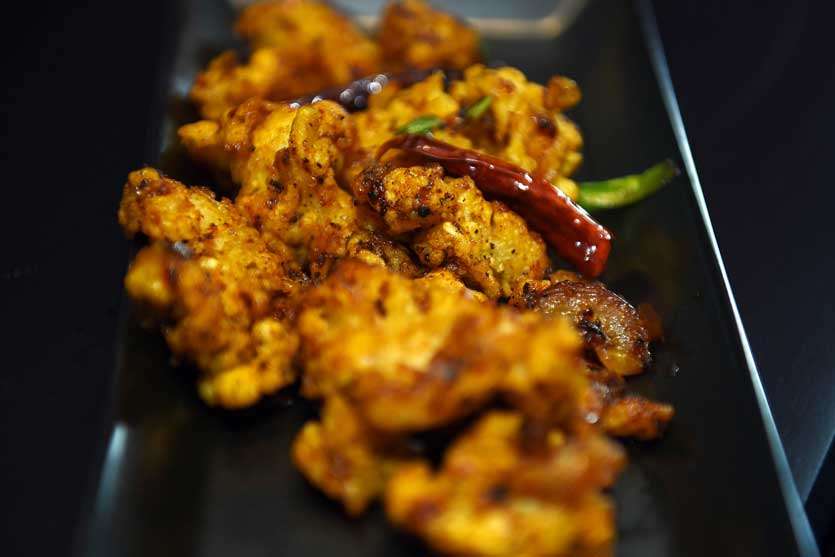 For the Mains we had the Lamprais, this was supposedly the star of Green Cabin back in the day. However, to my great displeasure I found it a tad bit dry and the cummin flavour was a bit overpowering. The Hoppers were next. They had done a very creative job with the egg hoppers, as they were made into a flower shape. We were told that is was a skill that the Chefs had learned through practice. I Loved the meat curries, they had done an interesting spin on the boring and plain chicken, beef and mutton curries. To start was Achchi's Chicken. This was their version of the chicken Palandi. A Devilled chicken with egg and tomato. Next was the Jaggery Beef. This was so good! It wasn't too sweet but to a usual beef curry it added a fun and interesting twist. The mutton curry in itself was great as they didn't have to do much since the mutton was packed with flavour. The Crab Curry was something I wasn't able to fully enjoy, as you have to get messy to really enjoy it. However the curry was a lovely yellow curry and would go perfectly with hot roast paan. Next was the Kottu. The Kottu itself was very tasty and had great flavours, but what made it stand out from the rest was the fact that it had either a massive lagoon Prawn or a full Lobster tail on it. From what they said they weren't overly priced either and is a must try. Finally we had Oysters with a burned hollandaise sauce. Okay so for those of you reading this and thinking that oysters are not part of Sri Lankan cuisine, you're wrong! Back in the day, along the Negombo coast many fishermen would catch fresh oysters and lobsters and cook them as a bite. If you love oysters, then this is the place for you.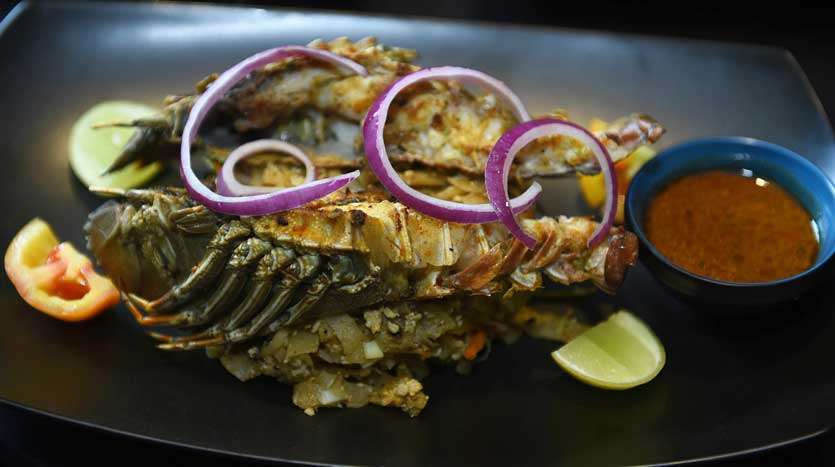 Finally, to finish off this amazing meal we had dessert. I had the marshmallow pudding with butterscotch sauce. To be very honest it's an acquired taste, and when I mean acquired I mean you have to adore sweet stuff. It was extremely sweet even for me. Next was the Chocolate Mousse Cake, this was in my books a winner. The mousse was light and the cake was a thin moist layer that held it all together.
Conclusion
It was an exquisite dining experience which I would most certainly want to re-live. If you love local food and especially affordable seafood, then this is definitely the place for you.
Recommendations
I recommend all the bites, the Lobster or Prawn Kottu is a must try, the Jaggery beef and the Achchi's Chicken are great side dishes and of course the Chocolate mousse cake.
Pics Nisal Baduge