What - Saffron and Blue
Where - Sri Gnanawimala Mawatha, Kosgoda, Sri Lanka
Who - Ranil de Silva
On WTF this week, we wanted to just drive away from the gloom of Colombo and go enjoy a cozy setting, and we found just the right place. Saffron and Blue is such a calm refreshing spot with a homely touch and returning back to Colombo was a sad decision to make.
It's run by the famous advertising legend Ranil de Silva who loves his food and has good taste when it comes to making a place look absolutely breathtaking. I sat down with him for a small chat on what makes Saffron & Blue so comfy.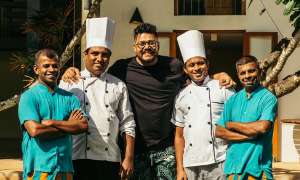 What made you start saffron and blue?
I have always wanted to have a home by the ocean. The sound of the waves soothes me and is the best relaxant. I actually built a much smaller scale home which was taken away by the tsunami. So, Saffron and Blue 2 was actually a much-contemplated decision. After building 71 homes for the village around my property under the Leo Hope initiative I thought I needed to build my home in the same location. Since I live in an apartment, going to Saffron and Blue which is spacious and allows me to enjoy the diversity of the villa makes this home of mine very special. It is a place where I unwind, relax, and spend quality time with friends and family. Back in the day, it gave me that much-needed break from the stressful days in my professional life, today it is my reward. Saffron and Blue gives me a great sense of satisfaction, accomplishment, and much joy. In fact when I walk-in through the doors of the villa I feel a sense of calm, tranquility, and peace. It makes me feel very good about life.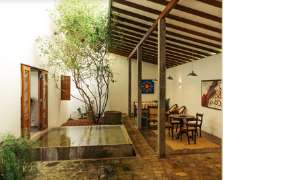 Tell me about the concept at the hotel?
I would like to refer to it as a villa because it is definitely not a hotel, we only rent the full villa and not the individual rooms. It is my home and a reflection of my lifestyle. It has the things that I love from the artwork and furniture to the crockery, table linen, and the other details. I chose to share this space of mine with like-minded people who would want to unwind and enjoy life in the comfort and style of Saffron and Blue. People who visit the villa only pay for the rental of the villa, everything else is at costs. So, they could bring their own groceries or ask the head houseboy to purchase it for them and reimburse the costs. Even the alcohol can be brought by the guests and there is no additional charge for it. The villa has 4 team members. There is a chef and an assistant who will prepare the meals exactly how a guest would like to have it. He is very talented and can make excellent Sri Lankan and Asian cuisine as well as western food. When I read the guest book I am happy to see very positive comments about the food. People are also very positive about the attentive service. I have 2 brothers who attend to guests and they have been trained to be very attentive and to go that extra mile to ensure a guest is well looked after. I have told them that when someone comes to the villa, they must not have to do anything. They must anticipate their needs and tend to them from their arrival until their departure. Every guest, which includes myself, wants to relax, unwind, and take life at an easy pace. A majority of the team at Saffron and Blue has been with me for quite some time, so they know how to pay attention to the details and to ensure guest comfort, which is paramount.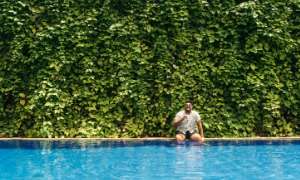 The design is very interesting, how was the planning process?
One day when I was in Thailand at one of my favourite places – Vertigo, at the Banyan Tree hotel, I scribbled some notes on the back of a bill about what the new Saffron and Blue should be. After which I engaged Channa Daswatte who is a friend and a professional whom I greatly respect. When I worked at Leo Burnett many friends engaged the services of the agency and trusted me to do what was best for them. When a client asked me to do my best and gave me full control of the assignment I took personal pride in doing it right and achieving the best possible result. When a client starts to give dictates then it doesn't quite work out. So, I applied the same principle. I hired the best architect and a person whose aesthetic senses I respected. I permitted him to do his best, so I gave him complete control. In fact, I only reviewed the floor plan and made a few comments about it. The rest was up to Channa. I was thrilled with the outcome. On site visits, I would admire the villa and will be reminded by Channa that I should not be admiring my own home. The interiors were primarily done by me. I directed my creative energies in a different direction by creating the various spaces within the villa. However, I did discuss it with Channa and got his blessings for my ideas for the spaces which I created. I always obtained his help, counsel, and input.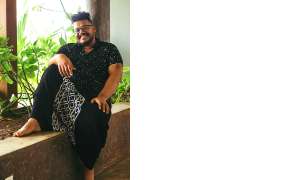 How do you position saffron and blue - Would you say is more a family place, or a getaway for a couple?
It is a space for families and friends to spend some downtime. I think it is about social interactions, relaxation, and quality time. It is not about a couple as I don't think it is about romance but about relaxation and about recharging your batteries. Saffron and Blue is all about spending some quality downtime. One element of my brief to Chana was that 10 people should have the ability to be at the villa and enjoy their own personal space without being disturbed or engaged with one another. There, of course, are spaces for people to interact with each other and enjoy one another's company and to socially engage but it also gives you spaces to be on your own to lose yourself in your favourite book, contemplate life, and just lose yourself.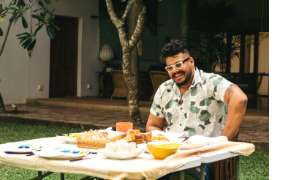 How has it been with COVID?
That's not a good question. The villa has had a regular clientele throughout the year with guests from diverse parts of the world. The villa is marketed by a Singapore based company – Elite Heavens. We had bookings in March, April, May, and so on but each and every booking for the rest of the year got cancelled. It was only when my finance guy sent me the latest accounts that I realized the cost burden and its impact on my own finances. When you have a property located close to the ocean, with a swimming pool and several other features you need to maintain it. So, the costs do add up. This is the reason why with concurrence from Elite Heaves that I chose to market the villa to Sri Lankans. I have made it affordable but have maintained a slight premium to ensure we attract the right guests. So far, the bookings have been very encouraging. I am pleased with the demand but will be happier to have some weekday bookings as well. I have decided to extend a discount for bookings during the week. The revenue we are able to earn is helping me to meet some of the operating costs and staff remuneration. It also helps to keep the villa alive as it is being enjoyed by diverse people. The team also enjoys having guests at the villa.
Tell me about the rooms - each room has a concept.
Each room is created according to a colour theme. So, the master bedroom is themed champagne. I guess that's why it is the room that I choose to occupy. Then there are 2 large rooms in green and blue. The green room has its own jacuzzi with a partial view of the ocean. The blue room is on the ground floor and has a loft with an interesting staircase. The red room is a smaller room and will be good for children with the parents occupying the green room to be in close proximity to the children. To bring these colour themes alive the linen, the art, and the other little details have been chosen according to the colour theme of each room. I chose vibrant colours because Saffron and Blue is about being vibrant, happy, and optimistic. I personally love colour. It gives a positive energy.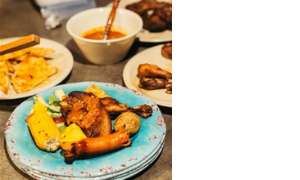 The food is very personal - what is available on the menu and how can one plan it?
As I keep saying, I hail from a family known for food as my late grandfather was a pioneer in the food business and is well known for Green Cabin and Pagoda which were well-reputed. So, food has been an essential part of my life. My mother was also a great cook and gave us the best meals throughout our life. She used to create interesting meals for us in those days when the availability of ingredients was limited. I recollect her telling the staff at our home that the good cutlery and crockery in the house must be used often and not just when we have guests. We always had the table well laid and the food was well presented for our family meals each and every day. My grandfather and mother had a big influence on my life. What I learned from them is what is practiced at Saffron and Blue. I am not a cook although I did dabble with some cooking during the Carona crisis. However, I do know good food and I can curate a nice menu for any meal. Therefore food is a very important aspect of Saffron and Blue. Koluu is a dear friend of mine. He has also helped me to create signature cuisine at Saffron and Blue. He has trained the chef to make some great food. When I view the guest book, I have noticed that the overriding remarks are about the great food they had at the villa followed by the attentive service.
What made you name it Saffron and Blue?
I searched for a suitable name and a friend suggested several options. Saffron and Blue had a beautiful meaning and it was an idea which can be incorporated into the interiors of the home as well as to capture the warmth of the villa and its location. It represents the ocean and skies as well as the beach and the sunsets. It can also mean relaxation as well as being alive and active, it represents the vibrant food and candle lights as well as the calm it adds to life. It actually captures the diverse moods of the villa and the people who occupy it. It is about being warm as well as cool. So the branding goes beyond just a name and captures the spirit of the villa, the people who come there, and the location. It possibly represents me as well.
The team who serve you at the villa are so kind and simple, they have been with Ranil for more than 20 years and they know how to make you feel like it's your place - the food is special you can always pick what you like and they make the best passion fruit mousse