Travel as we know it has changed. The contemporary holidaymaker travels with a strong sense of purpose. He wants his travel experience to leave him transformed - physically, mentally and emotionally. He wants to discover and be submerged in local cultures, be closer to nature, spend time in self-reflection and most of all, to gather authentic and real experiences that he can learn and grow from.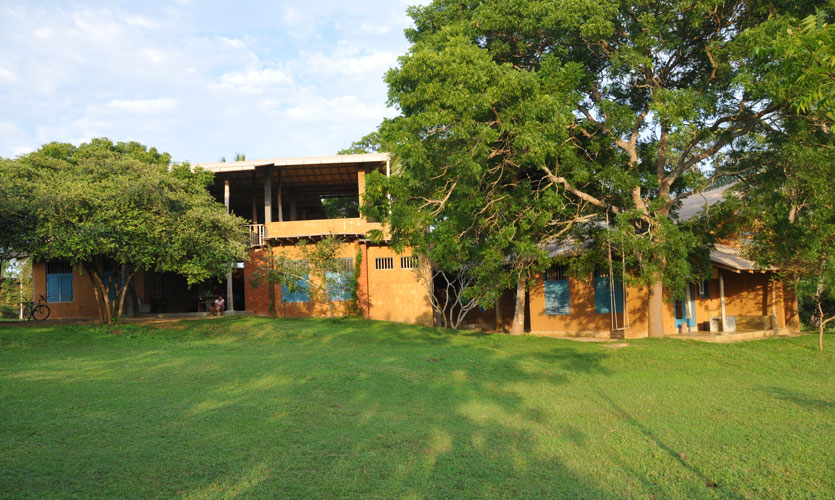 That is what makes the Wellness Retreat at Kahandamodara so very special. Yet another intrepid travel destination offered by Back of Beyond, one of Sri Lanka's truly authentic eco-lodges, the Kahandamodara Wellness Retreat is a personal favourite of founder Yohan, who has created this dream destination with the modern day traveller in mind.
At the end of the road less travelled
Travelling 20 minutes from Tangalle town, passing a stretch of paddy fields on either side of the road, you arrive at the turn-off to Kahandamodara road leading down to the ocean. Travelling for another 10 minutes, you will approach a large verdant estate where a gnarled old Siyambala tree spreads its leafy shade over a rustic double story bungalow with high ceilings and open verandas, and your senses are immediately flooded with a feeling of peace and tranquillity.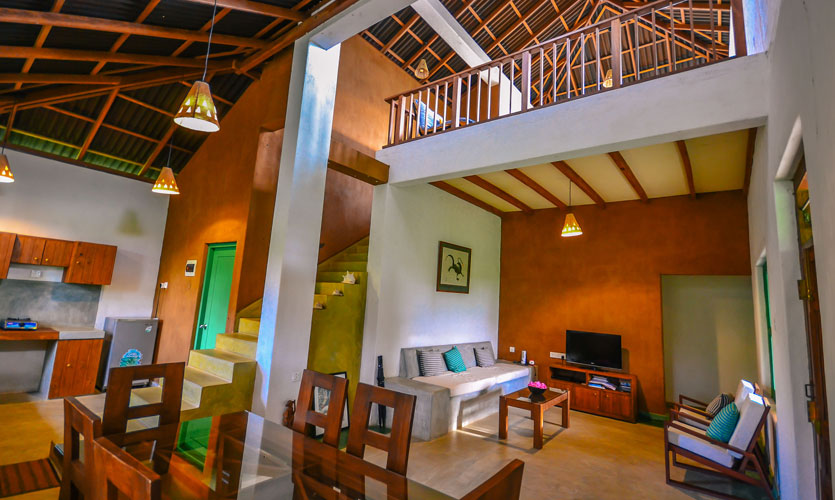 Lush with indigenous vegetation including Weera, Palu, Malittan, Burutha and Kaluwara, Back of Beyond's Wellness Retreat sits on a 14-acre land hugging the Urubokka Oya. Yohan has taken on the challenge of creating a medicinal garden on the property, planting trees such as Aralu, Bulu, Nelli as well as Sudu and Rath Handun which are some of the most prolific medicinal plants found in Ayurveda medicine. The sprawling garden also includes many varieties of flowering trees and host plants, which have been carefully curated to attract local butterflies and bees. As we all know, the majority of our food is produced with the help of these often unappreciated insects and Back of Beyond has taken it upon themselves to create butterfly gardens across all their properties to help protect these tiny creatures by creating a safe haven for them. Most of the fresh produce offered at meal times comes from the same grounds where there is also an orchard with more than 40 species of indigenous fruit trees including rarer delights such as Gal Siyambala, Ugurassa, Sapodilla and Lovi.
The land was originally called 'Monaratenna' after the flock of peacocks seen daily strutting their stuff across the emerald green meadows. This is a paradise for birders with as many as 50 local bird species on location, including the Blue-faced Malkoha, Malabar Pied Hornbill, White Bellied Sea Eagle and the Brahminy Kite.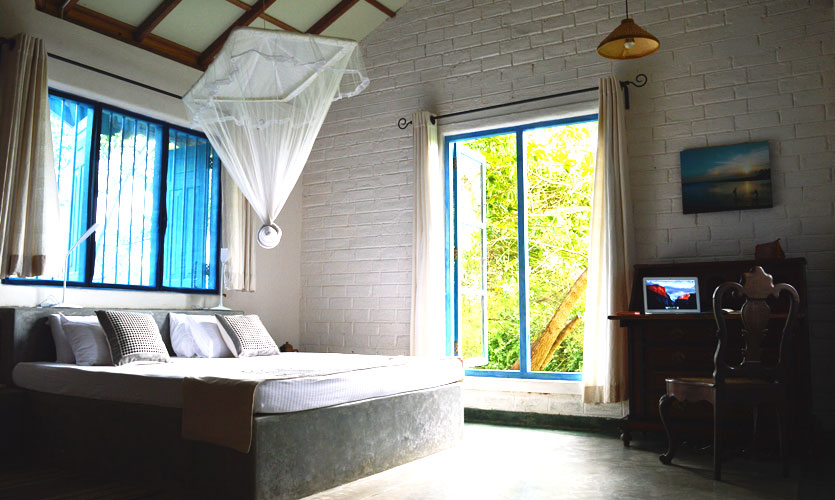 The green pastures gently roll down to the Urubokka Oya which winds its way down to the sea past the property and the glistening white sands of Kahandamodara beach is only a short walk away. It's truly a heaven for nature lovers.
Paired back luxury and understated elegance
The property offers a variety of accommodation options including a high ceilinged double story bungalow, two spacious villas, two cabanas and a cosy cottage. The property can be booked as a whole or by individual unit; you can also simply book a single room if you wish.
Back of Beyond's trademark minimalist style extends to all living spaces. The paired-back approach to decor truly soothes the senses and the well-thought out floor plans allow in plenty of natural light and clean air to keep you feeling energised. The bedding is ultra-comfortable and most guests have left reviews to say that it's the best sleep they have ever had! Bathrooms are spacious and understated with the trademark Back of Beyond open-to-the-sky rain-showers, offering their guests a bathroom experience they will never forget! All bungalows, villas and cottages offer shady verandas and comfortable outdoor sitting spaces where one can simply sit and gaze out into the surrounding verdant gardens or enjoy long conversations with their loved ones.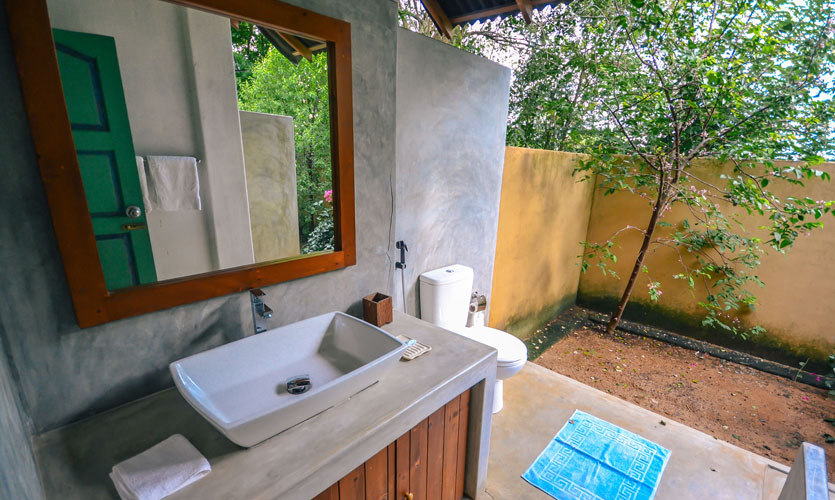 What makes this place truly outstanding in terms of its commitment to the environment is that it's completely run on solar power. In fact, they generate enough to export into the main grid.
Something to do for everyone
Kahandamodara Wellness Retreat offers plenty of activities for every age group - from active youngsters to older guests seeking some quiet solitude.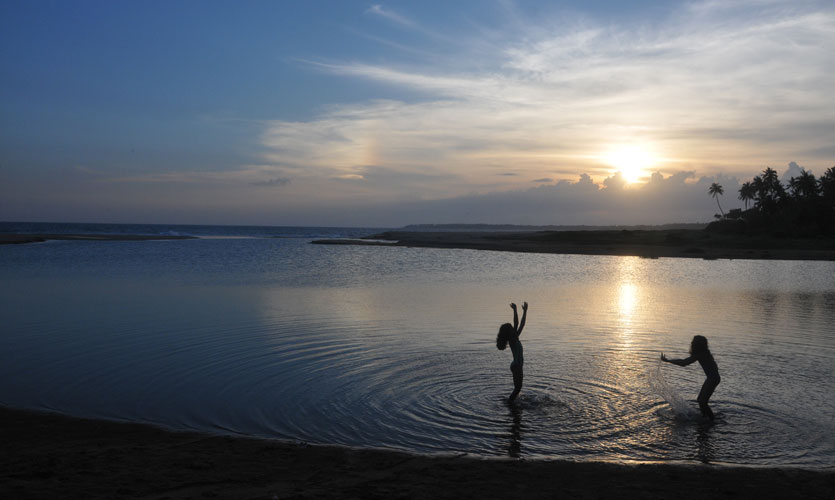 The property includes an airy Yoga Shala overlooking the pool for individual or group practice, an Ayurveda Centre for massages and treatments and especially designed leafy pathways for contemplative meditation. If you want to unwind further, simply walk around the sprawling gardens and find a shady spot under a tree where you can lay on the grass, close your eyes, enjoy the soft breeze whilst listening to the bird calls and let all your stresses simply melt away.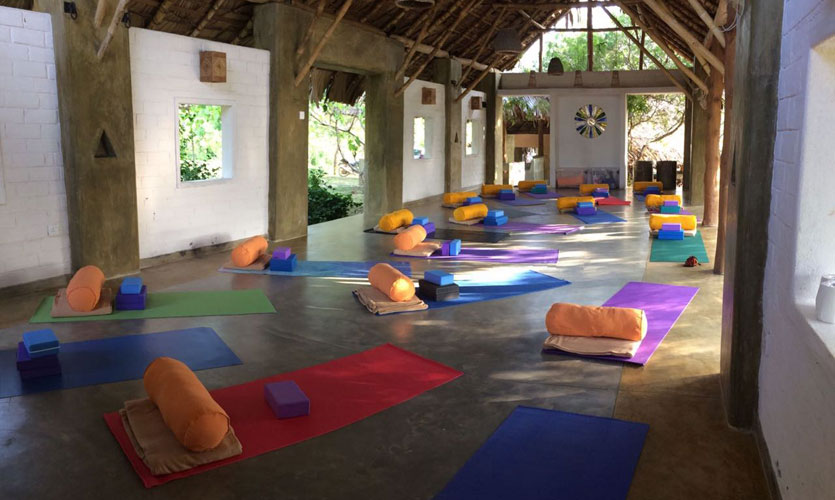 For those looking for more active pursuits the adjoining lagoon and estuary offer excellent paddle boarding, kayaking and boating opportunities. And Back of Beyond's resident dogs Zuri and Zulu will be happy to join you on the water if you're looking for some company! The property also comes equipped with a pool where you can enjoy swimming at any time of the day including late at night, as they don't believe in curfews here.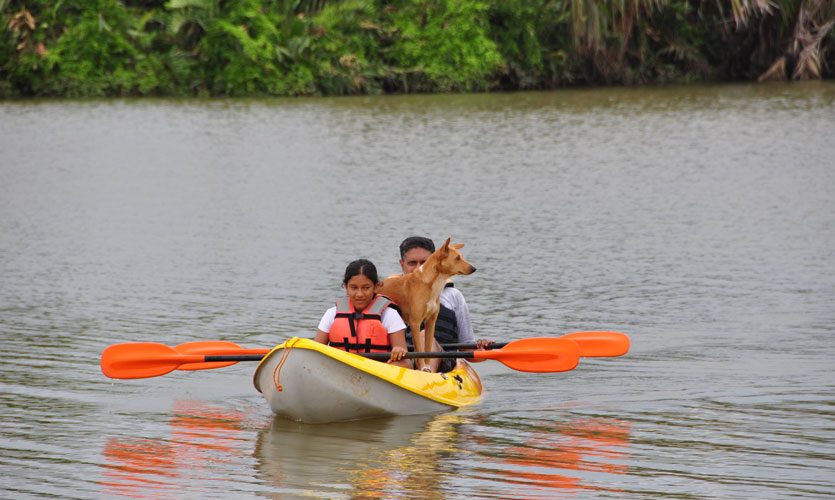 The Kahandamodara beach, which is only a short stroll away, is one of the most picturesque and quiet beaches on this strip. Guests relish their daily sunrise and sunset walks down to the beach to the lovely place where the estuary forms a constantly changing pool which makes for a lovely sea bath. On full moon nights, if you're lucky you might encounter sea turtles on their way to lay their eggs on the soft white sands.
Kahandamodara is a short drive away from some of the best national parks on the island including Yala, Boondala and Udawalawe. So if you're a wildlife enthusiast and your holiday is not complete until you've spotted a wild elephant or leopard, then this is a great place for a holiday. For the serious birder a sunrise boat ride at Kalametiya Bird Sanctuary will leave you spellbound. You can also visit the awe-inspiring and lesser known Ussangoda Reserve, a vast expanse somewhat akin to Horton Plains but covered in rich brick red clay, which is steeped in legend that goes back to the pre-historic time of King Ravana.
If history and archaeology piques your interest, a number of ancient Buddhist temples such as Rambe Viharaya, Veheragodalle, Wanduruppa Theraputtabhya Vihara, Kahandagala Viharaya, Mulkirigala Viharaya are all a short drive away.
For the more dedicated explorer, a 1 ½'s drive will bring you to Mahagama the capital of the ancient kingdom as well as the Akurugoda site where coins from pre-Christian era were found, Yatala with its moated stupa and tiny museum with an excellent collection of statues, and the central site – Tissamaharamaya overlooking the massive Tissa tank.
Locally grown food to tantalise the taste buds
Delicious food definitely is the cherry on top of a perfect vacation. Nelson, the resident cook is a wizard in the kitchen and an expert at creating a wide variety of mouthwatering Sri Lankan and western dishes. The flavours of the southern coast dominates the local cuisine, and there is a distinct 'Sri Lankan touch' to the western dishes. In addition to the succulent local vegetables and fruits, the carefully tended home garden offers a variety of fresh green leaves including Akkapana, Karan Koku, Asamodagam, Tebu and the giant Agunakola creeper which grows wild on the restaurant roof, that are presented at meal times in all forms of delightful salads and mallungs. If you see Nelson wandering around with a basket, you're welcome to join him in picking and preparing your own meal! Seafood lovers will rejoice at the fresh catch which often comes directly from the fishing boats that draw up on the beach. Guests can join the staff at dawn to peer down at the nets and pick their fish fresh each morning.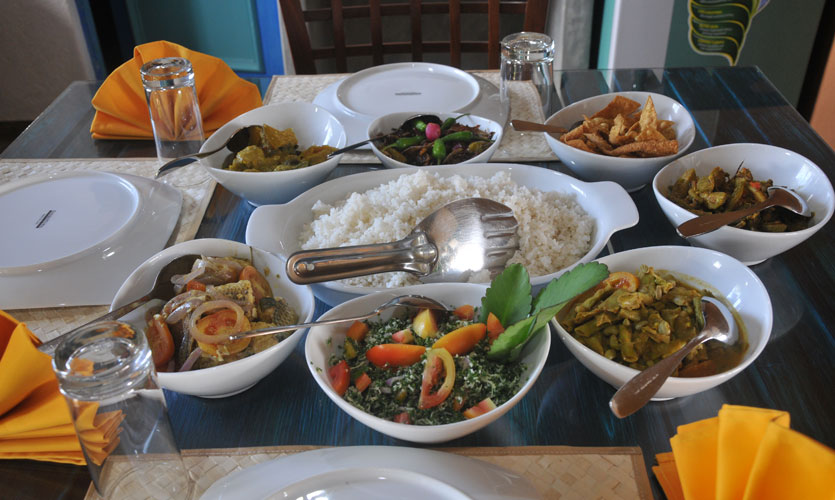 As Sri Lankans we are truly blessed on this island in terms of holiday destinations. If you enjoy travelling off the beaten path, exploring quieter parts of the island, communing with nature and relishing authentic travel experiences, then you really must experience Back of Beyond's Wellness Retreat in Kahandamodara. It is truly a labour of love, created especially for the discerning traveller who wishes to unplug from the world and spend time enriching his soul.