Being a big beach lover myself, we head down to the south coast quite often. Apart from enjoying our time in the water, we manage to engage in many touristy activities as well. This includes boat rides, overdosing on sea food and maybe a stop at a turtle hatchery on the way. Never in a million years did I think that I will find myself at a snake farm in Weligama, up close and facing one of my biggest fears!
The farm is situated down the Weligama‒Telijjawila road from Weligama. You have to travel approximately 8 km to your destination down this road. You can ask anyone there for directions to the 'snake place'.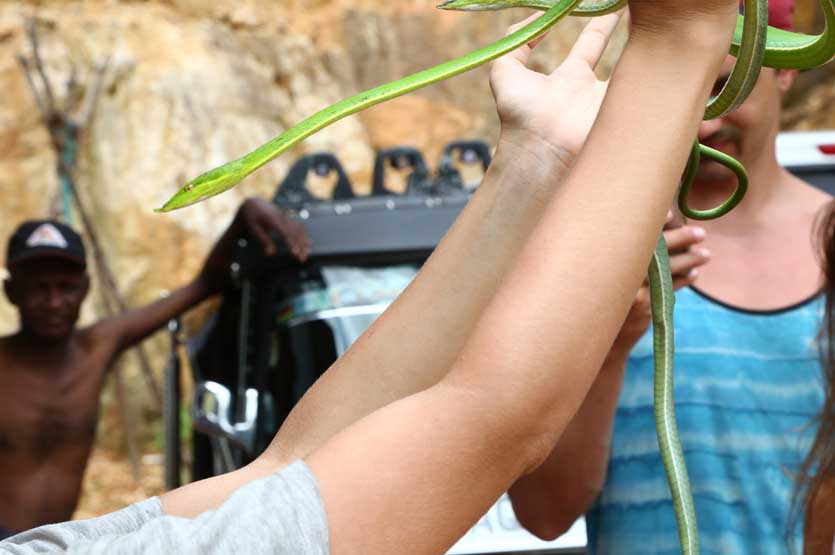 The locals are pretty used to people coming there to see this one of a kind snake farm. When we found the place on Trip Advisor, we knew we had to visit this farm full of snakes. We even had a few concerns as to whether they were used for their skin! All that was put to rest when we found our way to this small place run by a family.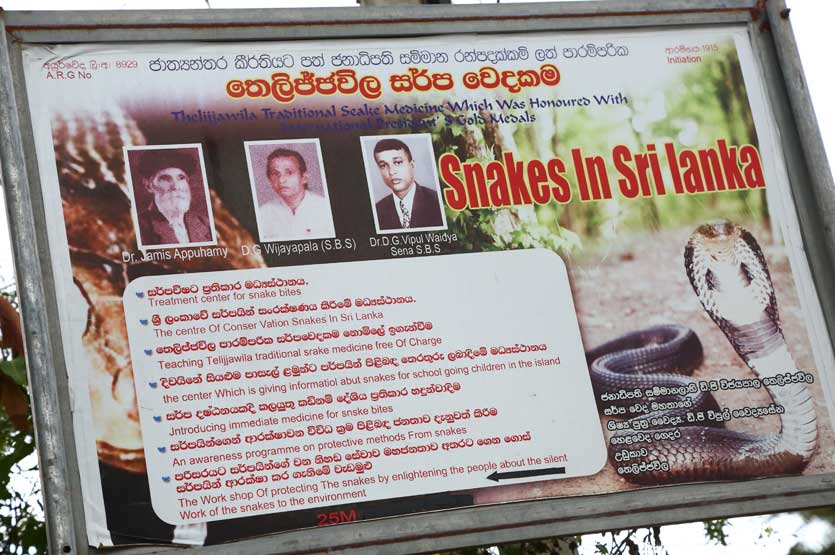 D.G Vipul Waidyasena is a third generation Ayurvedic doctor who specialises in treating snake bites. I have never seen anyone more committed to his work. He has even lost half a finger to these venomous creatures and has experienced more than 30 snake bites over the years. So we had to find out why he chose this profession and he gladly told us his story.

D.G Vipul Waidyasena with the cobra

The practice which is now overa 100 years old, was started in 1915 by his grandfather Jamis Appuhamy, who experimented with local herbs to find cures for serpent bites. It was then passed onto his father D.G Wijayapala. Currently Vipul is teaching his son to take over after him.
When asked whether he was ever afraid of snakes and he said,
"When you grow up with them and learn their patterns, it is impossible to be afraid of them. They too are fighting for their life just like you and I. We also believe that they play an important role in the eco system. It is unnecessary for us to kill most of them because they are not deadly."
Apart from treating serpent bites free of charge, they also provide many other services. He teaches this knowledge and practice to anyone who is willing to learn. He also conducts seminars and sessions at schools and public forums for children and adults.
He says that once we learn to identify the venomous from the harmless we can avoid killing them. This is the reason why he keeps one of every kind in his conservatory.
He takes each one and explains their kind and what you have to do as immediate treatment if they bite you. He does all of this for free of charge for locals. The reason for this, he says, is those who encounter snakes are mostly poor farmers and villagers. The service this man offers to his community is truly tremendous and praise worthy.
He earns his living from conducting sessions for tourists. While introducing the snakes, he even allows you to hold the ones who are not poisonous. Now this was something I battled with all the way there; am I going to hold one?! Ultimately I managed to drape the biggest one there all the while screaming (thank god snakes don't have ears!) simply because I was grossed out by the smaller ones who crawl and entwine themselves around your body. I found all of them to be extremely beautiful.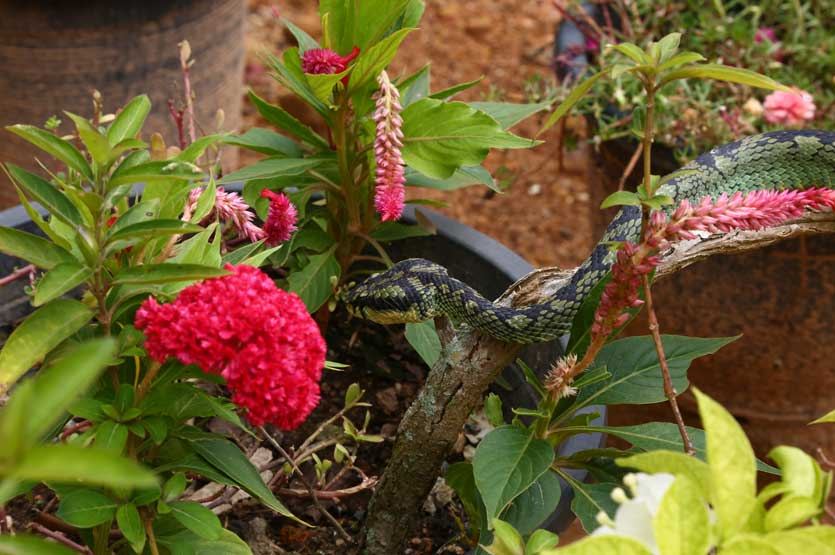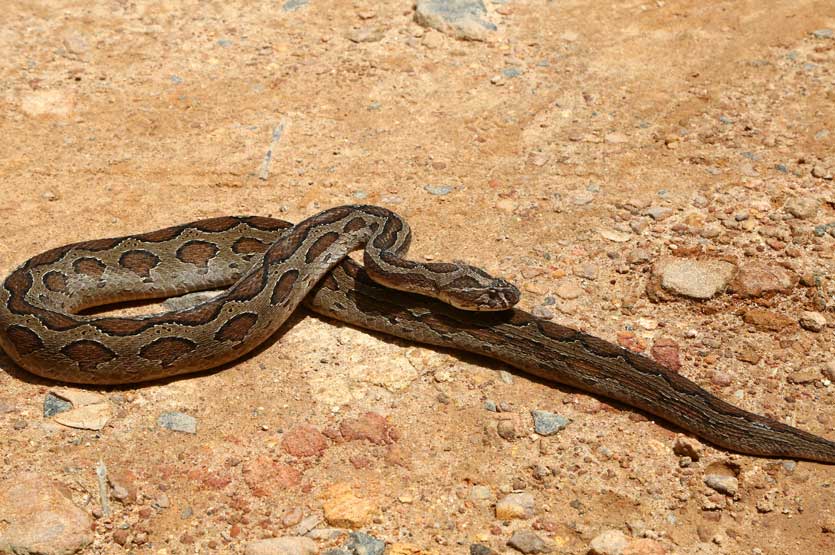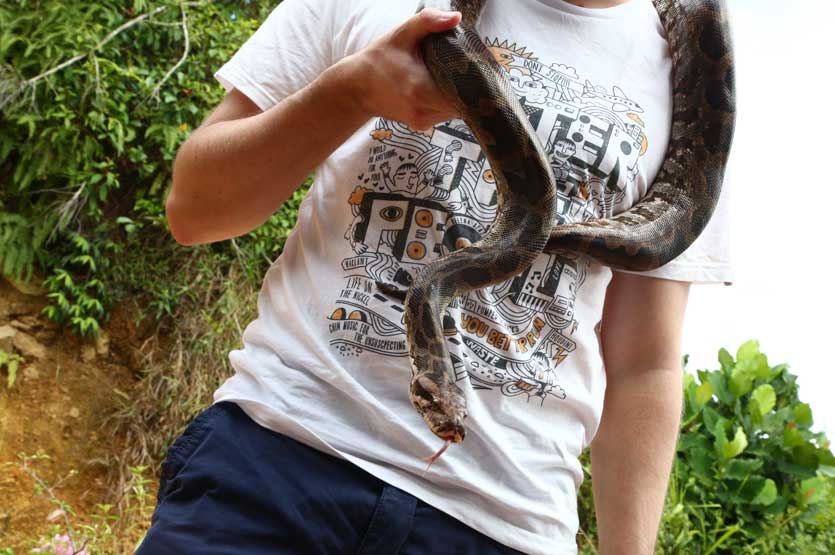 The highlight of our visit was when we were able to see an angry cobra hissing away up close. It is amazing how Vipul controls this magnificent beast with his foot. If you are brave enough, he lets you pose behind the cobra for a picture.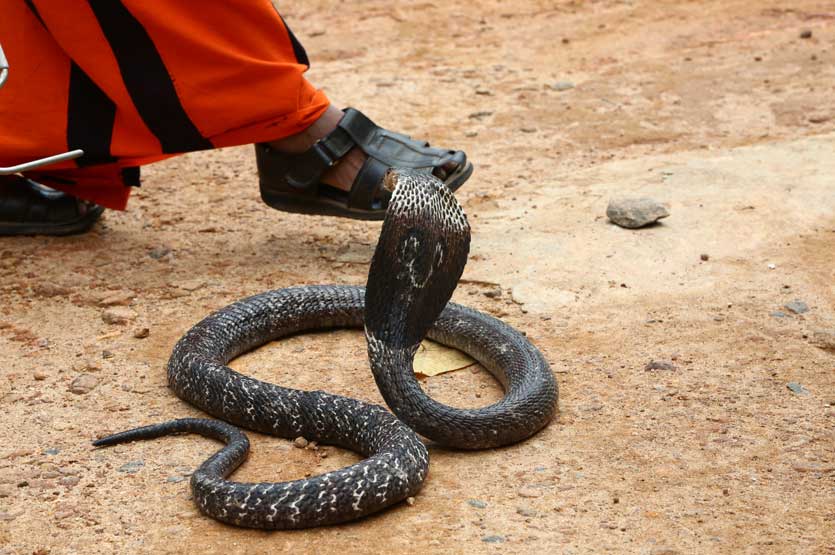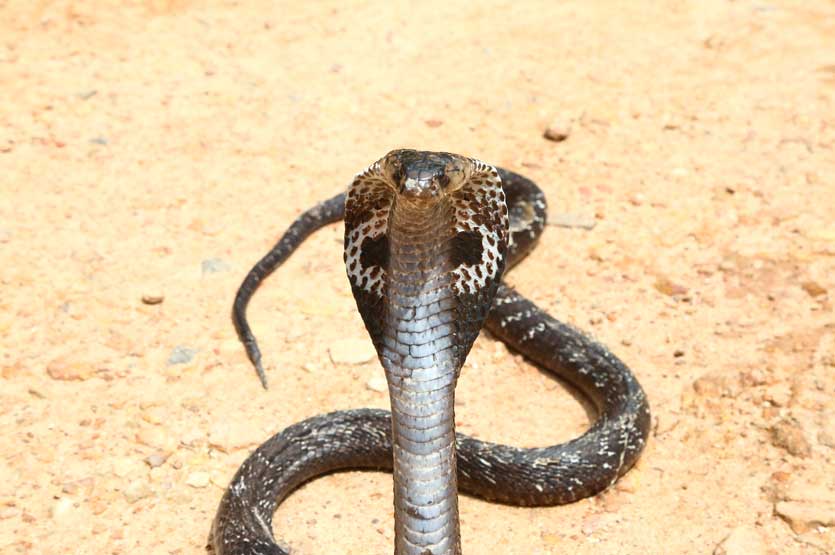 Another thing that caught us by surprise was when he presented us with a Tarantula. Most of didn't know that they can be found in Sri Lanka. (May I add that I no longer feel safe in my own country!)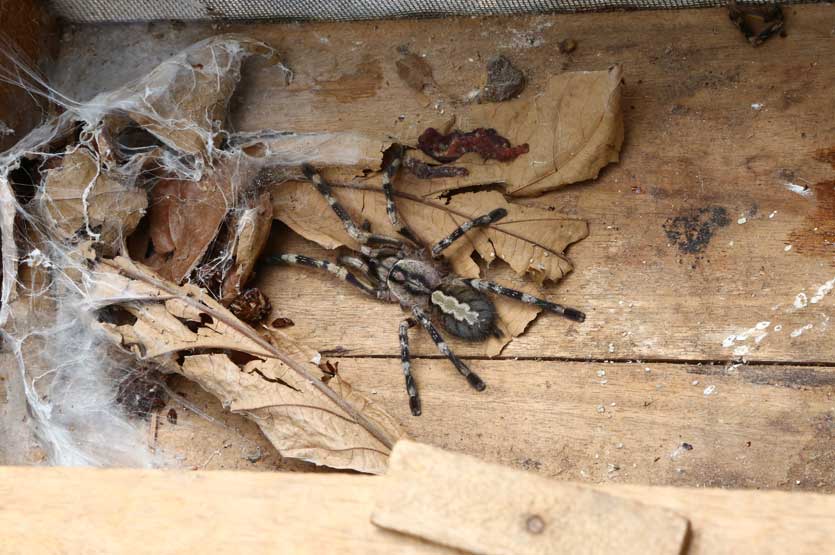 If you ever find yourself around Mirissa, Matara or Weligama do make a de tour and visit this snake farm and encourage the efforts taken by this family to run this conservatory and offer free medication for serpent bites.
They can be tracked on google maps or you can contact him on 0777968320 and he will give you directions and gladly welcome you.
The service he provides is immense and people of his nature are few, we must do our part by appreciating them.

Pics by Zeeshan Akram Jabeer