I was tagged by a page that's buzzing with flavors, bringing the best of India. Everything about this place is amazing - the service, ambiance, and the very creative cocktails! I'm always amazed by the fact that they can get the food out in 5 to 7 minutes and they always make sure operations are smooth. I spoke to Aravind about what makes this place located at the One Galle Face mall click.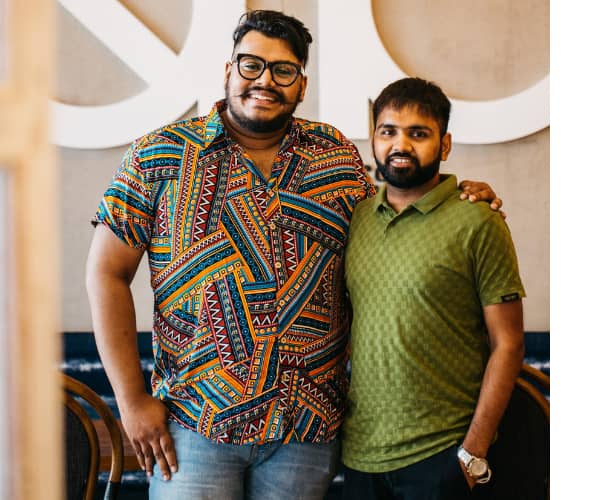 1. What made you bring BB to Sri Lanka?
We were astonished by the infrastructure developments that surrounded Colombo seconded by chosen destination for tourism and wedding tourism. The market was also young which gives the benefit of being a first-comer advantage.
2. Tell me about the food you serve and what makes it special?
Bombay Borough brings together a culinary journey that showcases an India which has never been experienced before. A melange of unique ingredients sourced from the far corners of India, hand-picked and sourced from local farms and suppliers, paired together with an extensive wine list and cocktails.
3. Have you changed any of the recipes to cater to the Sri Lankan market?
Although the recipes were kept as original, we realised the need for more seafood on the menu to cater to the local palette. Hence we added items such as Crab Roti & Goan Squid.
4. How has it been since you opened with Covid and the lockdowns?
Although times were tough as experienced by the whole industry, we believe the market will bounce back even stronger when all this is over.
5. What are some dishes at BB that are unfortunately overlooked as people do not know about it but something that they should try?
When overseas, people tend to opt for the usual favourites like Biriyanis or Chicken Tikka Butter Masala with Garlic Naans or Roti in Indian Restaurants. Bombay Borough has a lot to offer beyond the usual favourites. We would recommend our guests to try our signatures like Kashmiri Naan Kebab, Crab Roti, Crisp Okra Salon, Chilli Cheese Kulcha.
6. You have a nice island bar what do you serve?
Our Pauwa Cocktails are a concoction with Indian ingredients which are burst of flavours and are a perfect pairing with the food we offer. We do serve a range of Gin & Tonic which are very soothing.
7. Can people book the location out for private events?
Yes, private events can be organised.
8. Would you be adding anything new to the menu?
Yes, we are currently working on a range of bites to complement our extensive drinks menu. We will also be launching our range of Gourmet Meal Boxes which are suitable as individual meals for and perfect for corporates and at-home dining.
9. Top-five dishes a person must try at Bombay borough?
Crab Roti, Smoked Jodhpur Mutton, Rajputana Murg Soola, Chicken Tikka Butter Masala, Kheema Aloo Pie, Panch Phoran Chargrilled Prawns, Memsaab's Pink Gin
So if you need a perfect night out. This is a beautiful place with great service! We have also broken down the best dishes to try if you like to keep away from the typical menu.
This column is all about promoting everything LOCAL. If you feel you have something interesting I need to write about - just tag me @danuinnasithamby on Instagram or Facebook.
Photography by - You're my Favorite