RIU Hotels & Resorts is an international hotel chain that has over 105 hotels in 19 countries. In 2016, the international hotel chain launched RIU Hotel in Sri Lanka at the coastal area of Ahungalla. Sri Lanka stands to be the first RIU Hotel in Asia and perhaps, the largest hotel in Sri Lanka in terms of capacity.
RIU Hotel adopts a concept that is untried in Sri Lanka; an 'All Inclusive' concept. Operating 24 hours, All Inclusive means that all meals and drinks are included in the package and all services and facilities are free of charge for guests.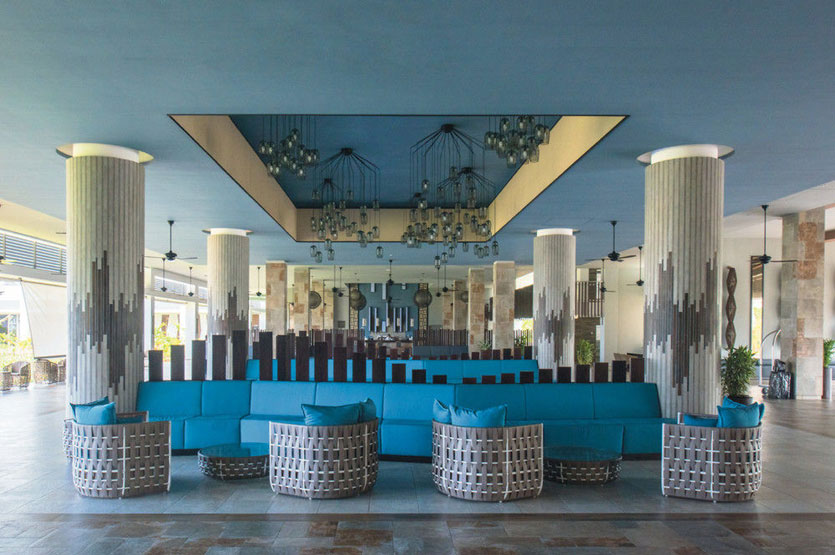 Tastefully designed, the RIU Hotel stretches across 12 acres of land with a massive garden taking up nearly 6 acres of the land. The hotel takes up quite a large amount of space and requires a map to get you from point A to point B.
Facing the beach, the hotel stands in a stunning location and is beautifully designed to be aesthetically pleasing.
Accomodation
With over 500 rooms in the hotel, it can accommodate over 1000 guests at a time. The hotel provides 1062 beds in total and in addition has 134 sofa beds and 40 extra beds available.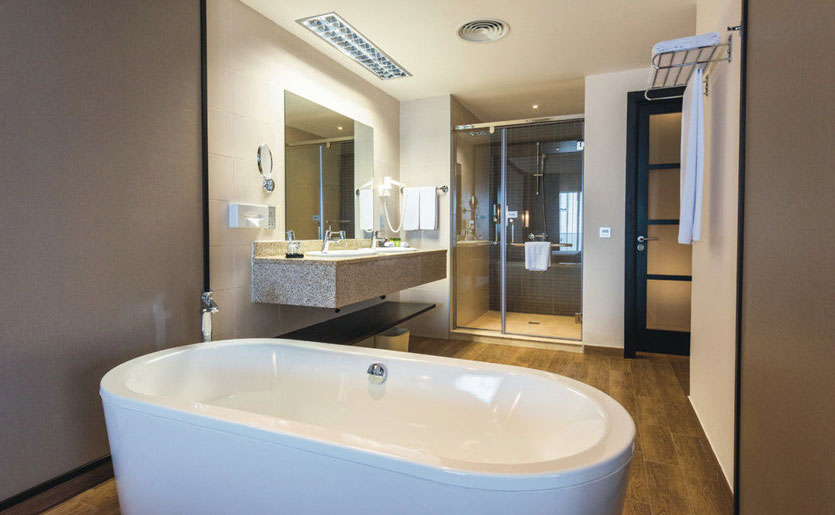 The rooms adopt a modern concept with minimalistic furnishing and a dull colour palette. The hotel has Junior Suites, Senior Suites and Family Suites. We were given the Suite with a comfortable king size bed, an open concept shower and bathtub, an integrated lounge and a large terrace facing the ocean. All the rooms are equipped with hairdryers, air conditioning, minibar, TV, an electronic safe and a balcony.
We found the rooms cosy and comfortable and enjoyed the touch of luxury in the design and facilities. Facing the ocean we were witness to spectacular backdrops and sunsets during our stay.
Facilities
RIU Hotel is a one stop destination for a holiday trip. The facilities at the hotel are endless and have activities that can keep you occupied for days at an end.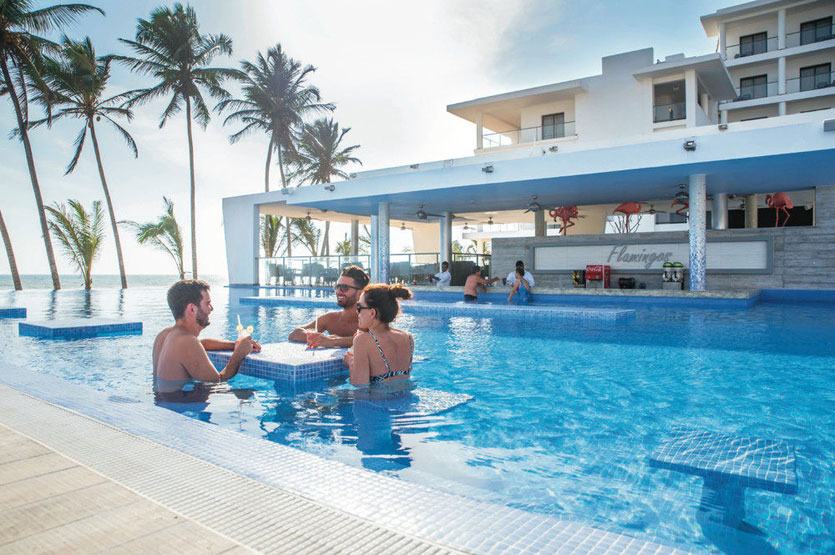 As a 24 hour all inclusive hotel, RIU has 5 bars serving alcohol around the hotel. The bar at the lobby 'Nuwara' and the 'After Hours' bar operate in the early hours of the morning, while the 'Purple Lounge' bar operates until 11:00PM and the Disco bar till 2:00AM.
The hotel also has a pool bar 'Flamingo' which is located within the pool. The bartenders serve you drinks while you take a dip in the pool and the bar even has bar stools underwater that you can sit on. The best time to go into the pool is during sunset, you can perch yourself at the edge of the pool and watch the sun dip into the ocean while you sip your pina colada.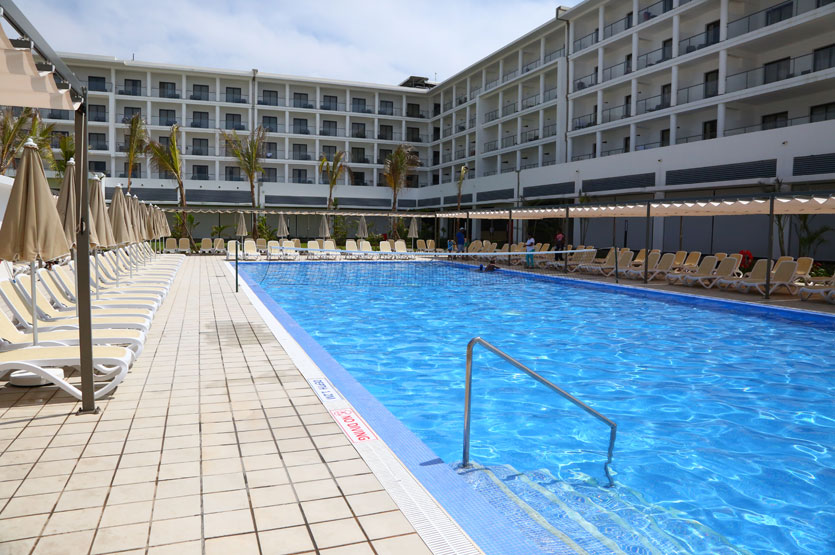 They also have 4 pools; 3 fresh water pools and one children's pool with a water slide. The hotel also has a spa, salon and a fully equipped gym. The Renova Spa and Salon offers a variety of massages, Indian and Thai, and even offers massages by the beach. While the spa treatments comes at an additional price, the spa's Jacuzzi and steam room is inclusive of the all inclusive package and can be used at no additional cost. The Jacuzzi is a definite recommendation if you want to sit back and relax and enjoy a bit of solitude as the pools can get quite crowded!
The hotel also has a few retail shops selling antiques, clothes and other material. RIU also offers several programmes for visitors. In the 'RIU FIT' programme professional instructors conduct stretching, aerobics and yoga lessons. The RIU FUN Programme organizes games and painting for adults. For parents wanting to unwind, RIU also offers a children's programme, 'RIU LAND Kids Club' to keep the kids busy with a separate play area for children with activities and animations.
As for the night life at RIU, there is both a lounge and a club inside the hotel. 'The Purple Lounge' plays host to a number of live music and shows with RIU's own dancing team or other outside professionals. And if you feel like dancing your night away, the hotel's own disco 'Pachcha' has an in-house DJ spinning some great tracks!
With such a wide range of activities, RIU Hotel offers fun and relaxation that never stops!
Dining
The hotel has 4 main restaurants. The 'Ceylon' restaurant serves an international buffet for breakfast, lunch and dinner. The buffet spread is massive taking up one entire room with a wide variety of food items. Be it breakfast, lunch or dinner, an action station is present at all times.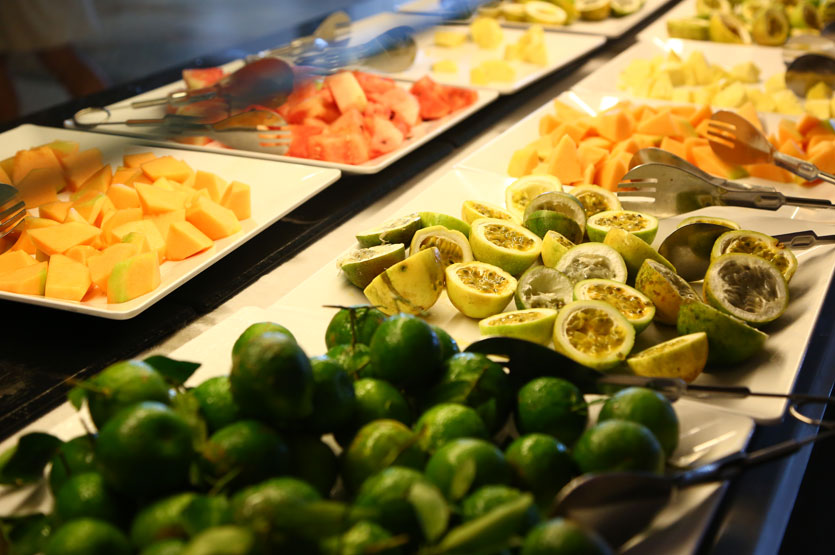 The other restaurants are specialty restaurants opening only for dinner. The 'Kaori' is an Asian restaurant that has a seating capacity of 70. And their Italian restaurant 'La Forchetta' also follows a similar capacity. At both restaurants, starters are presented in a buffet layout and the mains are to be ordered a la carte. The hotel also has a steakhouse 'Saute'. In order for guests to dine at these specialty restaurants, reservations must be made at the reception.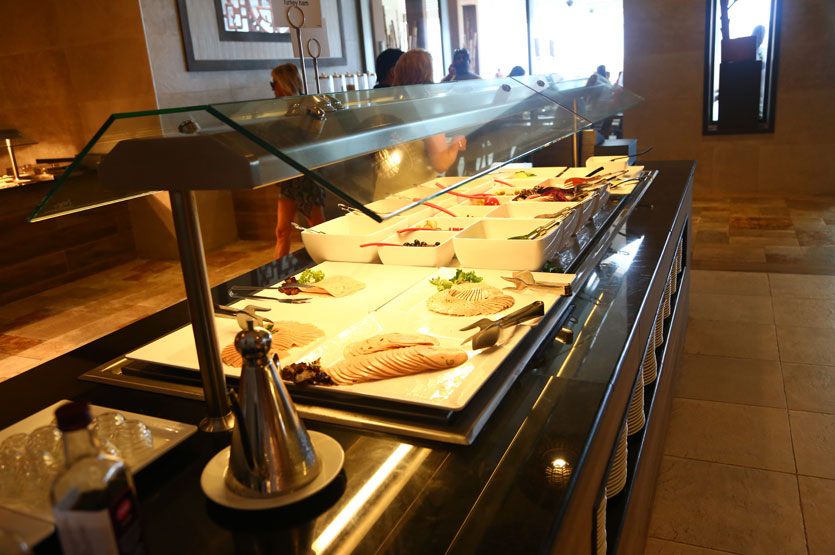 And if you feel hungry in between meals, the Saute also acts as a snack bar.
Service
As a hotel operating 24 hours, the staff works around the clock. We found their service to be excellent as everyone was accommodating and helpful. Special thanks to General Manager Mr. Giorgio Chiarel and Assistant Hotel Manager Ms. IIdiko Polgar for their hospitality. Both Mr. Chiarel and Ms. Polgar are constantly out and about attending to the needs of guests and ensuring that each guest is having a pleasant stay.
Who For?
The RIU Hotel is a hotel for everyone because there is something for everyone. Be it a couple or a family, anyone is guaranteed a fun and relaxing holiday. Because of the 24 hour all inclusive concept, the hotel is ideal for company trips as it can accommodate large amounts of people, provide food and beverages around the clock and also have plenty of entertainment options.
WiFi
Yes.
Driver Accomodation
Yes.
Room Rates
(December 21, 2016 – January 8, 2017)
All Inclusive is 19,504 LKR per person, per night (Junior Suite)