The evening started off with"Evening…", experiences of a young girl in the nineteen sixties. It was a emtertaining evening rendered beautifully by the backing of an eight-piece band with a touch of jazz.
Manella Joseph, the Singing Doctor, sang on Sunday evening, 17th March 2019 at the Lionel Wendt theatre. She sings original songs in English and Sinhala.
A slow ballad "Blessed are the ones", a song about inspiring people, followed.
Anya Rodrigo, Manella's granddaughter took over to sing "Wake Up"with the backing vocals of 'Vocal Essence' and it was an energetic rendition with the junior choir.
Manella then sang her signature song "Sophistication" which was a swinging piece of music followed with backing vocals of 'Resonance', a senior choir.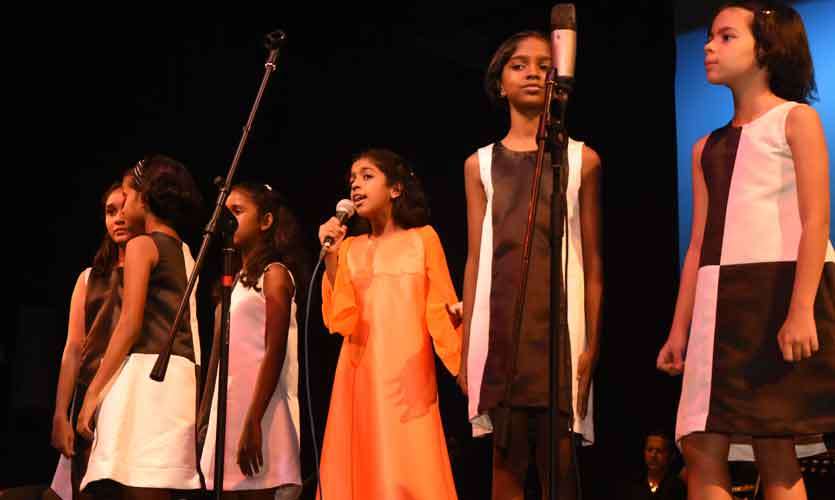 "Resonance" and "Vocal Essence" then teamed up to belt out 'Freedom', a patriotic song composed by Manella for the 50th Independence celebration of Sri Lanka.
Manella reminisced how she was asked to compose a song for fifty years of Sri Lanka's Independence and she wrote "Freedom" with the words "We kept their law and their language while Giving Our Mother Tongue Pride of Place." The children, with singing and choreography, truly did justice to the song.
She then sang the popular song to her Father and Mother with the words "Nostalgia of the years gone by still lingers in my heart".
Chanuka Piyarisi next sang a song titled "Life".
Manella's daughter Dillain then sang "Wonderland" with much power and stage presence energy which left the audience spellbound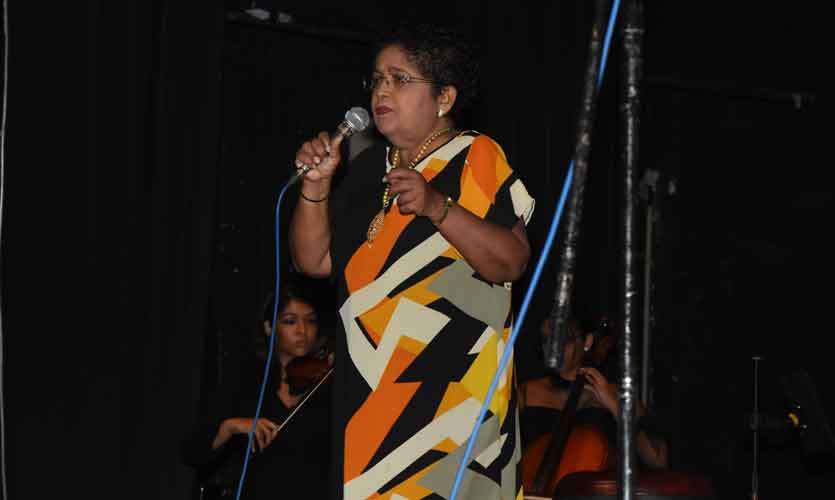 "I also feel that when you love and are loved there are chains and that is why I wrote 'Prisoner of Love' and if it's heaven or hell set me free.."sang Manella.
Then she sang a duet with Nimal Jayamanne titled 'Let's Pretend We are Lovers" for she felt that after many years of marriage, the couple fall into a pattern.
Then in 2014, she wrote a Sinhala version of the Beatles' song "Help" called 'Karuna'.
She also wrote on Child Labour where there is no hope for tomorrow.
She introduced the band who had taken the trouble to learn her original compositions.
"Our people love to hear what is familiar but people should appreciate what is original from Sri Lanka. Then people are motivated to create more. I often think why I can't have something of my own rather than borrowing from the West" she explained.
Exclusively composed of original creations, almost all the songs had a story behind which she narrated making it quite interesting to the listener. The songs had meaningful lyrics addressing various issues in day to day life.
The concert was in aid of L.E.A.D.S, an NGO in aid of abused children.
Rani de Alwis

"Dr.Manella has lived up to expectations and given us an evening to remember. I really enjoyed the concert. The lyrics were beautiful and straight from the heart and the music was delightful. Dr.Manella has inspired us to turn our attention to a truly worthy cause."
Dilani Perera
"I've known Manella for about four years and she's a wonderful soul who wants to help others. Her shows are all for a good cause."
Rohini Jayamanne

"The show was excellent and for a worthy cause."
Nihal Jayamanne P.C.

"It was a very good show and for a very good cause. I am very happy I came for it."
Lydia Goonetilleke
"I liked the band. The entire show had a message that gets you to think about important issues."
Peggy Saldin

"The show was held for a very good cause. It is also remarkable that she writes her own songs.I'm glad that the youth also know it. I'm a British qualified social worker. It's time that Sri Lanka also gets ready for a Child Protection Act like in the UK, adapting the law."
Ranjit Pieris
"It's something great that Manella does this for a worthy purpose. Very few people we see today devoting time and energy for a worthy cause."
Romesh Moraes
"It's nice to see people like Dr.Manella coming forward and donating her songs to charity. Her songs were very inspiring."
Dr.Lakshman Ranasinghe
"It was a well thought of effort. Love and unsolicited help for deprived children, abused children and those caught up in child labour."
Text by: Sirohmi Gunesekera
Pix by: Nimalsiri Edirisinghe