If you are travelling hillside in the lookout for the perfect juxtapose between adventure and relaxation, Ella is easily on the top of the list. Ella welcomes you with a ready itinerary to climb mountains and chase waterfalls during the day and enjoy the chilly breeze and stark quietness in the evening.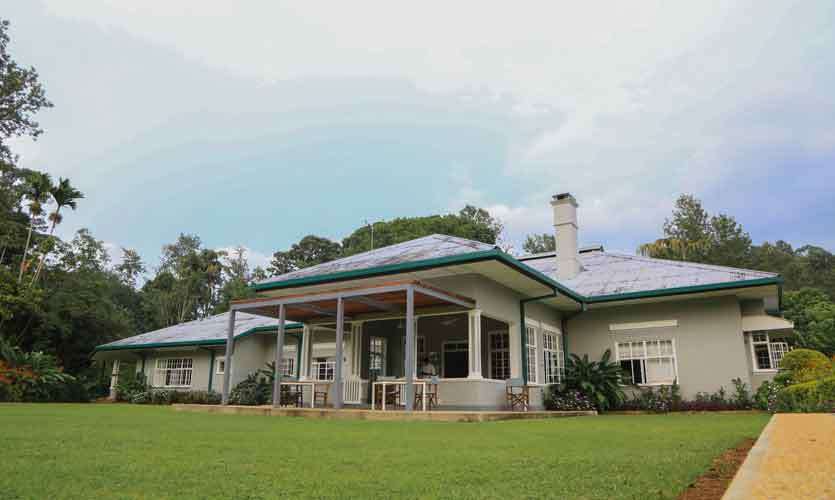 Ella is all about the location; the town presents you a vibrant nightlife no matter the day of the week while the hillside exchanges your tiredness with absolute calm and serenity. Traveling from Colombo on a 6-hour journey to Ella with the promise of a jam-packed adventurous itinerary for the days to follow, we knew our accommodation had to be a place to destress and detox.
Teardrop Hotels' property in Ella 'Nine Skies' just happened to fit our criteria!
About Nine Skies
Teardrop Hotels own and manage small, luxury boutique hotels scattered around the island from down south to the mountains. Nine Skies is the latest addition to their chain of hotels and is their only property in Ella. Nine Skies is named after the locals' term 'Ahas Navaya (Nine Skies) for the nine-arched bridge which is a mere 10-minute stroll from the hotel.
Nine Skies is a luxury five-bedroom bungalow dating back to the colonial era where it was under the ownership of a British tea planter. The bungalow is perched right on top of the Demodera estate with an elevation of 1100 metres and is surrounded by lush tea plantations.
Accomodation
This 5-bedroom bungalow combines and embodies the concepts of luxury and homely to give guests a pampered vacation. The bungalow has three room types; the Ella Rock Suite which has a private sitting room, direct garden access and is decadently spacious while the three double Demodera Bedrooms offer privacy and garden views and the Nine Skies Bedroom is equipped with twin beds, and interconnects with a Demodera Bedroom so it is ideal for families.
We stayed at the Ella Rock Suite which is one of the biggest rooms we've stayed in. As you enter you are greeted by a large four poster king bed and further in you are taken to a sitting room as big as the bedroom with wall sofa beds on either side. While the room is an indulgent space for a couple, the sitting area can easily be converted into a kid's bedroom to convert it into a family suite.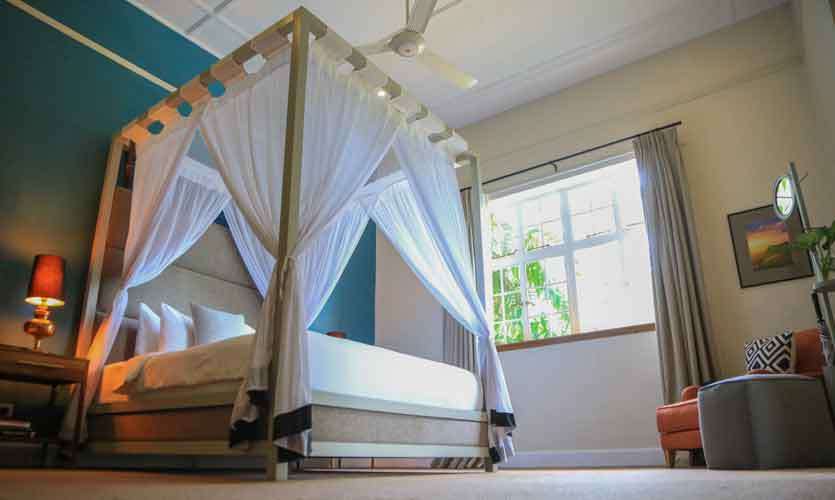 The suite also has a private verandah, equipped with a vintage writing desk perfect as a cosy nook to pen down your thoughts or read one of the many books found in the bungalow, and a private garden seating facing the tea estate which we found to be the ideal spot for our evening tea.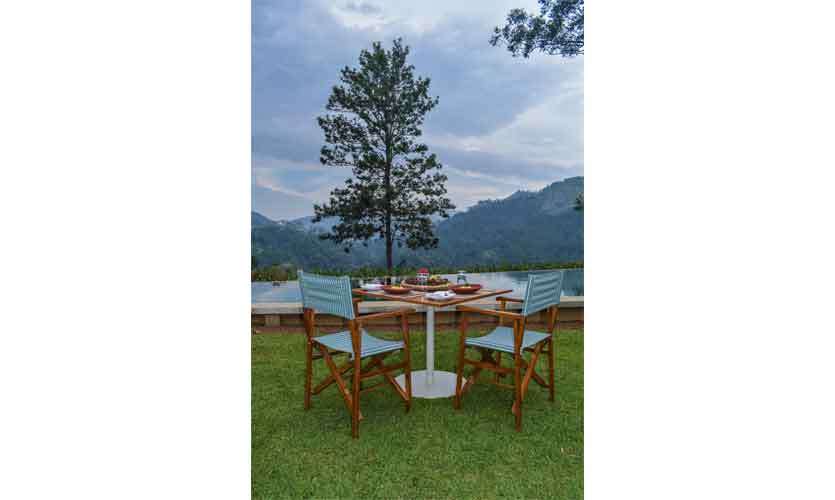 One of our favourite features in our room was the ensuite bathroom which was utterly spacious and luxurious with its colonial claw footed bathtubs and rain showers. Exploring Ella results in an accumulation of dirt and sweat and we often came back to the bungalow feeling utterly drained and mucky but soaking in a hot water bath and brushing away the day's dirt with their customised toiletries (which smelt absolutely fantastic) really left us feeling refreshed and renewed and was one of the things we were super thankful for during our vacation.
The rooms have all the general amenities; tea maker, safety locker, hair dryer, bathrobe and slippers and complimentary wifi. There is no television or air conditioning but there is also no need for either as the Nine Skies is the perfect location to plug out and the nights are quite chilly – even the fan was too much!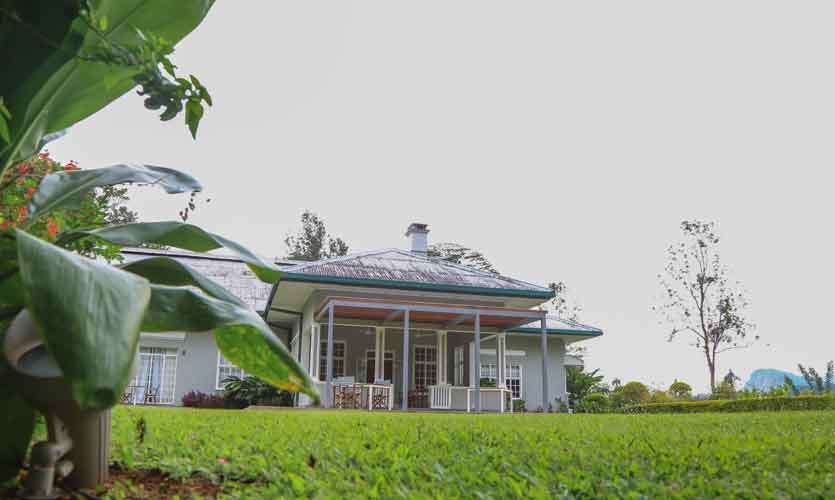 Our room was visually stunning with pastel colour shades for its interior and was aesthetically pleasing but more than that it was absolutely comfortable – the kind of room you find difficult to ever leave.
TIP - Make yourself some of their herbal tea, grab a book, open those French windows and bask in the views!
Dining
The rates for Nine Skies are all inclusive which means when you pay you also pay for a full board stay with all three meals (and snacks) cared for. So, get ready to enjoy a hearty breakfast, a local lunch with rice and curry, afternoon tea with homemade biscuits and cake and a three-course dinner. All meals have separate menus with a variety of different options so you never have to worry about having the same dish twice (unless you want to!).
Since our schedule kept us busy, we were only at the bungalow for breakfast and it was easily our favourite meal time of the day. Breakfast starts off with a fresh platter of fruits and tea or coffee along with a fresh bread basket with homemade marmalade, raspberry jam and marmite and later a dish of your choice. We tried out nearly every item off the breakfast menu and loved each and every dish which was not only beautifully presented but was also absolutely divine. Their dining space overlooks their stunning garden so not only did we have a great breakfast, we had a breakfast with a view!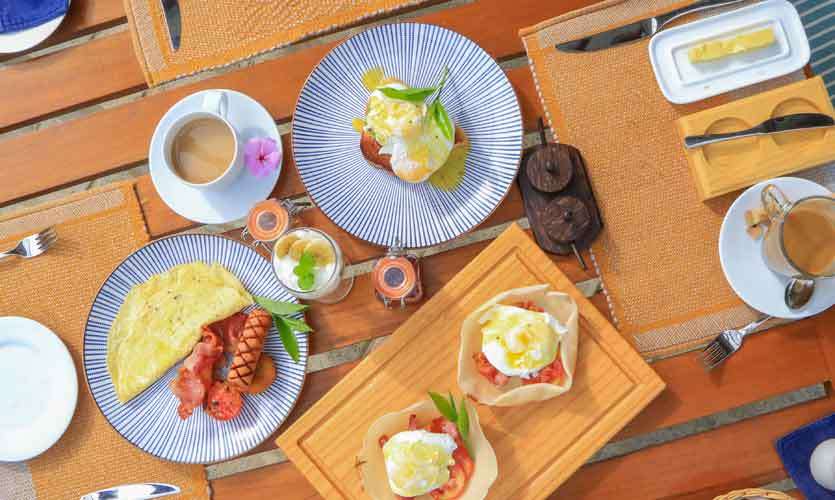 The all-inclusive rate also includes all alcoholic and non-alcoholic beverages. The lounge has a vintage cabinet bar stocked with all kinds of spirits and a little note that asks guests to help themselves or ask their personal butler to whip up a cocktail of their choice.
TIP – their yoghurt and granola for breakfast is an absolute winner if you aren't a big breakfast person!
Facilities
Personal Butler Service – this was something that really added that extra luxurious feel to our stay. Nine Skies offers all day butler service to ensure smooth running of your vacation.
Infinity Pool – overlooking the Demodera city and the mountains.
Cycling – around the tea estate
Garden – with an acre of landscaped garden, make sure to explore and visit their organic gardens or even dine in the private dining area hidden between trees.
Library – The bungalow is scattered with great reading material which you can find littered in your room or the cabinet of books in the private indoor dining area.
Explore – Ella has an abundance of activities and attractions to keep the explorer in you busy and we heartily recommend that you explore! Just get in touch with your butler and arrange your itinerary.
Nine Arch Railway – a 10 minute stroll to the famous nine arched bridge.
Demodera 360-degree loop – catch the Demodera spiral rail loop which is the only loop in the world with a railway station situated exactly over a tunnel at spiral loop.
Little Adams Peak and Ella Rock – while you may have a small drive towards Ella, Little Adams Peak and the Ella Rock are must – see destinations in Ella.
Ravana Falls and Ravana Cave – see for yourself the legendary Ramayana mythology.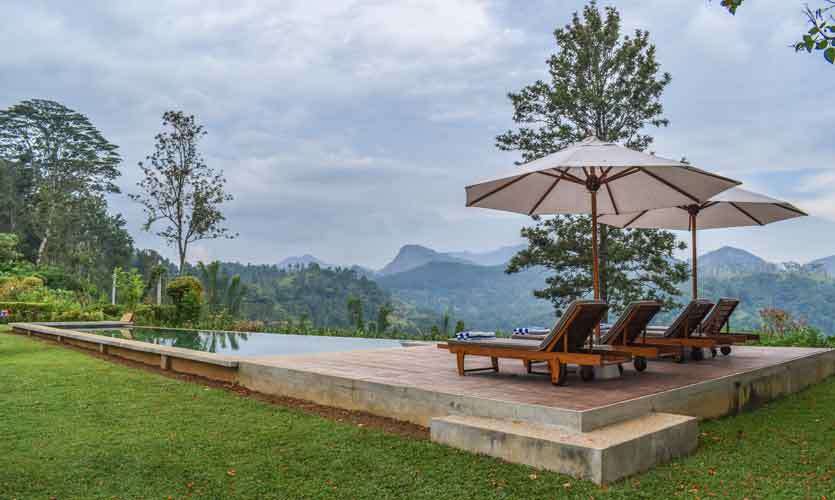 Service
There's a reason we can so easily call Nine Skies a 'home away from home' – it's because of the impeccable service they offer. It's a small staff but each and everyone of them was so warm and helpful. From the second we entered the bungalow to when we said goodbye, the staff was all smiles and super accommodating. Our personal butler was amazing – he checked up on our meals and offered snacks and tea and even waited up for our late returns in the evening to see if there was anything we needed in particular. Thanks to them it was natural to feel comfortable and walk around the bungalow and relax as one would do at home.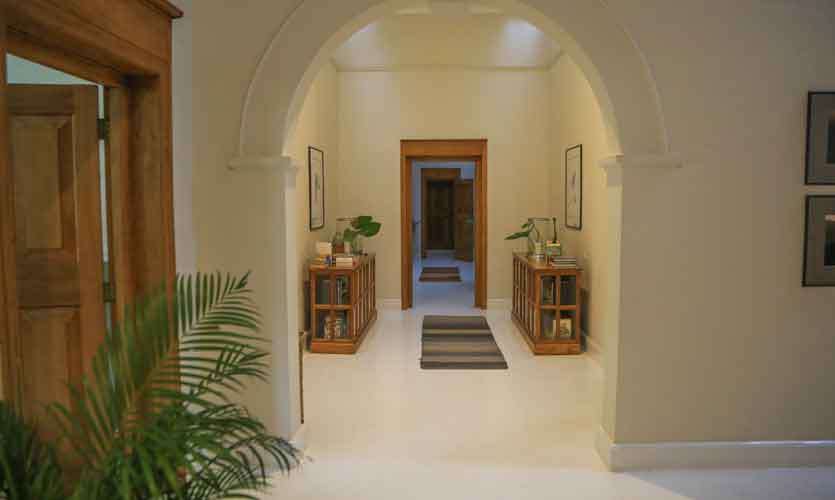 Our Verdict
Nine Skies is for anyone looking for a quality vacation. If you want to get away, destress and detox – splurge a little and visit Nine Skies. We felt relaxed even though we were constantly on the move! They ticked all the right boxes for us; a perfect location secluded and serene, great food, great accommodation and amazing service. We'd love to visit again and spend our entire vacation being pampered and relaxing!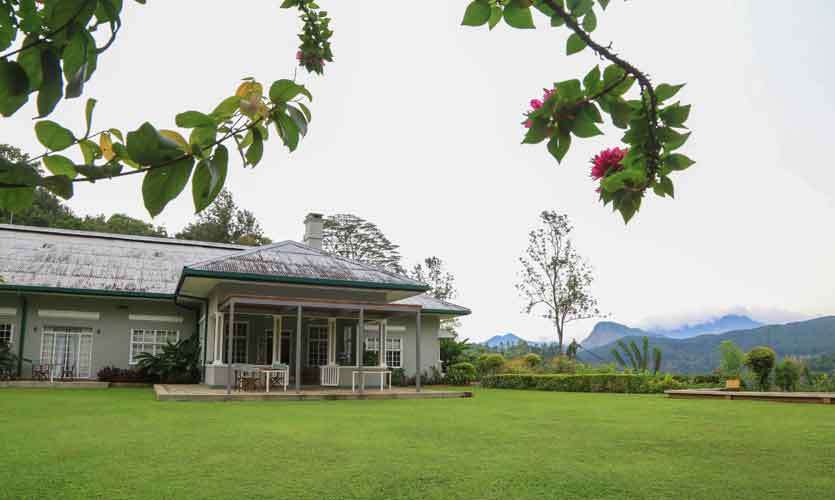 Watch our video to see more of this stunning property: https://www.facebook.com/life.lk/videos/690339184818003/
Location: Nine Skies Bungalow,Demodera Estate,Demodera,Sri Lanka.
Website: https://www.teardrop-hotels.com/nine-skies/
Reservations: +94 773 638 381+94 777 252 271
Pictures by: Dasun Muthugala