If there's one food more synonymous with the Sri Lankan palate than rice, it's definitely kottu! The sliced up pieces of roti, the chopped up veggies paired up with some chicken curry or beef, kottu embodies everything that Sri Lankan food stands for! Now if you are a fan of kottu you know that street food restaurants are usually locations of kottu paradise. I was thinking back to all those 2 am mornings where we went driving past all the clubs in search of that one magical kottu. Nostalgia aside, however, for those of you looking to treat your palate to a more quality experience, Kottugasm at Cafe 64, Galadari Hotel is the perfect opportunity for you! Kottugasm, a 4-day high-end kottu experience was organized at Cafe 64 from the 10th to the 13th of March and I was lucky enough to reserve my spot well in advance. This promo is scheduled every two weeks.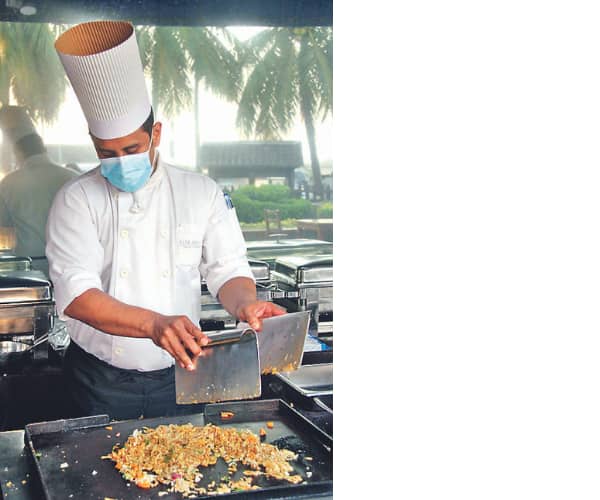 Curated with the finest ingredients to take your kottu experience to the next level is the goal of this kottu extravaganza! From mutton, fish and chicken to seafood, cheese and veggie they have all the flavours you could possibly imagine! They even had a chicken and cheese kottu wrap which was something I was drawn to instantly. On the Chef's recommendation, I ordered a Chef's Style Mixed Meat kottu with a fried egg, a Beef Pasta kottu and a Chicken and Cheese Kottu Wrap. My pick of the night was the Wrap. This consisted of Sliced Chicken mixed with melted cheese and vegetables and was bundled up in a delicious wrap! The chicken and veggies were quite spicy but the cheese helped to keep the spice at bay. The wrap was soft and the edges were a tad crispy which was nice. Overall it had a lot of flavour and was stuffed to the brim. Priced at Rs. 900/- I'd say this is a dish you would definitely enjoy.
Another winner was the Chef's special Mixed Meat kottu. Unlike regular kottu that you might find on the street, the roti here was fresh, moist and oozing with flavour. The proteins came in a combination of Chicken, mutton and beef. The meat was well seasoned and combined with the roti and fried egg, this made for a very delectable dish! Would highly recommend this to anyone going to try this out. Speaking about what makes this promo so special, Head Chef Mark Kumara said "What makes kottugasm special is how fresh the ingredients are and the outdoor dining experience that our customers will get when enjoying a delectable take on one of their most favourite foods". Trust me, it's as good as advertised!
The Pasta kottu consisted of fusilli pasta and the protein I opted for was beef. It was very spicy, handmade fresh and deliciously cheesy. It was also quite filling, although at this point I wasn't too sure whether it was just the pasta or the weight of all the food I had before was taking me over. As I sat there feeling like a stuffed duck I couldn't help but feel how appropriate the name "Kottugasm" was for this event!
True to my chocolatey self I paired up the kottu with two chocolate milkshakes. Now you could always choose a drink of your choice, something light like lime or ginger beer might be ideal but I honestly couldn't help but go for the shakes! The service was great as always with the waiters being quite efficient and effective with satisfying our every need!
All in all, it was an experience I truly enjoyed and would highly recommend anyone to go try it out. Being a limited 4-day event that will pop up again in two weeks' time, make sure to call the Galadari and reserve your spot for the next date!