Okra Kitchen by Ravi and Sepali is an authentic Sri Lankan restaurant at the Colombo City Center that is currently revolutionising the traditional Sri Lankan cuisine. Built on the foundation of family and love for food, Ravi and Sepali who started off from humble beginnings with their traditional family recipes, have now managed to engage their three sons as well. They are in their own right award winning chefs and the Kitchen is headed by Younger son and Chef, Sachithra Daendra. We visited Okra to check out their new range of fusion hoppers and it was an experience we aren't likely to forget anytime soon!
The Food
The food was unbelievably good! I'm a huge fan of regular hoppers so I was really hoping that Okra would bring their 'A' game where the fusion was concerned, and I can honestly say I wasn't disappointed. We first tried out the Nai Miris Omelette Hopper. They had added the perfect amount of Nai miris so that our eyes weren't watering or our mouth burning by the time we finished it. They had also added other sliced veggies like onions and tomatoes which added to the burst of flavour in the middle. The hopper was warm and the crust was crispy and all in all it tasted fabulous! They had also provided various side dishes like "Seeni Sambol", "Mutton Curry" and also a dish of prawns. As good as these dishes were it wasn't necessary as the hopper itself was finger licking good!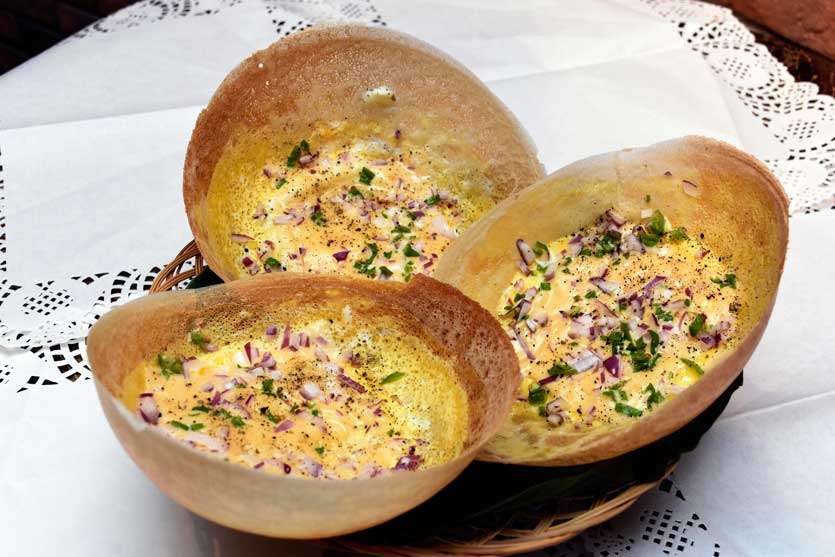 I was dying to try out the Cheese and Kochchi Hopper and they couldn't get it to me fast enough! However in a matter of minutes (which to me seemed like an eternity) they plated in front of me the revered Cheese and Kochchi Hopper. It looked fantastic and tasted even better. The cheese was oozing in the middle and once again the kochchi flavour wasn't overwhelming, which I felt was great. Each mouth was an explosion of spicy kochchi cheese and I can guarantee that it was a mouthwatering delight!
The Egg and Seeni Sambol Hopper was worth trying out as well. It's amazing how they have taken these two mainstream Sri Lankan foods, Hoppers and Seeni Sambol and used then to produce something extraordinary. There was a generous spread of seeni sambol which made it unnecessary to use any other curry to accompany this hopper and the taste was just spot on.
Next up was the Coconut Milk and Jaggery hopper. Now I'm sure we have all had "Kiri Appa" with Jaggery and loved it. But the hopper from Okra's was on a whole new level. The middle was soft, crumpet like, and held a perfect texture. The grated jaggery added just the right amount of sweet flavour, which allowed us to eat about 3 of these without feeling any guilt about packing on sugar.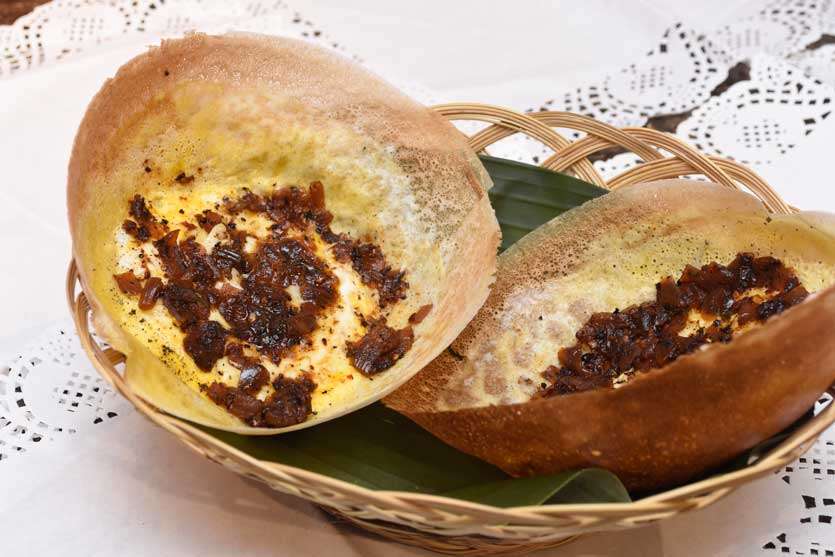 The final hopper of the menu was the Chocolate hopper. I never thought that I would ever eat hoppers with creamy chocolate sauce and Ice cream, but that's exactly what Okra kitchen put in front of me. The whole hopper was oozing with chocolate and the vanilla ice cream completed the flavour of this dish.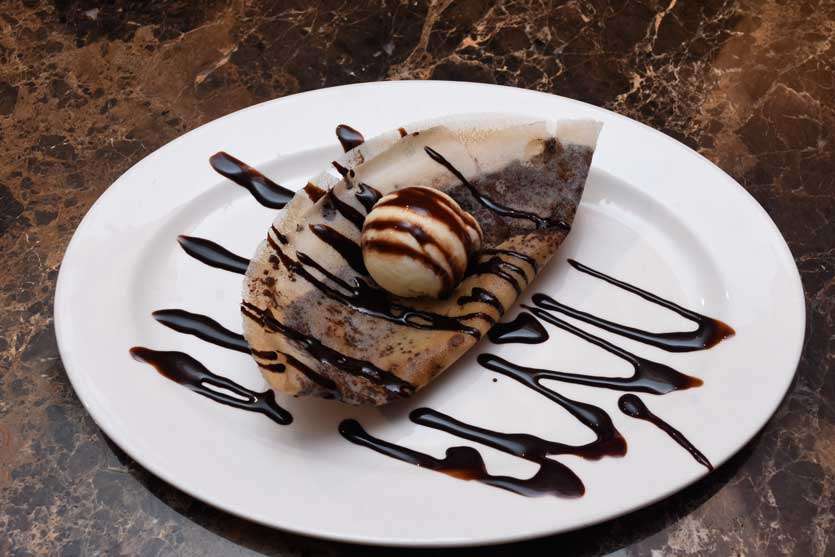 Aside from the hoppers we were also served two main dishes namely the Fish Head Curry and a Roast Chicken Ambulthiyal. Deviating from the traditional fish ambulthiyal which is a delicacy among all Sri Lankans, Okra's presented to us the Roast Chicken Ambulthiyal. It had been seeped in numerous spices just like a normal "ambulthiyal" and coated in a goraka paste to give it that strong sour flavour. The chicken was well done and was slightly crispy on the outside and juicy on the inside. There were a number of strong flavours that overwhelmed my taste buds as I bit into it and it started to feel like Christmas in my mouth. It had all the great flavours of an ambulthiyal and instead of fish we now had chicken. It was easily one of the best Chicken based dishes you will find in Colombo! The fish head curry was a great dish as well. It was quite spicy and had a thick gravy which went really well with the hoppers. The fish itself was soft and tasted fresh and delicious. It was a lovely and exquisite Sri Lankan delicacy and we really enjoyed it!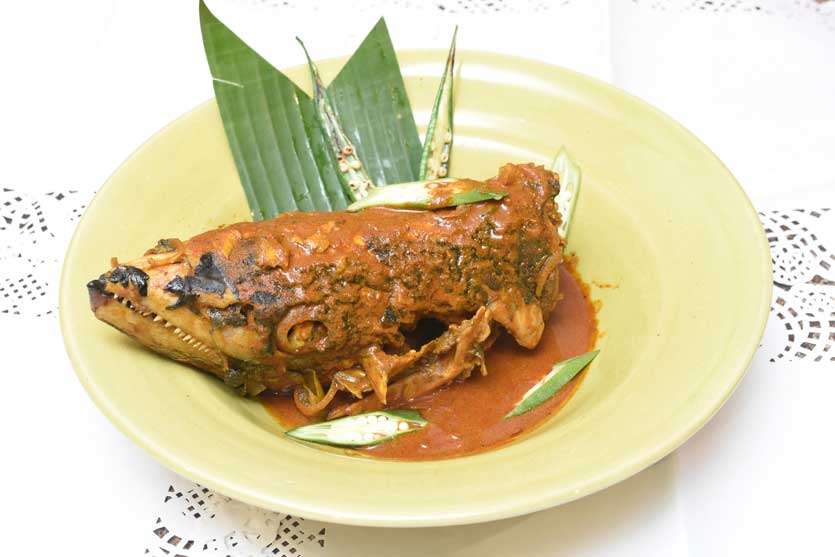 All in all, the food at Okra Kitchen was full of flavour and tasted absolutely amazing. I would certainly recommend it to anyone that wants to try out authentic Sri Lankan cuisine or even traditional Sri Lankan foods with a twist just like the fusion hoppers. Believe me you will certainly not regret it!
Pics by Nimalsiri Edirisinghe