The Flying Ravana is Sri Lanka's longest mega zip – line and South Asia's second longest. Stretching for more than half a kilometer (approximately 550 meters), the zipline slides at 80kmph in between the lush green estates of Ella.
Flying Ravana, having opened operations in February 2019, was a success from day one and since they've started, they have an average of nearly a 100 customers per day. 6 months in and the Flying Ravana has easily become a 'must try' destination when in Ella.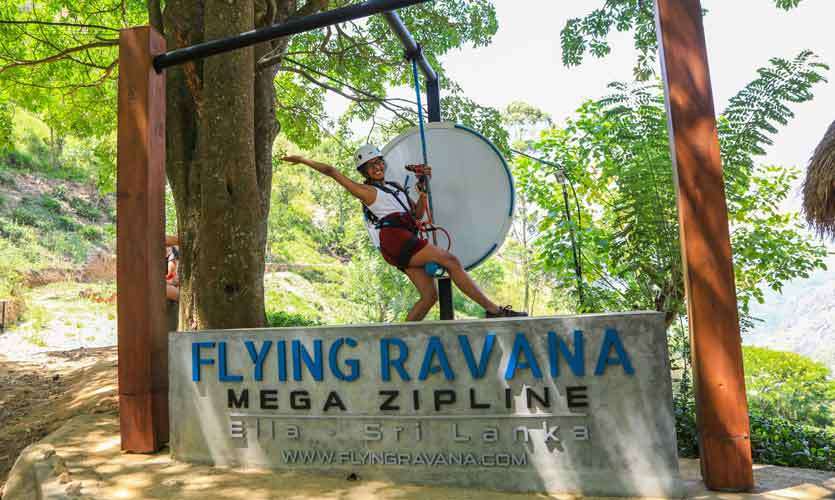 Location
To reach Flying Ravana you have to simply follow the same route one would take to see the Little Adam's Peak. If you were planning on visiting the Little Adam's Peak you can kill two birds with one stone and try out the Flying Ravana which is just before the last stretch to the Little Adam's Peak. It's a bit of a walk to reach the location but there are three-wheelers available to take you up.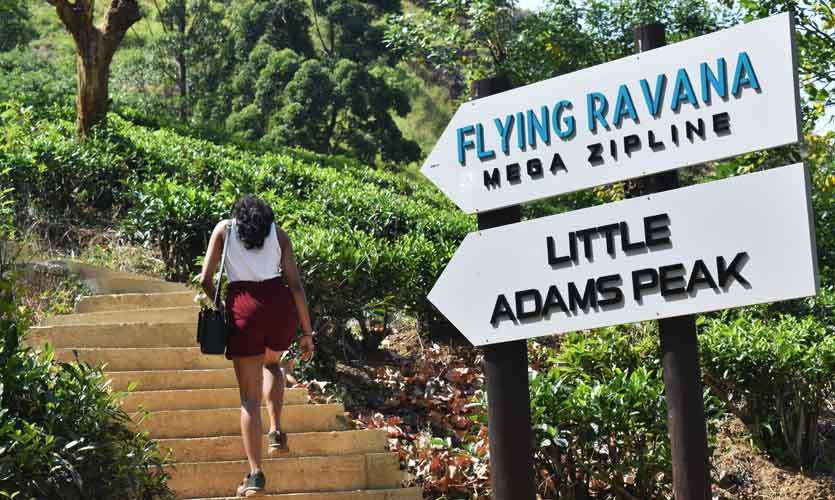 The Flying Ravana is situated on a privately-owned land in one of the tea estates on the way to the Little Adam's Peak and boasts stunning landscape views of Ella in all it's luscious greenery and steep mountains.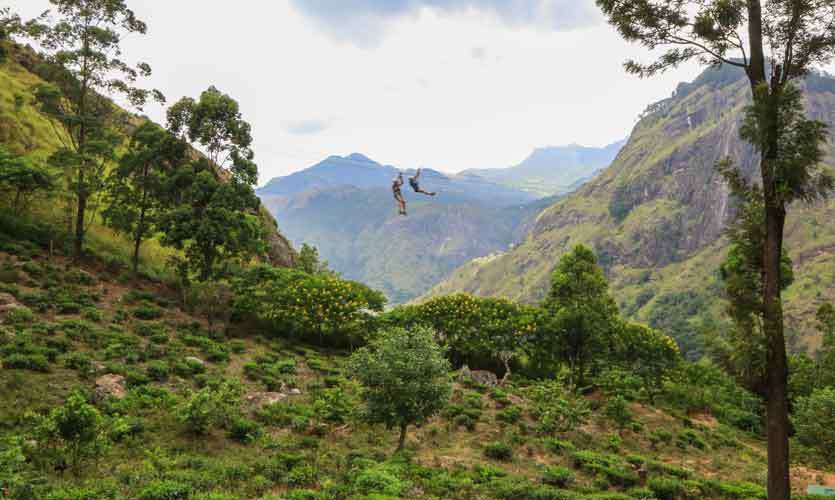 There are 3 locations to the Flying Ravana – the Registration Office where you'll be registered and geared up, where you can also watch others zipline and buy some cool drinks, then the Departure post, a little away from the Registration Office where you'll go to start your ziplining adventure and finally the Arrival post where you will eventually end up and be removed of your safety gear.
Specifications
Flying Ravana has a Dual Zipline that runs parallell so that it allows two persons to go simultaneously. To be able to go on the zipline you must have a minimum weight of 30kg and a maximum of 110kg and they only allow those who are 6 years old and upwards to zipline (they've had people who've ziplined at the age of 80 so don't let age stop you!). They are also disability friendly to a certain extent.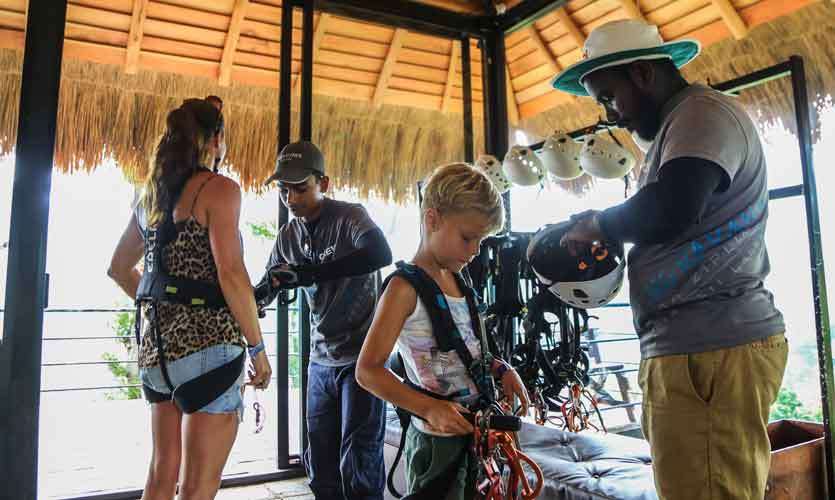 The Zipline which runs 550 meters long has a maximum speed of 80kmph (nearly 45 seconds) but the speed can vary depending on weight, body position and wind direction.
Safety
The Flying Ravana follows strict safety protocols. During their construction period they flew in UK engineers to observe the safety and operationality of their set up and sent their Zip Masters (the instructors that will handle you from Registration to Departure to Arrival) on a 5 day training course in the UK on how to handle the Personal Protective Equipment (PPE) and what to do in emergencies.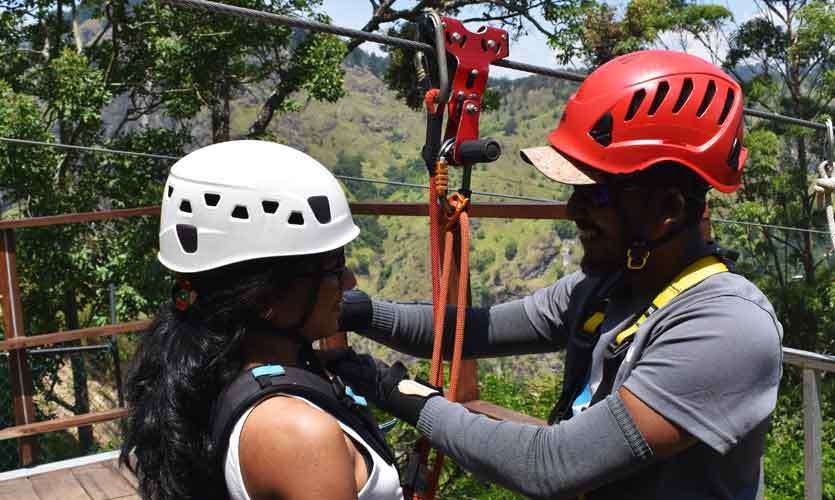 The Flying Ravana follows all the safety standards of the European Rope Course Association (ERCA) which sets out stringent standards for construction, inspection, training and operation of rope courses.
Flying Ravana uses equipment imported from France, Germany and the UK and uses one of the world's best brands 'Petzl'. Flying Ravana equipment fulfills the safety standards of the International Climbing and Mountaineering Federation (UIAA) which means that the samples of the equipment have been tested by an accredited, independent third party and found to be satisfactory to the requirements set out in the UIAA standard.
Flying Ravana is also subjected to audits by a UK firm quarterly every year. Moreover, all equipment and zipline course is inspected, checked and operated by the Zip Masters each morning prior to operations and sent to UK auditors every day. They also follow a strong retiring policy for the equipment.
The Zipline also has a fully automatic braking system with 2 backup brakes (3 in total). The 1st brake is the one that functions the most and is enough to stop the person but if there is more weight the 2nd brake would work and if both fail the emergency brake would step in.

How it Works
When you get to the Registration Office of Flying Ravana you first have to register and sign a Waiver and Disclaimer of Liability form. Once you do, you'll be given a wrist band with a time slot. Flying Ravana operates on 30-minute time slots where the maximum number of people allowed would be 25 within that time frame.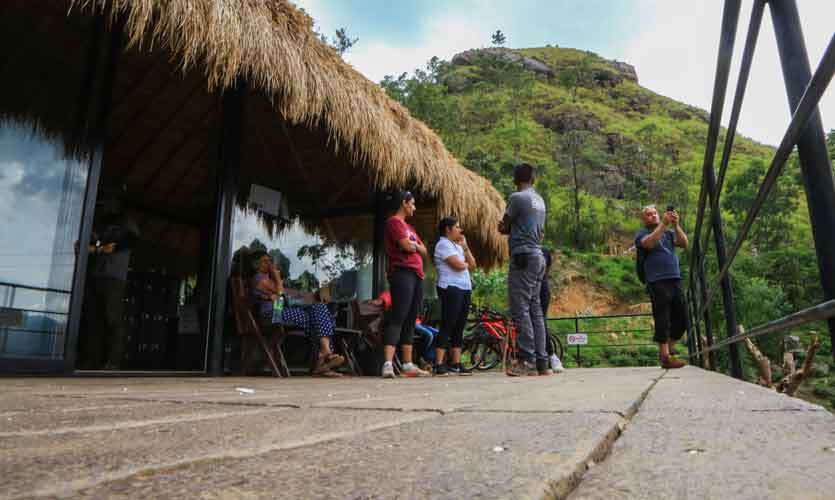 Once you've registered, you'll be weighted and your weight would be written on your wrist band for Zip Masters to check when you reach the Departure spot. From there onwards you are geared up with a safety harness, helmet and belay. If you want a record of your adventure you can also purchase phone covers and Go – Pro's at the Registration Office.
Once you are completely geared up you take a short walk to the Departure spot where the Zip Masters double check your equipment and wait for clearance from the Arrival Spot and the Registration Office. Once clearance arrives, there's a small push and off you go!
When you reach the Arrival Spot the automatic braking system does the work and the instructors at the site carefully remove the equipment attaching you to the zipline before helping you climb down. From there you just sit and wait for the pick up to bring you back to Registration Office and you've completed your adrenaline filled adventure!

Our Experience
The Flying Ravana was such an adrenaline rush and something we were so glad we tried out while in Ella! We've ziplined before so the process was nothing scary to us but we've never gone on a zipline of this magnitude so we were beyond excited. Our Zip Masters at the Departure spot really psyched us up and we were a bundle of nerves and excitement just seconds before we took our feet off the ledge.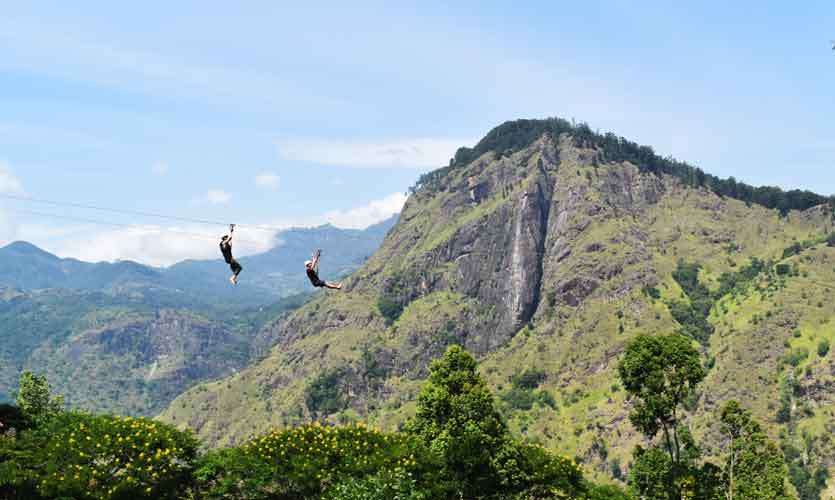 The zipline is such an experience. It's fairly long so you really have the chance to look around and is there a more stunning location than Ella? All we saw was greenery, greenery and more greenery and we absolutely loved it. We were initially scared that we might stop midway but we were assured that it had a one in a million chance of occurring and even so it only requires an instructor to follow behind and give a nudge so if you are scared you might just be left hanging – rest assured that the guys at Flying Ravana has got your back.
If you are in Ella, climbing mountains and chasing waterfalls are all great but the Flying Ravana has to be a compulsory stop in your itinerary. It's an experience you just want to take back with you!
Our only complaint though? We wished it was longer! Once we finished we really just wanted to go again and again.
Rates
Zipline – $20 (Locals - Rs. 2500) / Kids - $15
Phone Cover - $5
Go Pro - $10 (video can be copied onto the phone or burned onto a DVD)

Flying Ravana also has other activities
Archery - $10
Mountain Biking - $10
Air Rifling - $10

Address - Uva Greenlands Estate, Passara Road,Ella 90090, Sri Lanka.
Contact - +94 57 493 0000
Email - [email protected]
Watch our Flying Ravana video here!
Photo credits – Dasun Muthugala