For us, an ideal vacation means good food, good accommodation and a quite place to unwind. This is exactly what the Amaara Forest Hotel in Sigiriya offers; absolute serendipity.
A 22-acre property, the Amaara Forest Hotel opened 2 years ago and is located in a dense jungle that gives guests a close connection with nature. With the hotel only occupying 9 acres of the land, the rest is a thick forest that signifies the hotel's overall theme of 'nature'.
Owned by Ahintha Amerasignhe, the hotel has a sister branch in Kandy called 'Amaara Sky'. Ahintha is a dedicated nature lover and his passion towards the environment is evidenced by the importance given to nature at Amaara Forest Hotel. The hotel is surrounded by a plethora of trees of different varieties; some already there when the land was bought and some especially planted and cared for when the hotel was built. The result is a hotel that is coloured green by nature with natural ventilation and a stunning landscape. We recently dropped by for a small stay and here's why we think Amaara ticks all the right boxes for a good vacation.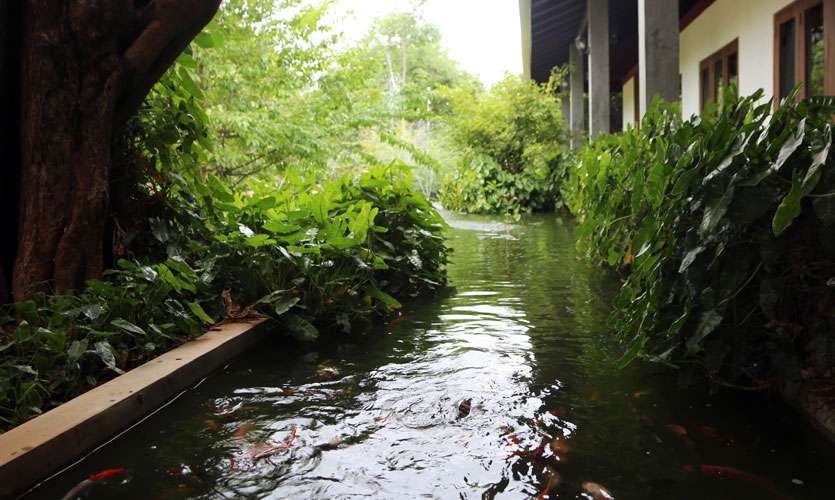 Accommodation
The Amaara Forest Hotel can accommodate a large number of guests with its 44 rooms. Spanning across the property in units of 2, 23 rooms have twin beds while 21 rooms have king sized beds. All rooms are identical and apart from the size of the bed, all amenities and room layout are the same. What we love about the accommodation is that the rooms are embedded deep within the greenery with ample trees giving you a cool breeze and plenty of privacy and that all units are spaciously set apart.
When we walked into our King Bed room we were greeted with a warm message of welcome from the hotel staff on our bed. The rooms at Amaara are massive; boasting 620 square feet of space with a large bathroom and balcony. With our bed at the center, both sides of the room were flanked with furniture with a large closet space and work desk on one side and a seating area and vanity on the other.
The room also comes with a flat screen TV with cable and a DVD player. We loved the fact that Amaara offered each room a DVD player a full list of films that guests can request from the reception. We thought it was a novel idea because it's perfect for families to keep their children entertained or even for people who want to relax after a long day of sightseeing.
The bathroom is stocked with shampoo, conditioner and shower gel and in line with their eco-friendly theme and they encourage guests to reuse their towels if they wish to. Other amenities include a tea and coffee maker, extra blankets and pillows and an in-room safe. The balcony is spaciously designed and furnished with two arm chairs and is the perfect spot for an evening tea when the air cools and you are surrounded by greenery.
All in all, Amaara's accommodation is exactly what you need after a long day. The beds are warm and inviting, the room is spacious and the amenities make for a comfortable stay. But most of all, having a room in the midst of trees and being surrounded by nature and a quiet stillness is exactly our kind of vacation!
Dining
The Amaara Forest Hotel has 4 restaurants that offer a unique experience of its own to guests. The Kaaya Restaurant on the ground floor is their buffet restaurant. They lay out a grand spread for breakfast and dinner for guests and lunch is usually an a la carte affair as most guests are out sightseeing. The Thimbiri restaurant is then their A la Carte restaurant.
If you venture deep into the forest guests will find themselves at the Forest Restaurant which is a secluded spot that is ideal for group functions like a small party or work event. The Forest Restaurant can accommodate a total of 64 people and has facilities for a live band and action stations.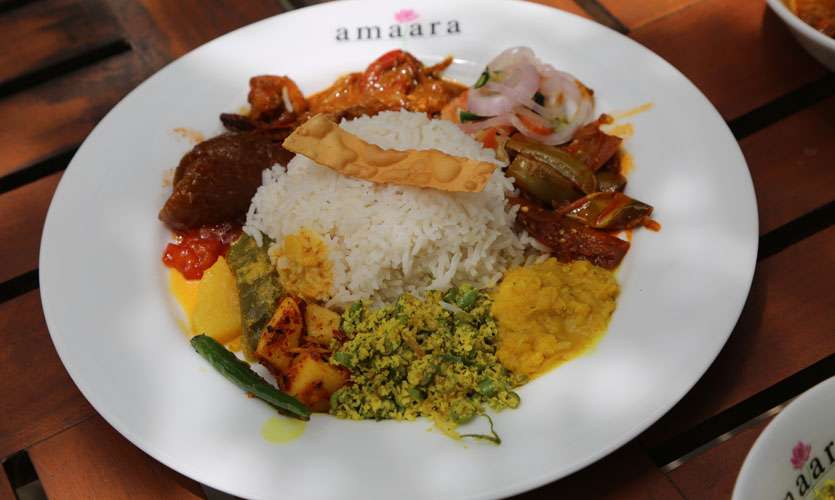 Our favourite restaurant of all 4 however was their Tree Top Restaurant which is truly a unique dining experience that every guest must try out. We all find tree houses cute and entertaining but have you actually dined in one? Amaara offers guests just that! We had dinner at the Tree Top restaurant which serves a 5-course fine dining dinner and we were truly satisfied. Secluded, with dim lighting, a gentle breeze and the novelty of dining in a tree – our dinner was a fun experience that we'd wholeheartedly recommend guests to try. The Tree Top is not just a dining restaurant but also a location for a variety of events like morning yoga, small parties and even business meetings! They also have a Honeymoon Deck by the river that offers couples a private BBQ affair with champagne and music!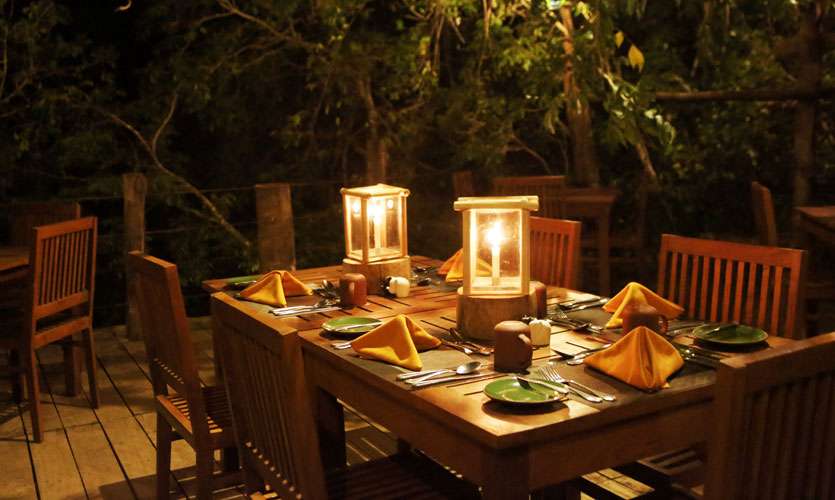 The Hotel also has 3 bars; the Karanda Terrance, Kumbuk Bar and the Illuk Bar located near the restaurants and the pool.
Room Service is also available.
Facilities
The hotel has both an adult pool (70 feet) and kids' pool (10 feet) that's perfect for a dip after a long day.
They also have their Araliya Spa open only to their in-house guests with 4 experienced therapists offering ayurvedic treatments, herbal baths and steam baths. Because the spa is only open to inhouse guests the rates for a treatment are half of what most hotels have and this is such a relief because after a long day of going on safari and climbing rocks – getting a massage from their masseuse is the icing on the cake.
They also have a Conference Room that can accommodate up to 100 people.Guests can also Rent a Bicycle for the day to travel to their location.
Service
The service at Amaara Forest Hotel is truly commendable. Ahintha takes excellent care of his staff and it shows. From the gardeners to the cleaning staff to the manager, every employee is treated equally and with much respect and this was illustrated in how well the staff treated their guests. From being asked about your adventures at the reception to having a chat with the gardeners tending to the garden – the warmth of the staff at Amaara truly made our stay pleasant and enjoyable.
Explore
Amaara Forest Hotel is located in a city that is filled with adventure. The hotel offers guests their Amaara Safari which takes guests to the national parks in the area.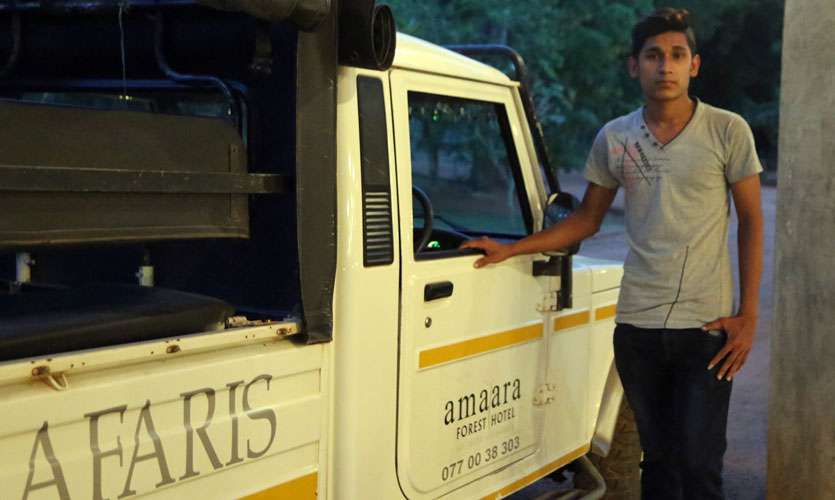 We went to the Kaudulla National Park which is about 45 minutes to an hour away from the hotel. The Kaudulla Park is home to up to nearly 250 elephants and reportedly leopards, sloth bears, deer and other animals. On our trip we were lucky to see over 100 elephants from different herds. It's a surreal experience being so close to elephants and is perhaps the only way we should ever be seeing these majestic creatures where they are free and unchained and in their own natural habitat.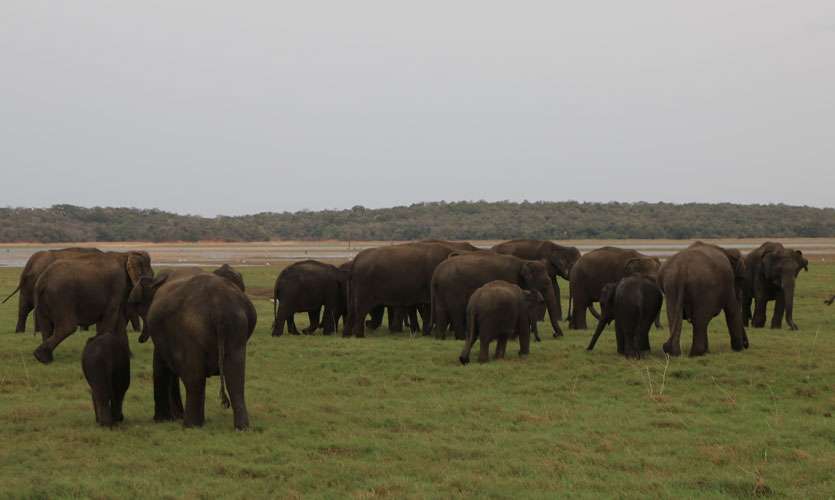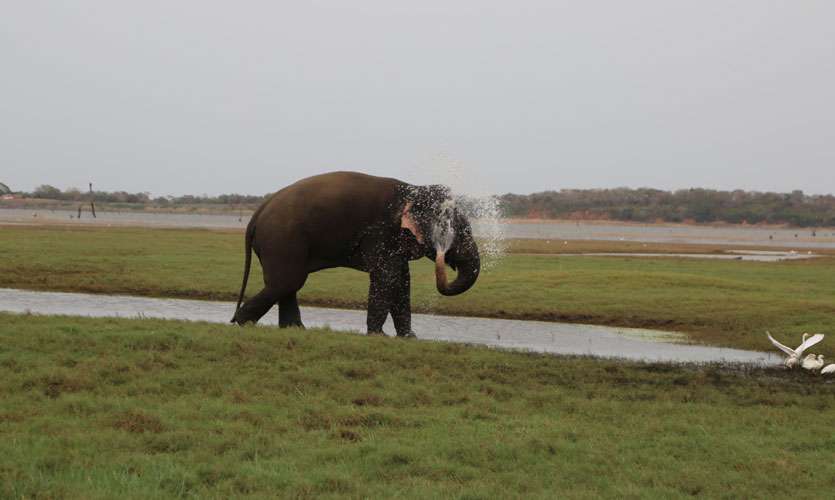 The safari is well worth your time but be prepared to kill an hour or so to wait in line to get into the park as the park staff controls the traffic inside the park so that there is no overcrowding. The drivers from Amaara are experienced so they know exactly what needs to be done so all you need to do is sit back and observe. Kudos to our driver Sandaruwan who was very patient and helpful and knew all the right places to stop for a good picture (because let's be honest – that's what counts)!

You can also climb the famous Sigiriya Rock or even the Pidurangala Rock which we personally preferred over Sigiriya because its less crowded and the view is stunning! The hotel also offers guests a hot air balloon ride.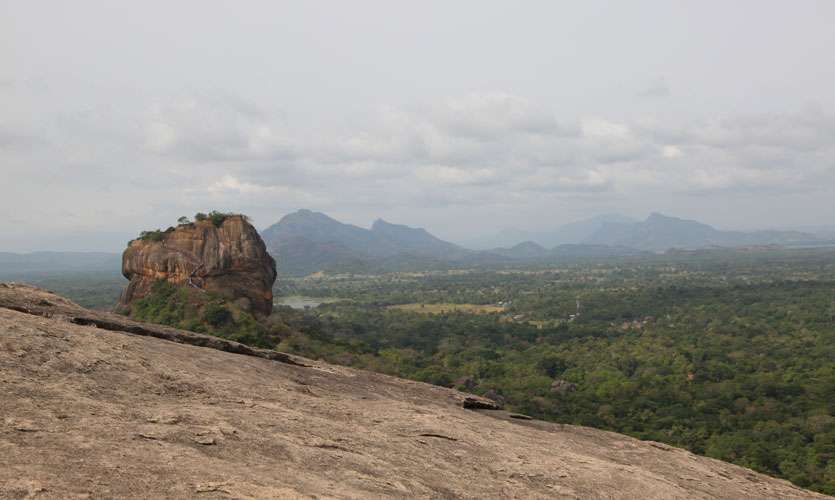 WIFI
Yes!
Address: Idigasweva, Sigiriya, Sri Lanka
Contact: 0662 277 277
Website: http://amaaraforest.com
Pictures by: Theja